* My photojournalist brother Devin is on his way to Harrisburg as I write this, so we may have more pics soon. But it looks bad…
A hospital administrator in the southern Illinois city of Harrisburg says at least three people were killed in a severe storm that swept through the region.

Harrisburg Medical Center CEO Vince Ashley says the three victims were pronounced dead on arrival at that hospital in Saline County after the storm hit at about 5 a.m. Wednesday.

He couldn't immediately say how many other victims were being treated at the hospital. He says the hospital itself also sustained some damage in the storm that knocked out the 78-bed site's heating and cooling system. Ashley says no one at the hospital was injured.
* By the looks of this video from local TV, at least part of Harrisburg appears to have been flattened. Buildings are gone, roads are indiscernible and stuff is just scattered everywhere .
* A friend forwarded some recent photos from Harrisburg…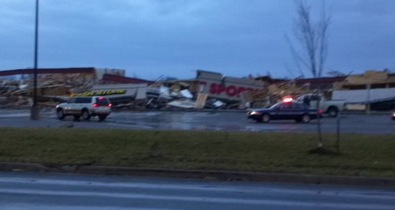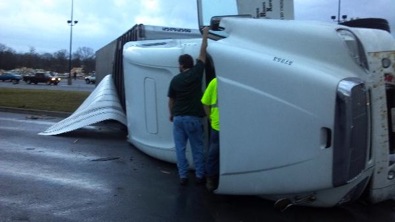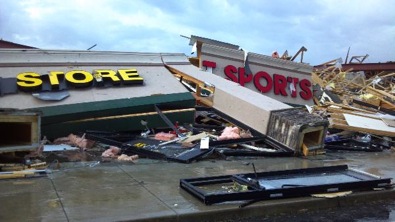 * This is what's left of St. Joseph's Church…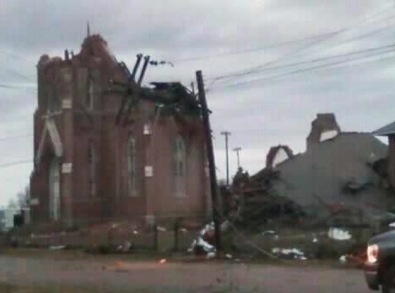 *** UPDATE - 9:26 am *** I just spoke with Rep. Brandon Phelps who was heartbroken to discover minutes ago that the granddaughter of his district office employee was found dead this morning. Phelps is on his way to Harrisburg now and said he's had reports of people missing and trapped in debris. The SJ-R is reporting that Springfield firefighters are heading south to help.
…Adding… I'm told this is what's left of the apartment building where that young woman lived. Apparently, several residents were killed or injured…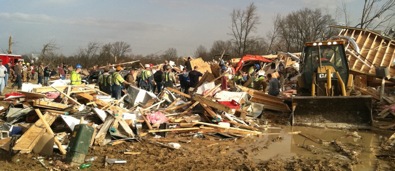 *** UPDATE 2 - 9:43 am *** The Harrisburg death toll has reportedly risen to 10 [UPDATE: The death toll has been revised downward to 6.] Let's plug in a new ScribbleLive feed. Blackberry users click here…
36 Comments











































































































Sorry, comments for this post are now closed.