* Brooke Thomas and the Blue Suns have a new release coming out this summer and I cannot wait. Finally, Springfield has a band that could break into the big time.
We have a lot of great music in this town and always have, but not nearly enough people know about it. Maybe they're too lazy to look, or they have lousy taste, or whatever. But I'll pit the per capita rate of talented, homegrown songwriters and musicians in Springfield against just about anyplace. What I've long believed we've needed, though, is for one band to jet into stardom so the scouts would start handing out contracts to everybody else around here. Brooke Thomas and the Blue Suns could very well be that band.
* If you haven't seen this young woman and her solid band perform, you're really missing out. Thomas fronts the group, but legendary local bandleader Mike Burnette (Suns of Circumstance) makes sure the train rocks on time. It seems to work well. This cover of Duffy's "Mercy" is from their live album Live in the Capital City released last year before they added guitar god Luke Turasky (a good friend) to the lineup. It blows the original away…
* I do not understand how such a powerfully soulful voice could come out of such a young woman. Here they are doing Sara Bareilles' "Many the Miles"…
* Most of the songs the band has released so far have been covers. Joe Dawkins (another old friend and a songwriter) has a tune on their live album, "Broken, Broken Hearted," which has been rocked up since Luke Turaski joined the group. The last thing I said to Luke as I left the bar after their most recent show was, "Don't quit this band, man."
Their new album will be all originals and Burnette says some national producers have shown interest. Brooke is also, to say the least, an attractive woman, which certainly won't hurt the band's skyward push…
* I'll be posting songs from the band's new release as soon as I can get my hands on them. You can hear one of the tunes at Mike Burnette's website. For now, I'll leave you with Brooke's only original song on the group's first album. It's called "I Found You"…
Have a great weekend.
- Posted by Rich Miller Comments Off


* Gov. Pat Quinn said this week that Medicaid has to be cut by $2.7 billion. According to the AP, Quinn's administration has prepared a "menu" of doable Medicaid cuts totaling $1.9 billion, plus options for reducing provider payments by as much as 9 percent, which would save $825 million…
The list includes some items that probably seem reasonable to people covered by private insurance plans: Limiting the number of eyeglasses paid for each year, for example, or eliminating coverage of chiropractors. The current Medicaid program has no annual limit on eyeglasses or chiropractors.

The menu includes limiting — or eliminating entirely — dental care for adults and "durable medical goods" such as walkers and wheelchairs. It includes axing smaller programs for sexual assault victims, people with hemophilia and refugees who've been victims of torture. Obesity surgery is on the list for limits or elimination. […]

The list also include more drastic cuts, such as changing eligibility rules for nursing homes and at-home help so that some incontinent elderly people who can't prepare their own meals would be denied state-financed care… Also on the menu is excluding illegal immigrant children from the All Kids program. […]

The list states that a 9 percent reduction in payments to hospitals, doctors and pharmacies would reduce state and federal Medicaid spending by $825 million next year. A 6 percent rate cut would reduce spending by $550 million, according to the list.
* Chief Financial Officer Dave Storm of St. Anthony's Memorial Hospital in Effingham lays out his case…
(I)f Medicaid is looked at historically, it's not necessarily the costs that are major factors in funding, but the number of patients eligible for Medicaid, Storm said.

As the state increases eligibility for everything from Medicaid to education programs, more people are taking part in the assistance. However, funding hasn't followed the furnishings.

"But they haven't done anything to allocate more dollars for those programs. It's the growth enrollment side of it," Storm said, adding the cuts go deeper for St. Anthony's than just losing a portion of Medicaid payments.

The hospital, as well as others in the state, already pay into the hospital assessment program, totaling about $900 million a year from those in Illinois that contribute. Approximately $770 million, is federally reimbursed through Medicaid.
* Another provider speaks…
Dr. Paul DeHaan of Crystal Lake, an orthopedic surgeon with Mercy Health System in McHenry, said Medicaid already is in crisis, and that Quinn's plan will make things worse.

"Access for Medicaid patients to get in to see a doctor is limited," DeHaan said. "There are only a small number of practices that will accept new Medicaid patients. Too many doctors won't or can't see new Medicaid patients."

"Private practices are small businesses, just like any small business," DeHaan added. "They're strangling under the financial burden of the Medicaid system as it already exists."

DeHaan, who was in private practice in McHenry for 20 years before joining Mercy Health System six years ago, said Medicaid payments are less than the cost of providing services.

And health-care providers are paid "very, very late. It creates a cash-flow problem for doctors. They cannot make a profit."
* And another…
Patricia Comstock, executive director of the Springfield-based Health Care Council of Illinois, a group representing long-term care facilities, said reimbursement rates for Medicaid nursing home patients were $120 per day for 24-hour care.

"The funding the state of Illinois provides for our residents is already last in the nation," she said. "It is impossible for us to think of doing what we are required to do with anything less."
The providers are well-organized, well-funded and well-represented in Springfield. They're also right that Illinois has kept reimbursement rates relatively low. Medicaid recipients have no high-powered lobbyists, aren't all that organized and aren't well-funded. In some ways, their interests coincide with the providers. In others, not so much.
- Posted by Rich Miller 56 Comments


* From a press release…
Another politician indicted – Where's Lisa Madigan?

CHICAGO - In light of yesterday's federal indictment of Democrat Cook County Commissioner William Beavers, Illinois Republican Party Chairman Pat Brady is questioning why Illinois Attorney General Lisa Madigan has not undertaken any significant public corruption investigations in her nine years in office, despite her own criticism during her 2002 election campaign of the Attorney General's office for not investigating allegations of public corruption at the time.

Beavers was indicted yesterday on federal tax charges for allegedly failing to pay taxes on campaign funds converted to personal use and using his county expense account for personal purposes.

Even though Commissioner Beavers' offices are across the street from the Illinois Attorney General's office, Lisa Madigan, daughter of powerful Democrat House Speaker and Illinois Democratic Party Chairman Mike Madigan, apparently missed this one as she has every other instance of public corruption in the state of Illinois during her tenure.

"It is mind boggling that in a state where the last two governors stand convicted of corruption, that ranks as the third most corrupt state in the country and is home to Chicago, ranked as the most corrupt city in the country that our chief law enforcement officer has yet to undertake any significant public corruption investigations in her nearly 10 years in office despite her campaign rhetoric that helped her get elected in the first place," said Brady.
* The Question: Is this a fair attack on AG Madigan? Take the poll and then explain your answer in comments, please. Thanks.
- Posted by Rich Miller 75 Comments


* My Sun-Times column…
Yes, Illinois is worth saving, and it's time to get started already.

I think if you listened carefully to both of Gov. Pat Quinn's major public speeches this month, his State of the State address and his annual budget address, that's the message you're left with.

Illinois has had a rough run over the past dozen years or so, much of it self-inflicted.

First, there was the George Ryan saga, which landed him in prison. While he was still in office, though, Illinois took a big hit when an already-faltering national economy tumbled after the 9/11 attacks.

Then came Rod Blagojevich, who made things worse. He racked up bills that we still haven't paid. He declared war on Illinois House Speaker Michael Madigan, and the resulting bloodbath led to two of the most counterproductive years in Illinois legislative history. It culminated with Blagojevich's arrest, impeachment and removal from office, all of which happened during the most severe international economic collapse since the Great Depression.

By the time the dust settled, Statehouse denizens looked around and finally noticed that the whole world had literally fallen apart around them.

Attempts were made to address the crisis. An infrastructure program was enacted to help put folks back to work, for example.

But the state's ever-growing budget problems were allowed to fester amid political paralysis. It didn't help that the newly elevated Gov. Quinn just didn't seem up to the task.

Quinn and the Democratic legislative leaders made a valiant attempt to stanch the red ink last year with an income tax increase, but it wasn't nearly enough. And despite some cuts, this year's budget is $2.4 billion out of balance with billions more in overdue, unpaid bills and skyrocketing Medicaid and pension costs.

While all this was going on, Republican governors throughout the country were ridiculing Illinois and promising to take companies away.

Quinn was slammed for his "too optimistic" State of the State address in early February. Quinn was trying, I think, to instill a bit of self-confidence so that we'd want to rescue our own future.

But after years of enduring seemingly intractable problems, Illinoisans have become adept at self-hate. We don't want to hear about the positives.

Quinn's budget address on Wednesday struck a chord with quite a lot of people. He finally demonstrated that he understood the huge budget problems facing Illinois and might even be up to the task of bringing all sides together to kick this state into gear.

Medicaid is too often seen by politicians as a tool to help friends. Democrats want the support of people who can't afford health insurance and Republicans want to keep their backing from doctors, dentists, hospitals, nursing homes and other providers.

Nobody really wants to change anything. But Quinn demanded a solution, laid out a road map and threatened to keep the General Assembly in session throughout the summer if necessary. Let's hope he sticks to his guns.

The pension payment schedule crafted in the 1990s put off tough choices and most investment for almost 20 years, skyrocketed the system's unfunded liabilities, and is now seriously harming the state's ability to fund other programs. Quinn said all reform ideas would be on the table and pledged a solution this year.

Basically, we need to pick ourselves up, stop acting like a bunch of losers and actually fix the damned problems here. I really hope Quinn is up to it, because this is the challenge of a lifetime.
I have to run out of the office for a bit, so chew on this until I get back. Thanks.
- Posted by Rich Miller 35 Comments


* 1:39 pm - From the US Attorney's office…
COOK COUNTY COMMISSIONER WILLIAM BEAVERS INDICTED ON FEDERAL TAX CHARGES FOR ALLEGEDLY FAILING TO PAY TAXES ON CAMPAIGN FUNDS AND COUNTY EXPENSE ACCOUNT USED FOR PERSONAL PURPOSES

CHICAGO — Cook County Commissioner William Beavers was indicted today on federal tax charges for allegedly obstructing the Internal Revenue Service and failing to report, and pay taxes on, all of his income. Beavers allegedly concealed his under-reporting of income and underpayment of taxes on thousands of dollars that he converted to personal use from his campaign accounts – including more than $68,000 in personal gain on one occasion that was not reported – as well as from his county discretionary spending account. Between 2006 and 2008, Beavers allegedly paid himself more than $225,000 from three separate campaign accounts and used at least a portion of those funds for personal purposes, including gambling. In 2006, he used more than $68,000 from a campaign account to boost his city pension, and between 2006 and 2008, he used his $1,200 monthly county contingency account for personal purposes without reporting any of these funds as income on his federal tax returns, the indictment alleges.

Beavers, 77, of Chicago, was charged with one count of corruptly endeavoring to obstruct and impede the IRS and three counts of filing false federal income tax returns in a four-count indictment that was returned today by a federal grand jury, announced Patrick J. Fitzgerald, United States Attorney for the Northern District of Illinois; Alvin Patton, Special Agent-in-Charge of the Internal Revenue Service Criminal Investigation Division in Chicago; and Robert D. Grant, Special Agent-in-Charge of the Chicago Office of the Federal Bureau of Investigation.

Beavers, who was elected to the Cook County Board of Commissioners, representing the 4th District, in November 2006 and began serving as a commissioner a month later, will be ordered to appear for arraignment on a date to be determined in U.S. District Court. Previously, Beavers served as the 7th Ward alderman on Chicago's City Council from 1983 until November 2006, when he was elected to the commissioner's post.

"If politicians choose to use their campaign funds for personal use then they, like all the citizens they serve, share the obligation to honestly report their income and pay the correct amount of taxes," Mr. Fitzgerald said. "The indictment alleges that over a course of three years, Commissioner Beavers repeatedly used his campaign accounts for personal use and then thwarted the Internal Revenue Service by causing his campaign committees to create false records to cover it up."

Mr. Patton of the IRS said, "When public officials raise money for political campaigns and use those funds for personal expenses, they must report it as income and pay taxes. A system of government, like ours, which depends on its citizens' voluntarily compliance with tax laws, is undermined when elected officials shirk their tax responsibilities."

According to the indictment, Beavers had sole authority over three campaign committees that supported his political activities – Citizens for Beavers, Friends of William Beavers, also known as Friends for William Beavers, and 7th Ward Democratic Organization. As part of the corrupt endeavor to obstruct the IRS, Beavers allegedly converted campaign funds for his own personal use, provided false information to his campaign treasurers regarding the use of these funds, and understated his income and the taxes he owed in his individual income tax returns for 2006, 2007 and 2008.

During those three years, Beavers caused his campaign committees to issue checks payable to himself and to third parties on his behalf, and he allegedly used at least part of the proceeds for personal expenses, including an unspecified amount for gambling. The checks included approximately 100 payable to Beavers personally, totaling about $96,000 in 2006, $69,300 in 2007, and $61,000 in 2008, for a total of approximately $226,300.

As part of the corrupt endeavor, the indictment alleges that Beavers concealed his personal use of campaign funds by maintaining and causing campaign workers to maintain records that falsely reflected the uses of campaign checks payable to Beavers, including records used to prepare semi-annual Illinois campaign finance reports known as D-2s. Beavers caused campaign workers to falsely record, on check stubs and other records, that certain campaign checks written to him and used for personal purposes were instead used for campaign expenses, the charges allege.

In some instances, Beavers allegedly attempted to conceal his use of campaign funds for personal use by telling campaign workers that checks payable to and cashed by him were for paying campaign-related expenses, even though those expenses were not incurred by the campaign committees until months after Beavers had converted the funds. In other instances, Beavers withheld from his campaign staff any explanation of certain checks payable to him, or he caused workers to falsely record that certain checks were "void" or unused even though he had cashed them.

The indictment alleges that on Nov. 14, 2006, Beavers caused a check for $68,763.07 to be paid from Citizens for Beavers to the Municipal Employees' Annuity and Benefit Fund of Chicago, a pension plan for certain City of Chicago employees including Aldermen, to increase his monthly pension from $2,890 to $6,541. The check allegedly was for personal use and should have been, but was not, reported as income on his 2006 income tax return.

Beginning in December 2006 when he began serving as a county commissioner, through November 2008, Beavers received $1,200 a month from Cook County in the form of a Commissioner Contingency Account (CCA) check for discretionary use. Any personal use of these funds was reportable as income, according to the indictment. Beavers allegedly used the total of $28,800 for personal purposes without reporting any of the funds as income on tax returns.

The three counts of filing false tax returns allege that Beavers failed to include unspecified gross income from his campaign committees and county account when he reported the following amounts of total income and taxable income on his federal returns for 2006 - 2008:

$208,561 total income and $98,453 taxable income for 2006;
$487,568 total and $204,228 taxable for 2007; and
$300,408 total and $171,507 taxable for 2008.

Each count of the indictment carries a maximum penalty of three years in prison and a $250,000 fine and restitution is mandatory. In addition, defendants convicted of tax offenses must pay the costs of prosecution and remain liable for any and all back taxes, as well as a civil fraud penalty of 75 percent of the underpayment plus interest. If convicted, the Court must impose a reasonable sentence under federal statutes and the advisory United States Sentencing Guidelines.

The government is being represented by Assistant U.S. Attorneys Matthew Getter and Samuel B. Cole.

The public is reminded that an indictment contains only charges and is not evidence of guilt. The defendant is presumed innocent and is entitled to a fair trial at which the government has the burden of proving guilt beyond a reasonable doubt.
Wow.
* Read the full indictment by clicking here.
*** 2:16 pm *** Sun-Times…
Beavers, 77, said they only indicted him because he refused to wear a wire on fellow Commissioner John Daley, the former mayor's brother.

"They tried to get to me to become a stool pigeon and I wouldn't become a stool pigeon," Beavers said Thursday, telling the Sun-Times he hadn't been told of the indictment. "They wanted me to wear a wire on John Daley. S—."

Asked why FBI agents wanted him to wear a wire, he barked: "How do I know? I don't know. I don't even know John Daley that well. I told them I'm too old to be a stool pigeon. S–. And when I'm ready to confess, I'll go to confession — that's what I told them. I have an attorney."
*** 2:25 pm *** Daley responds…
John Daley said he was surprised at what Beavers said. "I have no idea what he's talking about," the commissioner said.

He said Beavers never approached him to say that any federal agents had asked Beavers to wear a wire on him. Looking at the indictment against Beavers, Daley said: "It's pretty obvious what this is about, and this has nothing to do with me…
*** 2:43 pm *** Statement from President Preckwinkle…
"Today's action by the U.S. Attorney's Office alleges serious allegations against Commissioner Beavers. As are all individuals charged with a crime, he is to be presumed innocent until proven guilty. We hope and expect that justice will be served."
*** 2:59 pm *** I really find this whole John Daley thing difficult to believe. As if John Daley would ever tell Bill Beavers anything. Not gonna happen, unless the feds are more naive than I ever figured.
- Posted by Rich Miller 54 Comments


[The following is a paid advertisement.]
With ScribbleLive, the world's leading real time content publishing platform, you can can report on what matters when it matters. Many of the world's largest publishers count on Scribble to deliver enhanced coverage, drive reader engagement and create new revenue opportunities.
Scribble helps you engage your audience regardless of where you are reporting from and how they are consuming your content.
Harness the power of social media within your properties. Our syndication capabilities, mobile reporting and in-depth services portfolio let you create real time content for a real time world.
- Posted by Advertising Department Comments Off


* Perhaps the most surprising Democratic press release I received yesterday was from Mayor Rahm Emanuel praising Gov. Quinn's budget address…
I applaud the Governor's decision to be honest with the taxpayers about the state's pension obligations. The hardworking families who rely on public pensions deserve honest answers, as do the taxpayers who have to honor those pension obligations. The time has come to deal with the state's pension obligations and I commend the Governor for being forthright today. In addition, I strongly support the Governor's commitment to maintain funding for education so that our children have the resources they need to learn, thrive, and succeed in the future.
Those two guys have had their problems, but the mayor seems to be working lately to repair things in public, at least.
* Whatever the mayor's reaction was, House Speaker Michael Madigan's take is always the most watched…
"I think he did a very good job of setting out what the problems of the state budget are. He delivered a very strong message," House Speaker Michael Madigan told Illinois Lawmakers after Quinn's speech. "He topped it all off by saying to them, 'Don't expect to go home until we get our job done,' which was a legitimate request from a governor to the legislature." […]

The House led the budgeting process last year, but Madigan said he wants Quinn to be involved this year. "The governor must sign that bill in order for it to be effective, and so the sooner that he joins the group, the better."
Madigan also said he'd talked to House GOP Leader Tom Cross and had been assured they'd work together again on the budget.
* And when he was asked about Gov. Quinn's threat to keep legislators in town through the summer if they didn't fix the Medicaid problem, Madigan said…
"I'm prepared to spend the summer in Springfield. Springfield's a nice town in July and August."
Oy.
* Video…
* Senate President John Cullerton…
"The first step is to educate the public on how tough these decisions are. And I think he did that today. That makes it easier for the legislators to end up voting for some of these tough issues," Senate President John Cullerton told Illinois Lawmakers.

Cullerton said that Quinn is letting the working groups negotiate behind the scenes. "The governor can't propose a solution yet because we've got to wait and see what everybody wants to do collaboratively," he said.
* More…
Senate President John Cullerton said he would work with Quinn on a pension reform proposal that preserved the "constitutional rights of current employees and retirees. Unlike Indiana and Wisconsin, we intend to work with unions to accomplish this goal."
* Video…
* Meanwhile, news of Quinn's proposed 9 percent cuts for statewide officers wasn't exactly met with a joyous response…
Dave Druker, a spokesman for White, said that office has not submitted its budget yet.

"We will outline a budget that will contain cuts," he said. "We fully respect the difficult situation the state is in."

However, he stopped short of saying White will match the 9 percent cut requested by Quinn.

"We want to be as cooperative as possible, but we don't want to go back to the old days of long lines at the facilities," Druker said.

Natalie Bauer, spokeswoman for Madigan, says that office's budget hearing is in late March.

"We are crunching the numbers right now," she said.
* Apparently, Cook County Board President Toni Preckwinkle wasn't briefed on the budget address. From a press release…
"Today the Governor took great steps to lay out the budgetary problems that Illinois is facing in an honest and forthright manner. He laid out a strong framework for pension reform that I hope will prove a successful roadmap for the General Assembly.

"While the Governor's candor struck the right tone, absent from his address were clear recommendations on Medicaid and human services funding. Protecting our public health institutions and the Cook County residents who rely on them for care is among my most urgent priorities as President of the Cook County Board. Cook County and the Cook County Health and Hospitals System, as the result of various financial agreements, provide hundreds of millions of dollars to the State of Illinois every year for human services funding for residents throughout the state of Illinois. It is currently unclear if that is accurately recognized in the Governor's proposed budget.

"The state of Illinois remains under enormous financial pressure, as do Governments at every level. I am confident that the Members of the Illinois General Assembly will fashion a responsible budget that will strengthen our state's future."
* Some Democrats were more blunt…
Almost all of the facilities the governor wants to close are in downstate Illinois. … I'm mad as hell. Illinois is one state, not Chicago and everybody else." —State Senator Gary Forby, Democrat from Benton.
Actually, that's not true.
* And…
State Rep. Brandon Phelps, D-Harrisburg, also represents a district that includes Tamms and many of its nearly 300 employees.

"Alexander County already has a high unemployment rate. This would devastate those people," Phelps said. "I am very, very upset by this and hopefully its not going to go anywhere."
* And…
State Rep. Pat Verschoore, D-Milan, said he is concerned the governor's plan to close facilities could divert attention away from the need to deal with Medicaid and pension costs.

"It seems like he's actually creating more problems," Verschoore said.
* It ain't just Republicans, Jeff…
When it comes to closing facilities, you just can't win.

And Sen. Jeff Schoenberg says that attitude is a significant problem. The Evanston Democrat is co-chair of the legislative committee that reviews proposals to close state facilities.

He says he's been willing to make tough votes on closing state facilities. But his colleagues?

"Downstate Republicans are not willing to make the difficult choices," Schoenberg says. "They talk a good game about being fiscally conservative, but when it comes to closing a public facility that's under-utilized or not cost-efficient, they're like New Deal Democrats, and that tune's got to change."
* Related…
* ISN puts IL proposed budget through math check

* Quinn dons the budget-cutting mantle — is he believable?

* Video: John Sullivan on Quinn budget

* Potential prison shutdown worries local leaders
- Posted by Rich Miller 8 Comments


* Apparently, we don't just hate ourselves here in Illinois. The country takes a dim view of us as well, according to a series of Public Policy Polling surveys…
Over the course of four months starting last October, PPP asked American voters nationally what their impressions of each state are. Hawaii came out on top, by far, with California bringing up the rear.

Americans generally have a favorable view of most states. Only five are in negative territory, led by California (27% favorable and 44% unfavorable), Illinois (19-29), New Jersey (25-32), Mississippi (22-28), and Utah (24-27).
The one positive, if you could call it that, is that more people were "Not sure" (52 percent) about Illinois than those other states.
* Indiana scored 31 percent favorable, 12 percent unfavorable and 57 percent not sure. 38 percent viewed Michigan favorably, while 21 percent viewed it unfavorably and 40 percent were unsure. 40 percent had a favorable view of Wisconsin, with 17 percent seeing it as unfavorable and 42 percent unsure.
* The crosstabs show that the kids kinda dig us, though…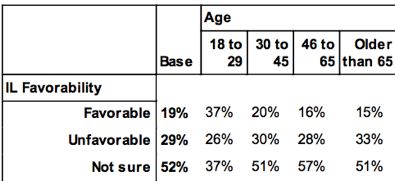 * But check out the partisan difference…
* Ideology…
* Whites and blacks are also opposites…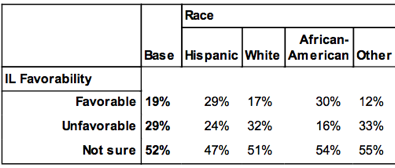 * Gender…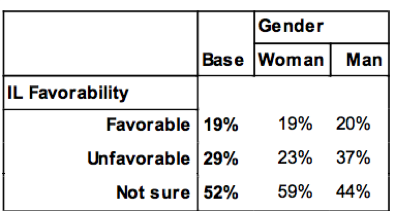 Discuss.
- Posted by Rich Miller 31 Comments


* Treasurer Dan Rutherford praised Gov. Pat Quinn's speech yesterday. From a press release…
"Let me be clear: I commend Governor Quinn's proposal to fully fund next year's pension obligation. I heard a commitment from the governor today to make meaningful, fair reforms to both the public pension system and Medicaid. If these reforms are accomplished, it will be a very productive session for the Illinois General Assembly. I stand ready to work with the governor. We must act now."
* Comptroller Judy Baar Topinka has to deal with the state's mountainous backlog of overdue bills 24/7, so her negative reaction was completely understandable…
The budget is "a hodgepodge of ideas that are not thought through, and that will do little to address the state's mountain of unpaid bills," Comptroller Judy Baar Topinka said in a statement yesterday.
* Sen. Bill Brady devised a novel way of opposing facility closures without overtly coming off as a hypocrite…
Republican Sen. Bill Brady of Bloomington, who ran against Quinn in 2010 and is a member of the legislative group examining pensions, said he's concerned that the governor's proposed facility closings would harm pension negotiations that already have begun.

"It's going to take employee participation to solve these problems in the area of pensions, and to throw this out at this point in time, I'm just concerned about how those representing employees are going to react," Brady said.
It's an interesting point, but I'm not sure it'll have as much impact as Brady believes. Time will tell.
* Pat Brady was his usual hyperpartisan self…
"Governor Quinn's matinee performance today was just rearranging the deck chairs on the Titanic," said Pat Brady, chairman of the Illinois Republican Party.
* After bitterly complaining early in the week about possible facility closures, Sen. Cultra had this to say…
"I've been to 10 budget addresses now, and this is the first one that had no applause," said Sen. Shane Cultra, R-Onarga. "He was talking Republican ideas. I don't think it played too well to his base."
Two things, Senator: 1) Those last ten budgets didn't solve the problems, so applause is meaningless. 2) Why are you opposed to "Republican ideas"? Just sayin…
* Rep. Rose was optimistic about the future…
"Finally there is some recognition from Chicago that there's a problem," Rep. Chapin Rose, R-Mahomet, said. "I am willing to work with them. I think on both of those issues (Medicaid and pensions) we'll have substantial progress this spring."
* And the Republican leaders, who will be crucial to any final deal, were less than enthusiastic, at least in public…
"We need to know what direction he's headed. That's the role of the governor – to provide some leadership – and that's what's been lacking," said the top Republican in the Senate, Minority Leader Christine Radogno of Lemont. "He's relying entirely on these pension and Medicaid working groups."

"Be the governor and introduce some legislation, and we'll work off it," added her House counterpart, Minority Leader Tom Cross of Oswego.
Legislators introduce legislation, but whatever. Also, I'm still waiting for last year's GOP budget proposal to be put into actual bill form. Still, I'm pretty sure those two will come around.
* Sen. Dale Righter said he was willing to work hard to solve the problem…
Righter said he "is more than willing to help" Quinn try to fix the Medicaid program which the governor said "is on the brink of collapse."

But the veteran lawmaker said he still was skeptical that Quinn would be willing to go along with slashing $2.7 billion from the $14 billion program.

"He needs to remember that any bill that gets to his desk, he's got to sign it. And if it's not $2.7 billion then he needs to say this isn't enough. Now I'm ready to do that," Righter said. "The question is whether or not he's willing to do it and whether the (Democratic) party that has doubled the size of the Medicaid program in 10 years, whether or not they're ready to do that. You're talking about some incredibly difficult choices here."

In order to reach $2.7 billion in savings, Righter said, "you're talking about eliminating every optional service, almost all of the populations the federal government does not require us to cover and cutting rates. I'm not sure how many legislators understand what that means, particularly in the majority party, and once they understand that, are they going to be willing to do what's right to save the whole program?"
If you focus only on eliminating optional services, then, yes, Righter is correct. There's more than one way to skin a cat, however.
* And there was the usual parochial stuff which directly collided with accepted GOP orthodoxy…
"He talked about rolling back spending to 2008 levels, but it's actually $3.4 billion higher. Our spending is up, he's proposing new spending, new programs, and he still doesn't have a plan to pay the bills," [state Sen. Christine Johnson, R-Shabbona] said.

"I'm particularly unhappy to hear him talk about closing Singer Mental Health Center. He's targeting our most vulnerable citizens. Some of these people aren't really able to be put into community settings."
* Kinda unclear on the concept…
"He talked a lot about Medicaid but didn't give us a whole lot of specifics about how to we're going to get from point A to point B, except he's going to keep us around all summer if we don't do what he says," state Rep. Rich Morthland, R-Cordova, said.
He doesn't want you to do what he says, Rich. He wants you to work cooperatively to solve the problem this spring or you'll be here all summer.
- Posted by Rich Miller 19 Comments


* For the first time in a very long time, I agree fully with the Bloomington Pantagraph editorial board…
There were no applause lines in Gov. Pat Quinn's budget address. In fact, no one applauded until the 30-minute speech was over — and that's good.

There is little worth applauding in either the state's financial condition or the "solutions" presented by Quinn on Wednesday.

But we aren't complaining — not really.

Let's face it, the governor's track record in achieving goals announced in big speeches isn't that good. So it's actually refreshing not to hear a lot of proclamations of what he's going to do or a lot of lines designed to trigger applause but achieve no real change.

Instead, Quinn set a properly somber tone and correctly pointed out the two biggest areas in need of change: the public pension systems and the Medicaid program that's bleeding worse than most of the patients who rely on it.

His emphasis was on what he called a "collaborative approach." That's what has worked in the progress he has made, such as pension changes for new employees and limited workers compensation reform; that's what it will take to make the fundamental changes needed in public pension systems and Medicaid.

Quinn isn't going to bully the Legislature into doing what he wants; he can't. He needs cooperation from the leaders of both parties.
* And while I agree with the substance of the Tribune's editorial, this "dismantling Illinois" phrase of theirs is just goofy branding hyperbole…
The governor's core message was spot-on: Runaway pension and Medicaid costs are straitjacketing every other spending priority. We hope he'll now follow through. Recall that in the past he has abandoned his own demands on lawmakers for budget discipline.

This time, Quinn and legislative leaders have no choice but to deliver. The dismantling of Illinois has only just begun.
* The speech seemed to stir editorial writers throughout Illinois, including at the Sun-Times…
But when a state finds itself in such dire financial shape, there are no good fiscal policies, certainly no palatable ones.

Just different degrees of bad.

Consider this: Illinois is expected to pull in an extra $720 million in revenue this year, which sounds pretty good. But the state's pension bill will jump by $1.1 billion.

If Quinn and the state's legislative leaders do nothing this year but solve the Medicaid and pension problems, they will go down in Illinois history as great statesmen.

They may also get voted out of office by an angry mob. That's what happened to Gov. Dick Ogilvie in 1972 after he bravely pushed through the state's first income tax.

But Ogilvie had his priorities right.

Let's hope Quinn does too.
* But this was a consistent theme…
No one expected good news in this address. We'd say that we were impressed with Quinn's focus and resolve, but we said that last year and it came to nothing because the governor was insufficiently involved with lawmakers during the legislative session. Clearly, where the big issues of Medicaid and pension reform are concerned, Quinn has adopted a new strategy of collaboration as he prepares for fiscal year 2013. The question now is whether Quinn, in his fourth round of budget crafting as governor, will be a forceful and effective participant and leader in addressing those critical areas.
I also liked Quinn's words, and I simultaneously wonder whether he's up to executing his duties.
* The Daily Herald wasn't its usual shrill self…
And he saved his most important assertion for the closing line of the speech: "Loyalty to the common good is far more important in Illinois today than loyalty to your caucus or loyalty to your lobbyist. It's time to put progress ahead of politics in Illinois."

It absolutely is. The governor's speech at last helped us see that he knows what the "common good" is. But we're not going to know whether anyone has the will to achieve it until we see specifically what achieving it will take.
* And the Peoria paper even took some local job losses in stride…
From a parochial standpoint the local hit isn't that objectionable compared to what some other communities are facing. Peoria's adult transition center is located on Main Street Downtown and was a controversial matter - nobody wanted it next door - when its location was being debated in the mid-1990s. Peoria will miss the jobs - about 30 of them - and 205 residents will be released into the community on electronic detention, which may alarm some, but in fact they're out and working now, only spending nights there. Closing it will save the state $4.1 million. Illinois has more government than it can afford. That's just a fact. One can't in good faith tell Springfield to cut … everywhere else but here.
More…
Alas, he is between a rock and a hard place, though it's a squeeze of state government's own making after decades of mindless budgeting on which various special interests were allowed to gorge themselves. It's diet time. This is a more focused, disciplined budget plan than last year, and Quinn seems more on the same page with legislative leaders. That's a good start. He told legislators Wednesday they should be prepared to work through the summer, which caused a bit of a ripple. That ought to be incentive enough for them to accomplish something this spring.
- Posted by Rich Miller 19 Comments


* There are a whole lot of stories to sort through on the budget, so I'd like to get your impression first before posting opinions from others.
* The Question: Overall, what grade would you give Gov. Pat Quinn's budget address? Take the poll and then make sure to explain your answer in comments, please.
- Posted by Rich Miller 36 Comments


* The House is in at 11:30, but you can also listen to some committees online. The Senate convenes at 11:45.
* Blackberry users click here, everybody else can just kick back and watch…
- Posted by Rich Miller Comments Off