* Illinois Review pointed to this 2008 Gallup poll today which surveyed over 75,000 American adults and found that personal income has a pretty direct correlation to smoking propensity…
Nationwide, the Gallup-Healthways Well-Being Index reveals that 21% of Americans say they smoke. As the accompanying graph illustrates, the likelihood of smoking generally increases as annual incomes decrease. One exception to this pattern occurs among those making less than $6,000 per year, an income bracket often skewed because many in that bracket are students. Among those making $6,000 to $11,999 per year, 34% say they smoke, while only 13% in the top two income brackets (those with incomes of at least $90,000 per year) say the same — a 21 percentage-point gap.

The Well-Being Index also confirms distinctions in U.S. smoking rates relating to gender and race. Among respondents, 23% of men and 19% of women say they smoke. Blacks are the most likely to smoke (23%) and Asians are least likely to smoke (12%). Hispanics and whites fall in between, at 17% and 20%, respectively.
* The chart…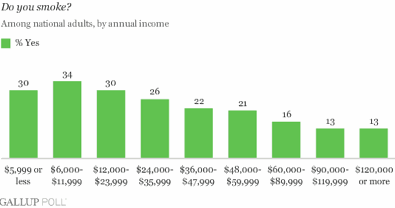 * The Question: Is it fair to increase the state cigarette tax by a dollar a pack to help fund Medicaid costs when such high percentages of poor people will be impacted? Take the poll and then explain your answer in comments, please.
71 Comments




















































































































































































































Sorry, comments for this post are now closed.