* Two of Gov. Pat Quinn's top media spokespersons, Kelly Kraft and Brooke Anderson, just called to try and clarify the governor's position on the proposal to shift employer pension costs to schools and universities.
As I told you earlier, Quinn told the Daily Herald that the idea isn't "essential" to his pension reform proposal and said he was putting the proposal "on a separate track."
But to characterize his comments as backing away from the proposal is "not his position at all," the spokespeople said.
"In no way shape or form do we want it to get out there that he's backed away," I was told. "Nobody here has been talking about that, including the governor."
"This is something the governor supports. He thinks it should be part of the legislation."
I was told that the proposal is "not 'essential' to the savings" in the governor's original plan. The cost shift savings weren't included "because they haven't yet been worked out."
Universities, the two said, "have also expressed an open mind to the shift."
So, anyway, there you go.
- Posted by Rich Miller 15 Comments


* I cannot count the number of public employees I know who have been seriously contemplating an exit scheme for the past several months…
Gov. Pat Quinn said his proposal to change the retirement age for all state workers to age 67 would be phased in to avoid massive retirements of state workers, university employees and teachers.

"We don't want a rush to the door of current employees," Quinn told The State Journal-Register editorial board.

But the governor did not offer details on how the plan would be phased in. The retirement age for public employees varies widely. Teachers, state employees, lawmakers and judges can retire as early as age 55, depending on how many years of service credit they have. University employees can retire at age 60. Some state employees, including state police officers, are on an alternative pension calculation formula and can retire at age 50 with 25 years of service.

Quinn's budget director, Jerry Stermer, who has led talks on how to deal with the state's $83 billion in pension debt, acknowledged that when the new retirement age would go into effect is vital to state workers, many of whom who have planned their financial lives around the current pension system.
Nobody really knows how big this exodus will be, but I'm sure it will be quite big.
…Adding… The SJ-R has posted video from its Quinn interview on its YouTube page.
- Posted by Rich Miller 61 Comments


* Like them or not, campaign contribution caps will be with us a long time, so the state's aggregation rule really needs to be changed. Check out how state Senate candidate Tom Pliura avoided reporting tens of thousands of dollars in campaign loans until after the March primary…
State disclosure laws now require that any donation over $1,000 has to be reported to the State Board of Elections within five days.

But Pliura avoided the re­­quirement by accepting 79 sep­­arate loans of between $550 and $999 between Jan. 30 and March 19, the day before the primary. Among the transactions were 29 separate $900 loans from his wife, Pam, made between Jan. 30 and March 15. […]

Under Illinois' old campaign-disclosure rules, if a candidate got multiple checks where each was under the disclosure threshold but the aggregate was over the threshold, then the candidate had to disclose all of the checks, Morrison said.

After the Legislature ap­­proved so-called campaign-disclosure reforms that went into effect Jan. 1, 2011, the State Board of Elections tried to enforce the aggregation rule.

But the Joint Commission on Administrative Rules, made up of legislators, "shot them down and said, 'You can't do that,'" Morrison said. […]

In a report the Campaign for Political Reform wrote last year, it argued that the change to the aggregation rule allowed candidates in municipal elections to hide nearly $500,000 in campaign contributions until after the elections.
Enough, already. The aggregation rule should be changed back to the way it used to be.
To see Pliura's long list of small loans which avoided the $1,000 reporting requirement and, therefore, detection during the campaign, click here.
* Ironically enough, pretty much Pliura's whole campaign was based on a pledge to never be a "typical politician." Check out this Internet ad where he pats himself on the back for being so fed up with the status quo…
It could be Pliura feels like he got one over on the powers that be by using their own rules against them. All's fair in love and war, I suppose. But it didn't do him much good. Pliura lost the GOP primary to Rep. Chapin Rose by 20 points.
Whatever the case, this has been yet another edition of "Always, Always, Always Beware Anyone Claiming to be a Purist Reformer."
- Posted by Rich Miller 9 Comments


* From the Post-Dispatch…
One Illinois legislator wants to ban animals behind the wheel.

"You see an animal in the windshield or running all over the car," said state Sen. Martin Sandoval, D-Cicero. "This will protect the animal and the driver."

Sandoval filed an amendment to a distracted driving bill that prohibits people from driving while an animal sits in their lap.
"This is more to protect the safety of animals, like dogs, in the car," Sandoval said.

Sandoval said he got the idea for the amendment after talking to animal rights groups who are concerned about the safety of animals on the road.
The amendment didn't survive a Senate committee.
* The Question: Should Illinois forbid automobile drivers from having animals in their laps while operating a vehicle? Take the poll and then explain your answer in comments, please.
- Posted by Rich Miller 59 Comments


* From George Will's latest column, which is kinda sorta about Illinois' many problems…
Peterson, a professor of government at Harvard, and Nadler, a doctoral candidate also at Harvard, say collective-bargaining rights for government employees pose "a dramatically new challenge to the viability" of American federalism.

They cite studies demonstrating that investors' perceptions of risk of default are correlated with the rate of unionization among government employees. [Emphasis added.]
So, some Wall Street "perceptions" mean that states ought to get rid of collective bargaining rights? There never would've been unions in the first place (not to mention a whole lot of other stuff that we take for granted) if governments had always followed Wall Street perceptions.
Then again, the bond market has pretty much dictated almost every big piece of fiscal legislation passed in this state for the past two years.
*** UPDATE *** Along these same lines, this is pretty crazy…
California, the world's ninth- biggest economy by output, pays more to borrow from investors than John Deere Capital Corp., Idaho Power Co. and Caterpillar Inc., which have the same or lower credit ratings.

Two years after Moody's Investors Service and Fitch Ratings changed standards to put municipal credits on the same footing as corporates, California and Illinois are among states that still pay more for debt than similarly or lower-rated corporations, according to data compiled by Bloomberg. Yet Moody's says companies default at 86 times the municipal rate. […]

Defaults by governments remain fewer than those by corporate borrowers. Only 0.13 percent of municipal bonds rated by Moody's fell into that category from 1970 to 2011, compared with more than 11 percent of corporate bonds. […]

Illinois, which like all states has the ability to impose taxes to raise revenue and whose bondholders have a first claim on the money, also hasn't received lower yields.

The A2 rated state sold taxable bonds Jan. 11 with a yield about 132 basis points more than debt issued by Central Hudson Gas & Electric Corp. two months later, relative to 30-year Treasuries. The Poughkeepsie, New York-based company serves about 300,000 electric customers between New York's northern suburbs and Albany, the state capital. It is rated lower, at A3, and its securities mature five years later.
- Posted by Rich Miller 36 Comments


[UPDATE: Quinn aides deny he's backing away]
* This probably couldn't have passed anyway, and it could've just been a ruse to get more money for Chicago's teacher pension fund, but the governor has apparently stepped away…
Gov. Pat Quinn said Tuesday that while he wants to make local schools and community colleges responsible for the cost of teachers' retirements, it isn't an "essential" part of his immediate plans to cut spending for the state's troubled pensions systems.

In a meeting with the Daily Herald editorial board, the Democratic governor said he'd like the General Assembly to take up the controversial proposal to shift the state's share of pension costs to local schools before lawmakers are scheduled to leave Springfield May 31.

But, Quinn said, he'll focus more in the coming weeks on getting legislators to approve his proposal, announced last week, to have teachers pay more toward their pensions and to raise the retirement age to 67. […]

"We want to deal with that accountability principle, but we'll do it on a separate track," Quinn said.
* In other pension-related stuff, Phil Kadner asks why legislators deserve a pension…
"No one says they deserve one, but they get one because they make the laws," said Andy Shaw, president and chief executive of the Better Government Association.

Shaw noted that no area of government has been as abused as the pension systems because "no one sees the result until there's a crisis."

Pensions and health care historically have been perks that lawmakers award themselves and unions without the public focusing on the cost, Shaw said.

He acknowledged that legislative pension costs are insignificant given the size of the state's budget hole but agreed that "symbolically" it might be a nice gesture if lawmakers at least agreed to suspend the pension benefit until the current crisis was resolved.

But I see the state cutting programs that help the poor, preschool children, the mentally ill, the developmentally disabled and the elderly and believe that every dime saved on legislators' pensions could be better spent elsewhere.
Discuss.
- Posted by Rich Miller 18 Comments


* The Tribune editorial board may be finally starting to catch on to the Springfield game…
Gov. Pat Quinn'splan to scale back the state's ailing Medicaid program is running into Republican resistance, primarily because Quinn's mix includes a $1-a-pack cigarette tax hike.

"We're looking for money rather than looking at the spending side, and it's that default position that has gotten us exactly into the mess we're in," Republican Senate Minority Leader Christine Radogno told a City Club of Chicago audience Monday.

Fair enough. We've pushed as hard as anyone for Illinois to curb its vicious spending habit, which has left the state billions of dollars in debt and incapable of paying its bills.

But we strongly encourage Republicans to be flexible here, lest we lose the momentum for Medicaid reform (as well as pension reform). If these changes are going to happen, they're going to be done in a bipartisan fashion. They're going to need Republican votes. Quinn has proposed substantial cuts in spending on Medicaid, and he's going to run into some Democratic resistance on that. […]

Illinois has a crisis: an expected $1.9 billion in unpaid Medicaid bills on hand by June 30, the end of fiscal 2012. Without a fix, that backlog will surge to $21 billion in five years. Providers wait about four months now to get paid; that delay could stretch to a full year. That puts a huge financial burden on the providers. Longer delays and steeper reimbursement rates could push more of them to stop treating Medicaid patients.

We credit Quinn for stepping up here, taking the political risk of proposing Medicaid and pension reform. His plan isn't the last word, but it does set a solid framework.

This reform can't wait. If Republicans have better ideas, bring 'em on soon. And negotiate in good faith.
* But Gov. Pat Quinn is using the very same sort of argument on gaming that the Senate Republicans have used on Medicaid…
Quinn said gambling expansion, including slot machines at horse racing tracks, should not become a political distraction in the remaining six weeks of session for the General Assembly, because Medicaid and pension stabilization are "the highest priorities we can possibly focus on."

The Chicago Democrat criticized lawmakers on both sides of the aisle pushing gambling expansion as "some … who frankly don't want to deal with the hard things. They say the solution would be expanded gambling and we don't have to make hard choices."
Using revenues from the cigarette tax hike to avoid "hard choices" on Medicaid is pretty much exactly what the SGOPs are saying.
* And, like the cigarette tax hike, gaming expansion is no big deal to the public…
More than 60 percent of Illinois residents support a gaming solution that includes more casinos and the addition of slot machines at racetracks as a solution to create more than 20,000 jobs and generate nearly $200 million annually for the state, a newly released poll reveals.

Most Illinoisans support the gambling expansion bill Gov. Pat Quinn vetoed this year — at least according to a poll taken on behalf of the people who would most benefit from more gambling in Illinois.

The poll was conducted for the Illinois Revenue & Jobs Alliance, which describes itself as "a growing statewide consortium of labor organizations, business groups, farming and agribusiness interests, racetracks and horsemen associations, and local municipalities committed to the passage of SB 1849 which calls for the expansion of gaming in Illinois, including slot machines at racetracks."
* And then there's the whole idea of not allowing a few decades-old gambling establishments (racetracks) to offer more gambling…
"This is the same governor who has approved buying lottery tickets at home on your computer. So 10-13 million Illinoisians apparently can gamble on their computer at home, but a few people can't go to a race track and gamble where they're already gambling? I think that's a very difficult stretch," Lang said.
* But unlike gaming expansion, Quinn says he is open to some changes to his Medicaid plan…
Gov. Pat Quinn laid out his plan to cover a $2.7 billion Medicaid hole last week, proposing a cigarette tax hike, cuts in rates paid to Medicaid providers and reductions in services to Medicaid recipients.

However, administration officials acknowledged that components could change as lawmakers debate the plan in the coming weeks.

That comes as a working group of state lawmakers still wants to develop its own plan for closing the gap, a plan Republicans hope will avoid the tax increase and the rate reductions.

Quinn's vision for closing the $2.7 billion gap is not etched in stone, according to his top aides.
* In other Medicaid news, Crain's has a new story entitled "Medicaid plan would shift $250 million tab to private insurers"…
The Quinn administration's proposal to force health insurance companies to shoulder a greater share of the cost for treating severely sick children might save the state $250 million a year, but it likely will drive up premiums on policyholders.

Reducing Medicaid spending on children with "special health care needs" — ranging from cystic fibrosis and sickle cell disease to chronic pain and depression — is a key part of Gov. Pat Quinn's plan to cut spending by $2 billion a year for the federal-state health insurance program for the poor… The idea of shifting Medicaid costs onto private insurers is novel
* But here's the actual explanation…
Under a quirk in Illinois eligibility requirements, children and their families whose income is low enough to qualify for Medicaid can participate in the program, even if they have private insurance. […]

Those nearly 35,000 children cost the state on average about $12,700 in 2009, according to an analysis by [Children's Memorial Hospital] that Ms. Hamos provided to Crain's.

The department projects it can save about $250 million a year if private carriers cover the first $36,000 in costs for only an estimated 7,000 children, with Medicaid picking up the rest of the tab. That's the starting point for the state.
So, couldn't that $250 million a year also be looked at as a state government subsidy of the health insurance industry?
* Meanwhile…
A national liberal advocacy group is criticizing Illinois' Democratic governor's proposed solution to the state's Medicaid crisis.

Families USA is issuing a new report Wednesday that estimates job losses of more than 25,000 if Illinois cuts Medicaid spending by $2.7 billion.
So far, Quinn hasn't really proposed cutting Medicaid spending by $2.7 billion because about $700 million of that amount would be from a cigarette tax hike combined with a federal match. The full report is here.
* And the Belleville News-Democrat has demanded deep state budget cuts in the past, but it doesn't much care for a proposed local facility closure…
State officials say Gov. Pat Quinn's plan to close the Murray Center in Centralia is a policy decision, but come on. Everybody knows the center is on the chopping block now because the state is billions of dollars in debt.

Understandably, people who have family and friends who live or work there don't want the facility to close. But that can't be the governor's basis for the decision. As someone at a recent hearing on the proposed closure correctly pointed out, if that were the criteria, no state facility would ever be closed.

The state has to cut from somewhere, but is this a good place? There are many more straightforward savings to be had than Murray Center.

For example, the state could save about $13.5 million annually by eliminating the legislative scholarship program — about what would be saved annually by closing the Murray Center.
They had other budget ideas as well, but that $13.5 million is fantasy cash. The scholarships aren't actually funded with any state money. They're really just tuition waivers.
* Related and a roundup…
* Quinn defends proposal to raise cigarette taxes for health care

* Rep. Brady: Cigarette tax 'not realistic'

* Illinois Residents Say They Want A Casino

* More on hospitals' Medicaid ideas: A commenter on the Capitol Fax blog noted, correctly, that if the state kicks a lot more people off the Medicaid rolls, it ultimately would cost the hospitals, which provide 40 percent of Medicaid-reimbursed services. This is a point the Illinois Hospital Association made to the SJ-R editorial board last week. Space limits prevented me from more fully explaining this in the editorial itself, so I thought a little explanation here is in order.

* Added bus costs concern local schools

* Lawmaker: College Illinois! audit reveals no surprises

* Legislation would ban 'tax zappers'

* New attorneys to fight unemployment benefits fraud

* IL moves to boot 2 school boards from office

* Historic schools, farmstead, city hall on IL endangered list

* Illinois Sets Funds to Alleviate No. 1 Trucking Bottleneck

* ComEd ready to install 4 million smart meters in IL
- Posted by Rich Miller 16 Comments


* When did Jerry Clarke know that Congressman Tim Johnson was dropping out of his primary on April 5th? That's been a question on many minds in the 13th Congressional District since Clarke, a former Johnson chief of staff, announced his intentions to run for the seat. State Sen. Kyle McCarter has suggested that the timing of Johnson's retirement was all a setup to get Clarke installed in the seat and called the situation "politics as usual."
* Well, WJBC reporter Ryan Denham did some basic journalism and checked the WHOIS results for Clarke's campaign website and found this…
Registered through: GoDaddy.com, LLC (http://www.godaddy.com)
Domain Name: CLARKEFORCONGRESS.COM
Created on: 10-Feb-12
Expires on: 10-Feb-14
Last Updated on: 10-Apr-12 [Emphasis added]
In case you are mathematically challenged, that website creation date is about two months before Johnson's retirement announcement.
* Denham talked to Clarke's campaign…
But Clarke spokesman Mike Cys downplayed that early registration. He said Clarke has known for years that Johnson intended to retire soon, and "he's made no secret" that he intended to run for the seat whenever that happened.

"We just kind got a sense, you know, let's start getting ready for 2013, make sure we get those domain names … because we figured this was going to be Tim's last run, 2012," Cys said. "So we were just kind of gearing up and starting to get things ready, looking down the road."
OK.
- Posted by Rich Miller 42 Comments


[The following is a paid advertisement.]
On Wednesday, April 25, hospital leaders from across Illinois will converge at the Capitol for health care Advocacy Day to talk to legislators about the devastating impact an 8 percent Medicaid rate cut ($350 million) to hospitals will have on patients, the health care system, jobs and the economy. Such a drastic cut would result in the loss of more than 3,600 jobs and nearly $470 million in economic activity.
The Governor's proposed 8 percent rate cut won't fix Medicaid or heal people. It just creates another economic burden for hospitals.
One in three Illinois hospitals already operates in the red and many others are barely breaking even. Medicaid cuts could force hospitals to lay off employees and severely reduce or eliminate vital services, or even close.
An 8 percent cut goes too far, especially when you consider Illinois ranks 44th in the U.S. for Medicaid spending per beneficiary.
Yes, the Medicaid system must change. The Illinois Hospital Association has provided the General Assembly with thoughtful, workable Medicaid savings alternatives that protect patients' access to care and improve outcomes.
It's time to protect Illinois health care for both today and tomorrow.
Learn more at: www.protectillinoishealthcare.org.
- Posted by Advertising Department Comments Off


* Gov. Pat Quinn to the Daily Herald editorial board about his chances in the 2014 campaign…
"I think I'll win the election," he said matter of factly. "Don't count me out. …Just watch the last 10 days (in an election cycle). In 2010, the primary, the general, the other guys were looking for their gym shoes. I know how to win elections no matter what. You may not like the way I do it, but I win the election."
Discuss.
- Posted by Rich Miller 49 Comments


* The State Board of Education is considering recommending legislation that could lead to pay-to-ride school buses…
Right now, the state reimburses school districts for a fixed percentage of whatever they spend on transportation. Under the new proposal, officials would determine the average statewide costs of getting students to and from school. Then, districts would be reimbursed for their costs up to that average level. That would encourage districts that spend more than the average to find ways of cutting costs.

As part of this approach, officials might eliminate the requirement that districts provide free transportation for students, which would allow some schools to charge a fee to recoup costs above the state average. Currently, districts must transport students who live more than 1.5 miles away from school, but changes could raise the threshold to two or more miles and follow routes with bus stops farther from students' homes.

"I think you would have the potential to see transportation operations run more like municipal school buses, where we are just going to run certain routes, stop in certain places, students would pay a token or dollar and if you get on, you're on and if you weren't there, you didn't," Jim Lovelace, director of operations for the Ball-Chatham School District, told The (Springfield) State Journal-Register.

In theory, a district could even eliminate buses entirely, although Vanover said that would be unlikely.
State funding for school transportation has been slashed 42 percent since 2010.
* The Question: Could you support allowing local school districts to charge fees to ride buses? Take the poll and then explain your answer in comments, please. Thanks.
- Posted by Rich Miller 64 Comments


* Congressman Jesse Jckson, Jr. held a "symbolic" groundbreaking ceremony over the weekend for the third Chicago airport…
"We have found … developers who are willing to put up $700 million of their own dollars and backed by a guarantee from the government of Canada," Jackson said in remarks broadcast by WBBM Radio. "And they want to be on this land by June 1 of this year. … Together, we can and we will build our future."
* Apparently, the festivities got a bit weird…
With gospel music blaring and angry picketers shouting, pastors prayed, preached and sprinkled holy water over the site of the proposed airport near Peotone on Saturday morning. […]

Things got a bit dicier Saturday when Jackson and his supporters traveled out to a country road that lies in the footprint of the proposed airport.

There, Jackson and a group of pastors stood on a flatbed trailer, spoke, prayed and sprinkled holy water on the ground. A ceremonial groundbreaking was held on the shoulder of the road.

A smaller group representing those opposed to the airport were there, too, carrying signs such as "Caution Snakes," "Jackson Lies, Crops Die" and "Make Food, Not Pollution."

The group stood in a field behind Jackson's flatbed trailer holding the signs, shouting "Liar" and "Jesus wouldn't do this to us" while he and others spoke.

Their shouts were largely muffled by the gospel music and speaker system on the trailer. Police and members of Jackson's entourage attempted to keep the groups separate.
* But opposition to the third airport comes from far higher up the political and economic food chain than a few protesters…
This past week, Jeff Smisek, CEO of United Airlines parent company, United Continental Holdings Inc., said a third airport in Chicago would bring the city more harm than good and that there's no demand for a new airport. Meanwhile, Emanuel has proposed expanding O'Hare International airport, saying it would be like adding a third airport without actually building a new one.
* And there's more trouble for SNC-Lavalin Group Inc., which would fund the site's construction…
Earlier this year, the firm caught flak for its dealings with the deposed Gadhafi clan in Libya. Then a couple of weeks ago, SNC-Lavalin CEO Pierre Duhaime abruptly resigned amid an internal probe of what the company said were $56 million in inappropriate payments to undisclosed agents.

Neither the firm nor the agents have said who those agents were. But there's been lots of speculation in the Canadian media.

Chicago-area coverage has been minimal. But you can bet your runway that it's been noticed in Mr. Quinn's office, which now has a nice cudgel with which to beat back any rising Peotone interest.

Team Jackson says that SNC-Lavalin is a really big firm that surely can survive this. But, at a minimum, the company's woes undercut the congressman's bargaining position.
* As usual, Jackson appears completely undaunted…
Jackson implored Illinois Gov. Pat Quinn to release more than 2,000 acres of land that the state has purchased so far to the possible development of an airport for the south suburbs to bring thousands of jobs and prosperity.

Jackson said a developer from Canada wants to use private funds to develop the first phase of the airport: a runway with five gates. He said the backers want to start construction to start by June 1st.

In the end, Jackson said, opposition by Emanuel and others don't much matter, but that Quinn holds the key.

"We must win Quinn. We don't need to win anyone else. The person who controls the lease to this land is Governor Pat Quinn. The governor and the governor alone controls our future and with the stroke of his pin he can eliminate poverty in the south land," Jackson said.
- Posted by Rich Miller 31 Comments


* Add former state agriculture director Becky Doyle to the list of wannabe appointees in the 13th Congressional District…
Doyle, 58, spent eight years as state agriculture director during Gov. Jim Edgar's administration. She now is a consultant with The Context Network, which is based in Iowa. She and her husband, Ken, also are pork producers near Gillespie.

Doyle did fundraising and government relations for the United Nations World Food Program from 2001-2005. She was based in Rome.
* I'm also hearing that Chairman Parrott is very enthused about former Miss America Erika Harold as a candidate…
McLean County Republican Chairman John Parrott, one of the 14 chairmen in counties in the new 13th who will pick Johnson's successor on the ballot, said he met Harold at a Republican event in Champaign last week.

"I think she's an incredible candidate, extremely articulate," Parrott said. He said she has a "great resume."

"I think she's an extremely viable candidate," Parrott said, adding that he's not yet casting a ballot. "One of the things that I think the Republican Party needs is a minority, conservative lady to be a part of the congressional delegation." Harold is black.
* And state Sen. Kyle McCarter is out of the running…
But another Republican who had considered seeking the nomination, state Sen. Kyle McCarter of Lebanon, decided against it and said Monday he would run for reelection to his Senate seat.

McCarter had asserted last week that Johnson's retirement was manipulated to help his former chief of staff, Jerry Clarke of Urbana, become the GOP choice.

"You know what's really insulting about this? It didn't just happen," McCarter charged. "There was talk of this happening a year ago, and it's a real insult to the people. Like I said, their vote was taken away from them."
* Could there also be an independent candidate? Maybe…
John Hartman of Edwardsville, the chief financial officer of a St. Louis medical technology firm, is collecting signatures to run as an independent candidate in the 13th Congressional District that stretches from Champaign-Urbana on the northeast to Madison County on the southwest. […]

Hartman, 56, will need the signatures of at least 5,000 registered voters in the district by June 25 in order to get on the November general election ballot.

"I think I can do it. I've been working pretty hard," he said. "I ask stores where there is foot traffic if they will let me courteously ask their customers for a signature. And I stand on the public sidewalks in front of post offices."

He said he has been all over the district, including in Champaign County, in search of signatures. "I spent a good day in Champaign about 10 days ago," he said.
* Related…
* ADDING: House freshmen: Bring back earmarks

* 11th Congressional District cash race neck-and-neck: Biggert has raised nearly $1.3 million and has $1.22 million cash on hand. Foster has raised $1.23 million and has just under $1 million cash on hand.
- Posted by Rich Miller 10 Comments


* Senate Republican Leader Christine Radogno says the Democrats should just go it alone on a cigarette tax hike to help patch Medicaid's gaping funding hole if that's what they want to do…
"The problem is that it is a revenue solution to a spending problem. We're looking for money rather than looking at the spending side, and it's that default position that has gotten us exactly into the mess we're in," Radogno told a City Club of Chicago audience.

Noting that Democrats, who control the General Assembly, last year passed a state income tax increase without any Republican support, Radogno said, "They can pass the cigarette tax increase on their own if that's what they want to do."
Sounds good. Let's see the cuts.
* On a related topic, the SJ-R wants a closer look at what could be an overly rosy numbers scenario…
Though we support the tax, we also recognize there's room for debate. The administration estimates gross savings from enhancing enforcement of Medicaid eligibility rules to be $120 million. The Illinois Hospital Association believes the savings could be triple that — and up to $720 million with a federal match.
And if the state doesn't realize that extra $480 million from enforcement savings? Another big budget hole is what. Still, the IHA's numbers are definitely worth a hard look.
* Leader Radogno also reiterated her opposition to shifting the employer pension payment to Downstate and suburban school districts…
"What we have to look at is the total (state) funding for education that goes in to the city of Chicago," she said. "Chicago is treated differently in a number of areas, in fact, favorably in a number of (funding) areas relative to downstate and suburban schools, and those need to be addressed at the same time there's any discussion about a shift in responsibility for pension costs." […]

"The savings from the shift are not significant enough to derail it over this issue. It should be set aside."
Also a good point about Chicago's share of education funding, but that's kinda apples and oranges since the funding is based on a specific formula. Also, the savings from a funding shift would be pretty darned big, particularly over time.
* Meanwhile, I'd never heard of this scam until today…
At least five states (Florida, Georgia, Maine, Utah and West Virginia) have enacted laws that target "tax-zapper" software that essentially allows businesses to keep two sets of books, the Associated Press has reported.

By plugging a flash drive into cash registers, the software lets businesses under report taxable sales. The new state laws make it illegal to possess or install devices that falsify a cash register's electronic records. Other states considering such measures include Oklahoma, Indiana, New York, Tennessee and Michigan, AP reported.

Richard Ainsworth, a Boston University tax law professor who has studied the issue, estimates that 30 percent of businesses that primarily rely on cash transactions are using tax zappers. In the restaurant industry alone in California, the loss from zappers was estimated at $2.8 billion three years ago and in New York $1.7 billion, Ainsworth says.
* Here's how it works…
During business hours, cashiers record the true sales and give customers accurate receipts. A log of real sales can also be stored electronically.

But after hours, a memory stick that contains the zapper is inserted to remove a given amount in sales from the day's receipts, say, $500. For each altered transaction, the zapper will also re-total and recalculate the receipt. That changes the tax due and produces a second set of books.

Boston University tax law professor Richard Ainsworth, an authority on the issue, estimates that 30 percent of the predominantly cash businesses in the states are using tax zappers.
* The reason I heard about this today was that Rep. Jack Franks has introduced a bill to ban the zappers. From a press release…
Legislation barring the use of tax-cheating software was introduced by state Rep. Jack Franks (D-Marengo) to crack down on a practice of falsifying cash register electronic records by skimming receipts, thereby lowering sales taxes owed.

"The vast majority of Illinois businesses play by the rules and are put at a competitive disadvantage by this unlawful practice," Franks said. "We have an obligation to stop those perpetrating tax fraud and harming honest businesses struggling to thrive in challenging economic times." […]

"The notion that billions in state revenue could have been lost due to businesses cooking their books is unconscionable," continued Franks. "Though it is already illegal to cheat on taxes, these devices have created an easy way for businesses to illegally lower their taxable income that is hard to track. We must act to ban the possession or installation of tax-zappers in Illinois."
The bill is here.
- Posted by Rich Miller 25 Comments


* We have an update…
Dr. Richard L. Harvey, Medical Director of the Rehabilitation Institute of Chicago (RIC) Center for Stroke Rehabilitation today provided the following update on Senator Mark Kirk's condition:

"Senator Kirk remains fully engaged in all aspects of his rehabilitation program. He is mentally sharp, and meets with his staff nearly every day to discuss policy issues and global current events. Senator Kirk is working very hard in daily therapy sessions to increase his strength and mobility, and has walked more than 10 miles in total since his arrival at RIC. In addition he is climbing stairs and getting in and out of vehicles. We are quite pleased with his ongoing recovery."

Additionally, Senator Kirk will soon begin participating in a unique research trial at RIC that will last several weeks. The trial is focused on improving gait pattern through an intense regimen of continuous walking over flat surfaces, on stairs and on a treadmill every day. One of more than 200 research projects at RIC, the trial is open to participants who are one to six months post-stroke and not yet back to their pre-stroke walking pace.
Info on the research trial is here.
*** UPDATE *** We also have a recent photo…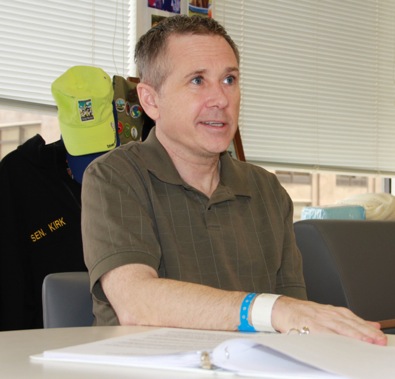 - Posted by Rich Miller Comments Off


* Treasurer Dan Rutherford helped clean the Shedd Aquarium's Caribbean Reef exhibit for Earth Day…
Video courtesy of BlueRoomStream.com.
* Coverage…
The 90,000 gallon tank is home to more than 400 tropical reef animals, including sharks, stingrays, eel, a sea turtle and a host of colorful fish. […]

"They offered me the opportunity to come into the tanks, help clean the tanks, draw awareness particularly with the Guinness Book of World Records large picnic attempt trying to be made. Of such things, even we individuals in our own lives can help mother earth," Rutherford said.

His visit was part of the aquarium's Picnic for the Planet celebration. It's part of an attempt to set a world record for the most outdoor picnics in 24 hours across the globe.
- Posted by Rich Miller 17 Comments


* The Tribune editorial board comes down hard against a plastic bag bill…
The bill is the result of a 2008 law, the Plastic Bag Recycling Act, which called for — you guessed it — a task force to study the Plastic Bag Problem. How to solve it? Here's what is in the bill, now before the House:

•Require manufacturers of plastic bags and plastic wrap to register annually with the IEPA and pay a $500 fee.

•Require manufacturers of plastic bags to print their company names on the bags.

•Require manufacturers of plastic bags to create and maintain a plan for collecting and recycling plastic bags and submit their plan to the IEPA. That plan must include collection locations and a public education campaign.

•Require manufacturers of plastic bags to submit a report to the IEPA annually with a description of recycling and collection efforts, including weight in pounds of the bags — and plastic wrap — collected.

It gets worse. Retailers — from your local grocer to your Chinese carry-out — would be prohibited from buying plastic bags from manufacturers who aren't following all the rules.

Yet the Illinois Retail Merchants Association, which represents store owners, and the plastics industry support the bill. Why? We suspect it's because the bill blocks every town outside of Chicago from putting a ban, a tax or regulation on plastic bags. The bill even says plastic bag recycling is a state function.

This sets up a big state regulatory scheme and stomps on the authority of local government.

The Senate passed the bill 36 -15. The House should stop it.

You wonder how government gets so big? How state statute books grow by the inch each year? How spending goes up here and there, everywhere?

This is how.
Those are all decent points, but there is another side to this story. The Illinois Retail Merchants Association prefers consistent laws across the state, mainly because so many of its members are chain stores that operate in many different towns and counties. So, I can easily see why IRMA would back this change.
Cities across the country are passing or taking up plastic bag bans on their own. If it's done right, getting out in front of what could end up as a crazy local patchwork quilt of varying ordinances and penalties can definitely be a good thing.
The bill is here.
- Posted by Rich Miller 33 Comments


* State Sen. Darin LaHood (R-Dunlap)…
"I'll tell you many (Senate) members that you meet in Chicago, they come from an entitlement mentality, that you are entitled to things," LaHood said. "That's not what made our country great. You can work hard, get an education, and the sky is the limit in this country. Many of you have done that … but it's not about being entitled to things. That has permeated through many parts of our urban cities and that, in turn, affects many of the legislators. That entitlement mentality, I don't think has served us very well in certain aspects of our society."
That's more than a little ironic at a time when so many Downstate legislators are fighting hard to keep their local state facilities open.
Discuss.
- Posted by Rich Miller 55 Comments


[The following is a paid advertisement.]
The proposed Taylorville Energy Center coal plant would leave Illinois families and businesses paying nine times today's market price for electricity every year for the next 30 years. That's a cost increase to customers of $400 million every year, which would add up to $12 billion over the lifetime of this project.
Illinois already produces 30% more electricity than its residents use, meaning consumers would be forced to pay more for power we don't even need.
In 2010 the Illinois Commerce Commission (ICC) concluded, "The TEC facility features high costs to ratepayers with uncertain future benefits, and uncertainties that potentially add to already-significant costs." What's more, natural gas and electricity prices have sharply decreased since the ICC's study, meaning the Taylorville Energy Center has grown even more costly relative to alternatives.
As a result of the Taylorville Energy Center:
• Local governments and vital service providers would face huge new costs at a time when budgets are already strapped;

• Illinois employers and job-creators would be subject to nearly limitless financial risk from cost overruns and construction delays; and

• Illinois residents would battle more pollution due to the lax emissions limits project developer Tenaska has pursued.
The bottom line: the Taylorville Energy Center would send your hard earned money up in smoke for power that we don't need. Tell your legislator to oppose SB 678 or any legislation that supports this unnecessary project.
- Posted by Advertising Department Comments Off