* What's next, the Girl Scouts? From a press release…
Governor Quinn Talks Pension and Medicaid Reform with Students

Hosts Town Hall About Illinois' Future at Julian Middle School

OAK PARK – May 22, 2012. Governor Pat Quinn today hosted a town hall meeting with students at Julian Middle School about the urgent need for pension and Medicaid reform. With just 9 days left before the end of spring legislative session, the governor continued his push to stabilize Illinois' Medicaid and pension systems and educate the public about our fiscal challenges. During the visit, Governor Quinn took questions from 8th graders about their stake in what happens in Springfield this session and the impact that these two issues have on the future of Illinois.

"At its core, this battle to resolve our fiscal challenges is about the future of our children," Governor Quinn said. "If we want to educate our kids and ensure they are ready for the workforce, our moment is now. We must assume responsibility to build a better future for our children. We must work together to get these vital reforms done."
For crying out loud, governor, get back to Springfield and stop doing silly press pops near your house. You told reporters yesterday that you wanted to see "an epic 10 days" at the Capitol and wanted legislators to avoid all distractions, and now you're spending time taking questions from 8th Graders?
Then again, some might say that Quinn is doing more good by getting outta town so he can't screw things up.
But, still. Really?
*** UPDATE *** A photo from today's event…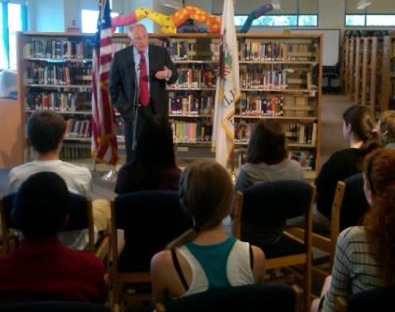 Caption?
100 Comments











































































































































































































































































































Sorry, comments for this post are now closed.