Off and on for the past few years, I've tried to defend Illinois' honor against the crazier attacks by outsiders while still candidly acknowledging that this state has some real problems which absolutely must be solved.

That ain't easy, to say the least.

Ever since Barack Obama was elected president, his enemies have been trying to highlight Illinois' truly awful problems to somehow taint his administration. A big target was put on our backs, and far too many of our neighboring Republican governors have been way too eager to play along with this stupid game.

Wisconsin Gov. Scott Walker and Indiana Gov. Mitch Daniels, in particular, have delighted in overstating our problems to make themselves look better back home. Walker constantly painted Illinois as the bogeyman during his recall attempt. Daniels compared us to "The Simpsons" TV show. Both have repeatedly vowed to poach businesses and jobs from us, which didn't really work, but the two got a whole lot of media attention, and that was the point.

I now know what it must have been like for family members to constantly feel the need to defend the beer-swilling, trouble-making Billy Carter or the beer-swilling, trouble-making Roger Clinton after their far more responsible brothers were elected president. He's blood, so you gotta step up. But, man, you just wish he'd check himself into rehab, buy some presentable clothes and get a real job for once.

Believe it or not, there really are signs that the people running this state finally understand that we can't keep operating the way we have been. But it took so long for that message to sink in that we're way behind almost every other state. And I'm still not convinced that we won't somehow relapse.

Almost all the money from last year's huge income tax increase has been sucked up by pension payments, which got so high because the state has never put enough cash into the systems.

Doing the responsible thing and making the full pension payments meant that the state hasn't been able to pay down billions of dollars of overdue bills and this year was forced to slash money for health care and education and close prisons even though the corrections system is already overcrowded.

While a good chunk of those past-due bills will be paid off this year, and while a severe Medicaid-funding crisis appears to have been resolved by making painful cuts and raising the cigarette tax, pension payments are projected to grow so much that our precarious, horrible credit rating is under serious threat.

Gov. Pat Quinn met with the four legislative leaders Thursday to try once again to hammer out a deal on public employee pension reform.

Quinn claimed that each day of delay meant $12.6 million was added to the pension funds' unfunded liability.

No agreement was reached.

Instead, the two Republican legislative leaders insisted that the always intractable school-funding issue be put on the table with the seemingly intractable pension issue. No further meetings are scheduled until August.

Also on Thursday, Illinois' auditor general reported that the state government has a deficit of almost $44 billion — worst in the nation.

After I read the auditor general's report, I started researching quiet, peaceful, inexpensive getaways. Enough, already.

As much as I hate to admit it, I have to get out of this state. I don't know yet when I can go, and my plans certainly won't include Wisconsin or Indiana, but I really need to leave Illinois and all its troubles behind for a little while.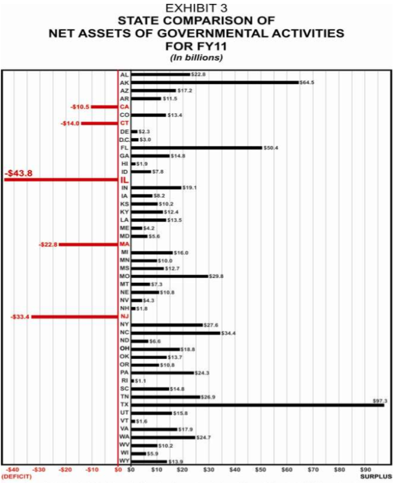 The state's overall deficit climbed to nearly $44 billion last year, easily the worst in the nation, the Illinois auditor general reported Thursday.

The red ink grew by 16.8 percent in a single year, Auditor General William Holland said.

The new report includes all of Illinois' assets and liabilities and gives a broader picture of the state's financial condition than simply reviewing the annual budget.

With no cash available, more state payments were late and for larger amounts, the audit found. Illinois ended the fiscal year with $4.7 billion in unpaid bills. The state fell further behind in paying tax refunds. Bookkeeping was slow and disorganized.
Illinois Comptroller Judy Baar Topinka on Thursday released the following statement regarding her office's State of Illinois Comprehensive Annual Financial Report. The report details the financial condition of the State at the end of the last fiscal year on June 30, 2011:

"Our latest financial report shows that Illinois' deficit has doubled in the last five years to more than $43 billion. It provides yet another cautionary note that we need to rein in spending and address the growing costs that are devouring the state budget. Positive steps were taken this year toward getting our financial house in order, but we clearly still have a long way to go to fully clean up this colossal mess."
58 Comments













































































































































































Sorry, comments for this post are now closed.