* There was a small protest this week in Mount Vernon against a county board resolution against gay marriage…
A rainbow-colored flag flew in front of Jefferson County Courthouse on Monday as dozens of people gathered to protest a recent county board resolution that affirmed its "defense of marriage as a sacred union between one man and one woman."
* The resolution's sponsor defended his action…
County Board Vice Chairman Wayne Hails, who asked that the resolution be brought before the board, remained committed to its message, despite the crowd protesting it outside the county board's meeting in the courthouse.

Hails said he would sit down for a discussion with people who support gay marriage but "I would not reconsider my opinion. It's still my belief and the belief of the vast majority of the people I represent." […]

"I don't agree with their opinion of same-sex marriage," he said. "The vast, vast majority of the people I represent believe marriage is between a man and a woman."
* But a 2010 poll of southern Illinoisans found that less than half of the respondents opposed gay marriage…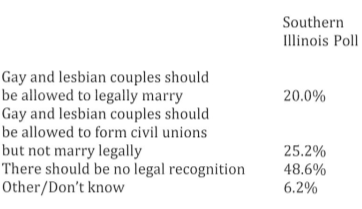 * And a 2012 poll of southern Illinoisans found that even fewer people were against gay marriage…
Asked their position on same-sex marriage in Illinois, a little over one in five (22 percent) chose the option "gay and lesbian couples should be allowed to legally marry." A third (32 percent) chose "gay and lesbian couples should be allowed to form civil unions, but not to legally marry"; and four in 10 (40 percent) chose "there should be no legal recognition of relationships between gay and lesbian couples." [Emphasis added.]
Now, it's possible that in Hails' district the "vast, vast majority" of residents oppose gay marriage. But if they're even close to the mainstream of southern Illinois thought, they're rapidly moving away from that position.
The lesson here is that if you want to oppose gay marriage based on your own ideology, then go for it. But you probably shouldn't rely on public opinion as a justification because it appears to be moving away from you.
* All that being said, something has been really grating on me for the past few days…
The anti-gay views openly espoused by the president of a fast food chain specializing in chicken sandwiches have run afoul of Mayor Rahm Emanuel and a local alderman, who are determined to block Chick-fil-A from expanding in Chicago.

"Chick-fil-A's values are not Chicago values. They're not respectful of our residents, our neighbors and our family members. And if you're gonna be part of the Chicago community, you should reflect Chicago values," Emanuel said Wednesday.
That's just a preposterous and outrageous thing for any mayor to say.
I mean, what if a socially conservative southern Illinois mayor had decided to block Best Buy from obtaining a zoning permit to build a store in his town because the company had contributed to pro-gay marriage efforts?
And what about all the conservative Catholic business owners in Chicago? Should they all be subjected to ideological purity tests before they get a city permit?
Chick-fil-A has no discernible record of anti-gay business practices. They don't refuse to hire gay people. They don't refuse to serve gay customers. The CEO has said marriage should be between a man and a woman and has given some money to groups who believe that way as well. If you don't want to go to that restaurant, then by all means don't. If you want to help boycott the restaurant chain, then get involved. But unless there's some illegal act here, government should stay the heck away from these sorts of purity tests when granting zoning permits.
*** UPDATE *** As usual, the Illinois Republican Party found a way to blame Speaker Madigan…
The Illinois Republican Party started fund-raising off of the Chick-fil-A controversy, on Friday, promising a $5 Chick-fil-A gift card to people who donate at least $10. […]

In making the appeal the state GOP said, "Obama's fellow Madigan-backed Chicago Democratic politicians have stooped to a new low in trying to silence a business owner, Chick-fil-A, by trying to block their business license simply for expressing an opinion that they disagree with."
41 Comments


























































































































Sorry, comments for this post are now closed.