* The governor made an announcement during his City Club speech today…
Gov. Pat Quinn today called for a special session of the General Assembly on Aug. 17 to take up pension reform.

"It's time to vote," Quinn said of lawmakers. "See you in Springfield."

The Illinois House already was scheduled to be in that day to deal with the fate of indicted Democratic Rep. Derrick Smith of Chicago.
More in a bit.
* Here's the official proclamation…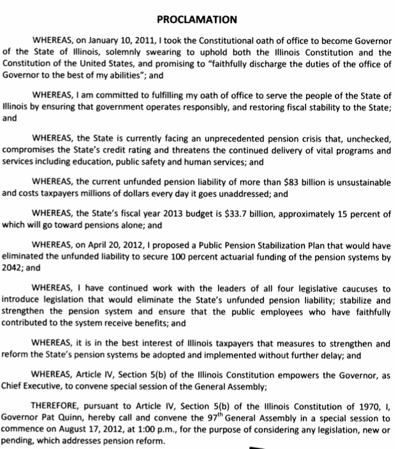 *** UPDATE 1 *** A joint statement by the two Republican legislative leaders…
"We are encouraged by the Governor's call for a special session on pension reform on August 17. As many people know, we have been and continue to be supportive of comprehensive pension reform that solves the major crisis facing us today. The time to act has been upon us. We are continuing to encourage Governor Quinn to take a leadership role to get a comprehensive pension bill passed in the General Assembly. We will continue to be available to discuss this very important matter in the coming weeks."
*** UPDATE 2 *** Senate President John Cullerton will ask the governor to rescind the special session proclamation so Cullerton can just add a session day on his own next month. Details in a bit.
*** UPDATE 3 *** And here's the press release…
Illinois Senate President John J. Cullerton is asking the governor to withdraw his Special Session proclamation so taxpayers aren't hit with thousands of dollars in unnecessary expenses.

Gov. Pat Quinn on Monday ordered a Special Session on Aug. 17 to address unspecified pension legislation. By doing so, the governor's actions mean state taxpayers will cover certain transportation and travel costs for lawmakers and the total tab could cost taxpayers upward of $40,000 for the day.

"I share the governor's interest in resolving the lingering pension issues, but it makes no sense to spend thousands of taxpayer dollars when there is an easy, no-cost alternative," Cullerton said on Monday in recommending Quinn rethink the official Special Session.

Cullerton instead said he will bring the Senate back into session on Aug. 17, a move that would make the Senators ineligible to have travel costs covered by taxpayers. Under state law, if the governor demands a Special Session the taxpayers cover General Assembly travel costs, but if the Senate President or House Speaker simply convene an additional regular session day, there are no such taxpayer costs.

"I appreciate the seriousness of this issue, but there's simply no need for taxpayers to incur the cost of a Special Session," Cullerton said. Furthermore, the pension reform legislation likely to be addressed on Aug. 17 already cleared the Illinois Senate back on May 31. House Bill 1447 would substantially change lawmakers' own pension system and that of state employees (SERS). The Illinois Senate approved the legislation in a remarkable bipartisan vote on the final day of the spring session.

According to recent media reports, the House may take up that legislation on Aug. 17. The House had already scheduled session on that day to take up a disciplinary recommendation involving one of its members.

The Senate President said all the circumstances show why a costly Special Session is unwarranted. The House was already coming back to the Capitol, the Senate President will add a session day, and the pension legislation in question already passed the Senate.
46 Comments









































































































































Sorry, comments for this post are now closed.