* Gov. Quinn won't talk about how he intends to "activate" the grassroots on pension reform, leading me to strongly suspect that he made up the "plan" at the spur of the moment Friday when pension reform efforts collapsed…
Gov. Pat Quinn said Tuesday that he'll wait until next month to debut his so-called grassroots campaign raising awareness about Illinois' pension problem, a move that comes days after lawmakers failed to come up with a plan to overhaul the massively underfunded system. […]

Quinn, a Chicago Democrat, has vowed to push forward and "activate the public," but he said Tuesday that he won't release a plan until the middle of September. He said he wants to wait until several key events have passed: the Republican National Convention next week in Tampa, Fla., the Democratic National Convention the week after in Charlotte, N.C., and the anniversary of the Sept. 11, 2001 attacks.

He declined to say what his plan will specifically include, aside from hinting that it'll involve technology and likely social networking.

"I'll wait to announce our plan … but it will be a good plan. It will involve everyday people. It will use the powerful electronic democracy to wake up legislators that we're not going to give up on our children. That's what pension reform is all about," Quinn said. "I don't want to be competing with the national conventions when all of America will be watching."
Quinn has been blaming Republicans for the failure to pass legislation that kills off future legislative pensions and reforms the General Assembly's pension system. But a whole lot of Quinn's fellow Democrats voted against that bill, including some of his closest legislative allies, and he ought to be pressed on that topic.
* Raw audio…
* Meanwhile, the governor was confronted by some AFSCME members yesterday in Milan…
About 30 American Federation of State, County and Municipal Employees wearing green T-shirts criticizing Gov. Quinn sought a word with him. Many said they will lose their jobs with the Illinois Department of Children and Family Services because of the governor's proposed cuts.

Gov. Quinn talked to the group before leaving for an event in Peoria.

"I thank you for what you're doing," he told them. "You're on the front lines for our children."

His next sentence, however, was interrupted by DCFS child welfare advocate Terra Fairburn who held up a sheet of paper in front of Gov. Quinn.

"The children are going to suffer," said Ms. Fairburn. "Here's my layoff notice."

Noise grew as the governor said, "I know," and tried to defend himself, saying the General Assembly cut the DCFS budget by $50 million.

"My budget did not include that," Gov. Quinn said.

"But you hired the director, sir," Ms. Fairburn responded. "And the director (Richard Calica) is doing all this stuff, and he doesn't even know what he's doing."
* Photo…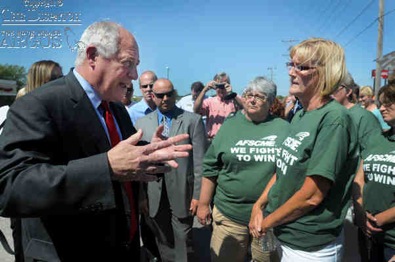 Caption?
* Other stuff…
* Gov. Quinn signs new law expected to combat whooping cough

* Governor Signs Stronger DUI, Social Hosting Laws At Police Chiefs Conference

* Chicago to pay $450,000 to 2 drivers over false DUI charges

* Quinn signs Rezin-sponsored legislation on the EPA into law
40 Comments























































































































Sorry, comments for this post are now closed.