* From an AFSCME press release, sent yesterday afternoon…
Just two weeks after a huge crowd of working men and women booed him off the stage on Governor's Day at the Illinois State Fair, Pat Quinn found that he couldn't escape responsibility for his anti-labor record even in Charlotte, NC.

Starting today at the Democratic National Convention, the state's largest union of public-service workers — the American Federation of State, County and Municipal Employees (AFSCME) Council 31 — announced it will publicize Governor Quinn's push to lay off 4,000 state employees, slash retiree pensions and break union contracts while giving away hundreds of millions of dollars in new corporate tax loopholes.

The union will debut a new mobile billboard near Governor Quinn's campaign fundraiser this evening at the Capital Grille, 201 N Tryon St., and will bring it to many events in Charlotte this week.

A letter sent this afternoon to the entire Illinois delegation laid out the governor's record.
The letter is here. And here's the mobile billboard referenced in the press release…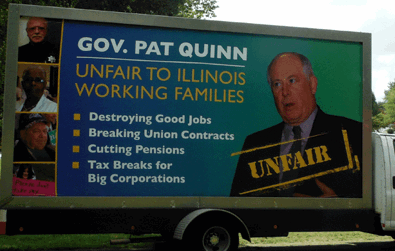 * Gov. Quinn talked about being pro-labor during a speech to Illinois delegates yesterday…
"Today is a very special day in American history — it's Labor Day and every day should be Labor Day. … It's so important that we honor labor all the time," the governor said. Quinn touted support for increasing the state's minimum wage, which currently stands at $8.25 an hour, $1 above the federal minimum wage.

The misgivings of organized labor toward Quinn were muted somewhat by improvements in manufacturing jobs in the state as well as new United Auto Workers union jobs at the Chrysler Corp. plant in Belvidere, the Ford Motor Co. plant on Chicago's South Side and the Mitsubishi Motors Corp. plant in Normal — successes Quinn readily touted to the delegates.

"I'm a friend of labor and I will always be friends to labor because they helped me," Quinn told reporters later. "Governors have to make tough decisions. Sometimes they upset some people. But I think I'll do well with ordinary working people in Illinois across our state because they know I fight hard for them every day."
* Mike Carrigan, president of the Illinois AFL-CIO…
"I haven't forgotten (Quinn) won by 32,000 votes (in 2010), and I think a few other people haven't forgotten that either. I don't know how he could win re-election again without making peace with labor. But we're ready. We'll be at the table. All it will take is a phone call," Carrigan said.
Discuss.
44 Comments



































































































































Sorry, comments for this post are now closed.