* The Paul Simon Public Policy Institute's latest poll found that Illinoisans are split on what to do about campaign caps…
About half (46.0 percent) agreed that "Limits on campaign contributions are necessary to prohibit corruption and maintain the confidence of the public in politics. Complete disclosure of contributions is important, but it is not enough."

Slightly more (49.2 percent) chose the statement that "Contribution limits do not work. Money always finds a way to influence politics. The best way to ensure the integrity of politics and maintain the confidence of the public is to eliminate contribution limits and to require complete, immediate disclosure of all contributions."

• Among those most likely to say contribution limits are necessary were the college-educated (53.8 percent), self-described liberals (53.9 percent), and respondents in households with incomes above $100,000 (52.0 percent).

• Among those most likely to favor disclosure requirements over contribution limits were the high-school-educated (57.4 percent), conservatives, (55.6 percent), political independents (56.6 percent), and respondents in households with incomes below $50,000 (54.2 percent).
* The poll also asked whether various groups had too much influence in Springfield or not enough…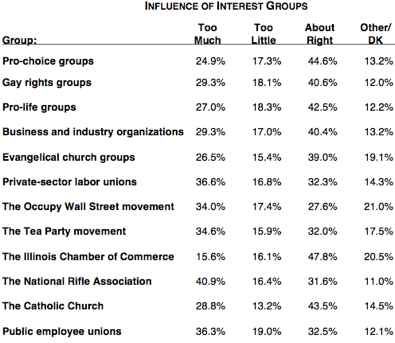 From the Institute…
The "too much influence" responses range from a low of 15.6 percent for the Illinois Chamber of Commerce (also note its higher-than-average "don't know" response) to a high of 40.9 percent for the National Rifle Association. Not much jumps out at the reader in terms of patterns, with "about right" being the modal response in most categories. The Occupy Wall Street and Tea Party movements, for example, draw "too much" responses from about a third. Pro-choice and pro-life groups draw similar ratings to each other, with about a quarter saying each has too much influence.

Business and industry groups (29.3 percent)—as well as the aforementioned Illinois Chamber of Commerce—were less likely to be seen as having too much influence than were labor groups, whether public employee unions (36.3 percent) or private sector unions (36.6 percent).
* The Citizens United case is hugely opposed by Illinoisans…
The Institute asked about the Supreme Court's Citizens United decision for the first time in the 2012 poll. Interviewers told respondents that "the U.S. Supreme Court decided that corporations and unions can spend unlimited amounts of money to directly support or oppose political candidates. Before the ruling, corporations and unions could not." They were asked whether and to what extend they favored or opposed the ruling.

Two-thirds (66.5) of Illinois voters surveyed said they opposed the ruling, more than half (52.1 percent) strongly opposed it. One in four (25.4 percent) either strongly or somewhat favored the Citizens United Ruling.

• Most likely to strongly oppose the Citizens United decision were college-educated respondents (59.5 percent) and liberals (63.0 percent).
• Strong opposition was higher in Chicago (57.5 percent) than in its suburbs (51.6 percent) or downstate (49.5 percent).

• As one might guess, Republicans (32.2 percent strongly/ somewhat favor) and self-described conservatives (30.7 percent) were more likely than average to favor the Court's decision. Among Democrats, 12.5 percent strongly or somewhat favored the Citizens United decision, and among independents, 19.8% favored the decision.
* And they want at least a one-year ban on lobbying by former elected officials…
Next, about former elected officials as lobbyists, which statement comes closer to your views?

To reduce the likelihood or the perception of corruption, or trading votes for money, politicians should be prohibited from lobbying
their former colleagues for one year after leaving office. 68.5%

Organizations hire former legislators for their expertise in the lawmaking process. Contacting governmental officials is a constitutional right for anyone and should not be regulated–even for former elected officials. 25.4%

Other/Don't know 6.1%
* Illinoisans also think that corruption in Illinois business is pretty bad, but not as bad as it is in state government…
In regards to corruption, would you say corruption in Illinois business is widespread or not?

Yes 62.3%
No 26.3%
Other/Don't know 11.4%

And what about in state government? Would you say corruption in Illinois government is widespread or not?

Yes 76.8%
No 16.3%
Other/Don't know 7.0%

Compared to other states, do you think Illinois state government is more corrupt than governments in other states, less corrupt than in other states, or do you think it is about the same?

More corrupt 58.0%
Less corrupt 2.1%
About the same 36.6%
Other/Don't know 3.2%

What about in your city or area of the state? Is your local government more corrupt than government in other parts of Illinois, less corrupt, or do you think it is about the same?

More corrupt 18.7%
Less corrupt 35.8%
About the same 41.6%
Other/Don't know 3.9%
* For years, University of Illinois political scientist Jim Nowlan has been posing an ethical scenario like this one to his students…
Next, I want to get your thoughts on a scenario I'm going to read to you: Let's say that you have a close relative who has just been arrested on a serious charge of driving under the influence of alcohol. He is in his first job out of college and cannot do his job without a driver's license. His wife is pregnant with their first child.

Your relative has hired a veteran lawyer who says he knows his way around the courthouse. The lawyer says that if your relative provides him $1000 in cash, in addition to his fee, he is confident that he can have the charge dismissed. Your young relative has asked for your advice. Would you tell him to accept or decline the lawyer's offer?
* This is what the Simon Institute found when it asked the question…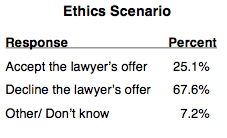 * Methodology…
For answers to these questions, the Institute surveyed 1,261 registered voters across the state, September 4 through 10, resulting in a statistical margin for error of plus or minus 2.77 percentage points. The questionnaire was available in both English and Spanish, and the sample included both land lines and cell phones. The Simon Institute developed the questionnaire, and phone interviews were administered by Customer Research International of San Marcos, Texas, which reports no Illinois political clients. The Institute paid for the project out of non-state funds from its endowment.
More on the poll later today.
16 Comments















































Sorry, comments for this post are now closed.