* Unsurprisingly, Walsh doubled down…
* Transcript…
But what Mitt Romney meant to say was this: Here's why this is the most important election in our nation's history: Because we are at a very scary point right now where there are too many Americans dependent upon government right now. Or as a very wise woman told me in the last campaign, we have too many people in the wagon and not enough people pulling the wagon. And if we don't get this election right, the people pulling the wagon are going to put the wagon down and say, "You know what? I've had it, I'm tired." That's what this election is all about.
* But a Public Policy Polling survey of 508 likely voters taken Sept. 18-20 shows Mitt Romney isn't doing too well in the district…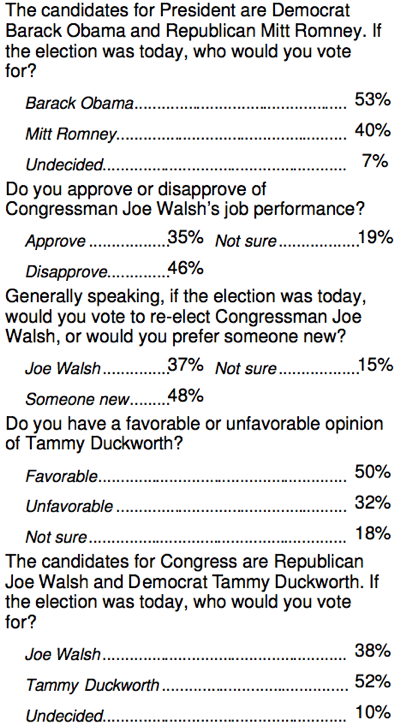 Other polling has shown this race much tighter.
*** UPDATE *** The Hill reports that the NRCC is not doing much of anything for Walsh…
The National Republican Congressional Committee (NRCC) has no airtime reserved for three of its most vulnerable incumbents, a sign it might think Reps. Joe Walsh (R-Ill.), Frank Guinta (R-N.H.) and Roscoe Bartlett (R-Md.) are beyond saving at this point.

Walsh and Guinta share media markets with other embattled GOP candidates for whom the NRCC has recently begun to air ads, leaving no ad time for their races.
27 Comments
















































































Sorry, comments for this post are now closed.