Today's map
Friday, Sep 28, 2012 - Posted by Rich Miller
* Tribune…
Alexandra Anderson, a 25-year-old law student at Northwestern University, is among a growing number of people flocking to downtown homes in major cities across the United States, a group described in a Census Bureau report released Thursday.

The report found that the number of people living within two miles of Chicago's City Hall rose 36 percent from 2000 to 2010. Though many of the largest U.S. cities experienced a similar trend in the last decade, Chicago outpaced them all in that category.

More than 48,000 moved to downtown Chicago in the last decade, according to the report. New York City saw a 9.3 percent increase in its downtown population, or about 37,000 people.

Anderson said she didn't think twice about her decision to live in a downtown studio apartment when she moved to Chicago last year. Her apartment is around the corner from Northwestern Law School. A grocery store, a post office and multiple restaurants, bars and coffee shops are all within a five-minute walk.
I moved downtown in early 2001. There were no grocery stores, and lots of other stores closed at 5 o'clock because the Loop used to empty out after work. But things changed fast. I eventually moved back to Springfield, but from what I can tell, downtown appears to be a lot more liveable these days.
Despite some of the problems, I thoroughly enjoyed being able to walk to things like the ballet (I had season tickets back then). The lake was a short hike. Big festivals were more fun to attend because I could easily go home and rest up for a couple hours if I wanted. Getting to baseball games was super easy because the L was right around the corner. Covering downtown news events was a breeze. Back when Chicago still had July 3rd fireworks, I'd often throw a viewing party. You could watch the display in air conditioned comfort without dealing with crowds. I loved living downtown.
But then I started thinking about moving back to Springfield after the brutal 2004 overtime session. The commute was just killing me. The drive down wasn't so bad. It was the drive back north, after long nights spent, um, "gathering information." I moved a year later, and I've never forgiven Rod Blagojevich for that. Don't get me wrong. I have a very nice place in Springfield. I enjoy my life here. But I do miss the action.
* Anyway, here's a map produced by the Tribune which shows population change in Chicago…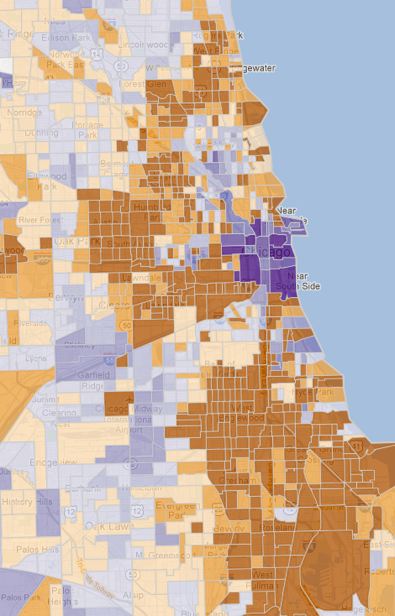 As the legend shows, the South and West Sides have lost huge numbers, while downtown has gained…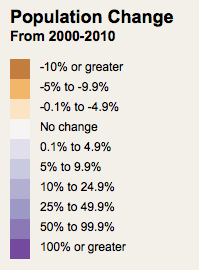 12 Comments



































Sorry, comments for this post are now closed.