* Carol Marin interviewed Cook County Board President Toni Preckwinkle about her refusal to endorse Lance Tyson, the opponent of indicted former state Rep. Derrick Smith…
You might assume that because Preckwinkle has earned a reputation for reforming government that she would be in Tyson's corner. Especially since she never endorsed Smith and regards him as "incompetent at best, a crook at worst."

But no. She is not.

"I would tell you, I've spent the last two years of my life trying to clean up after Todd Stroger," said the president, referring to her ill-fated, much criticized predecessor.

Tyson was Stroger's first chief of staff. A former lobbyist for the Daley administration, Tyson took on the job in a muscular way. Or as former county Commissioner Mike Quigley expressed it to the Tribune, in the manner of "If you're not with us, you're against us."

But after 18 months of playing defense, Tyson must have known Stroger's brand of governance was indefensible. He left for private practice. But he kept giving and raising cash for many Democratic politicians, including Preckwinkle, as recently as April of this year.

But when Tyson asked for Preckwinkle's endorsement this summer, she declined.

"There is no way for Lance to disassociate himself from the past I inherited," she told me. "We're in terrible budget shape, they didn't do any long-range planning, and given how little attention Todd gave, I would guess Lance was running it."

Tyson disputes that. And he calls Preckwinkle's rejection "stunning," arguing that she should want "to support an attorney" in a race against someone "who needs an attorney."
* Eric Zorn also interviewed Preckwinkle about the situation and came to this conclusion…
First, Tyson does try to dissociate himself somewhat from Stroger, who all but inherited the seat from his father, John. Tyson told me he tried to keep Stroger focused on battling the tough financial challenges the county faced, and pointed out that he gave up in frustration less than halfway through Stroger's term.

Second, whatever Todd-stink still lingers on Tyson is mild compared to the foul cloud in the West Side legislative district that envelops his opponent, Derrick Smith.
I agree fully. Preckwinkle is making a serious mistake here. Tyson tried to do right in that office. He took the job thinking he could help. Some folks, myself included, thought Tyson would keep Todd Stroger in check. But Stroger was beyond help. And Preckwinkle ought to be ashamed of herself here.
And the same goes for Speaker Madigan, who is also refusing to endorse in this race. He presided over Smith's ouster, voted for that ouster, and now won't work to prevent Smith from returning to the House?
Madigan's operation is spending tons of dollars blasting away at Republicans over minor issues, or even over issues that have no relation to state government (Medicare and Social Security). But he has no cash to keep Derrick Smith from coming back to the House? Really?
- Posted by Rich Miller 31 Comments


* From another photo posted by Gov. Pat Quinn's office documenting his trade trip to Brazil…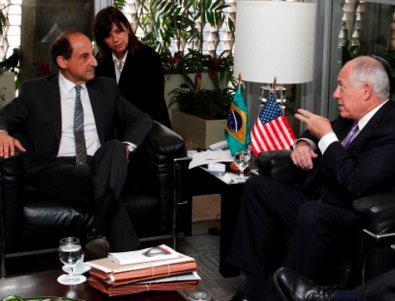 * The Question: Caption?
- Posted by Rich Miller 57 Comments


* And here's another result from the 2012 Paul Simon Public Policy Institute poll…
Which of the following three statements comes closest to your position on the legal rights of gay and lesbian couples in Illinois

Gay/lesbian couples should be allowed to legally marry 43.6%

Gay/lesbian couples should be allowed to form civil unions 31.8%

There should be no legal recognition of relationships between gay and lesbian couples 20.2%

Other/ Don't know 4.4%
* Compare those results to how the numbers looked two years ago, in the 2010 Paul Simon Public Policy Institute poll…
Which of the following three statements comes closest to your position on the legal rights of gay and lesbian couples in Illinois?

Gay and lesbian couples should be allowed to legally marry 33.6%

Gay and lesbian couples should be allowed to form civil unions, which would give them some legal rights 33.9%

There should be no legal recognition of relationships between gay and lesbian couples 26.5%

Other/Don't know 6.0%
So, the number of people who say gays should be allowed to marry is up ten points in just two years, while those opposing all recognition of gay unions has declined by over 6 points. The most recent poll's margin of error is 2.77 points, so this is real movement.
That's pretty amazing.
- Posted by Rich Miller 33 Comments


* As I told you earlier today, a strong majority of Illinoisans believe that corruption is widespread in Illinois business, according to the latest Paul Simon Public Policy Institute poll…
More than six respondents in ten (62.3 percent) agreed that corruption is widespread in Illinois business.

• Black (73.4 percent) and Hispanic respondents (65.9 percent) were more likely than whites (57.6 percent) to say corruption in Illinois business is widespread
• Respondents in households with incomes lower than $50,000 (70.8 percent) were also more likely than average to say corruption in Illinois business is widespread.
* The Institute asked some other class-related questions…
Which of these statements comes closer to your own view - even if neither is exactly right.

Most rich people today are wealthy mainly because of their own hard work, ambition or education 40.4%

Most rich people today are wealthy mainly because they know the right people or are born into wealthy families 46.9%

Neither (VOL) 2.2%
Both equally (VOL) 7.8%
Other/don't know 2.7%

Do you feel that the distribution of money and wealth in this country today is fair, or do you feel that the money and wealth in this country should be more evenly distributed among a larger percentage of the people?

Fair now 34.5%
Should be more even 57.8%
Other/Don't know 7.7%

Do you think the federal government should or should not pursue policies that try to reduce the gap between wealthy and less well-off Americans?

Should 52.1%
Should not 41.1%
Other/Don't know 6.8%
Discuss.
- Posted by Rich Miller 50 Comments


* The Paul Simon Public Policy Institute's latest poll found that Illinoisans are split on what to do about campaign caps…
About half (46.0 percent) agreed that "Limits on campaign contributions are necessary to prohibit corruption and maintain the confidence of the public in politics. Complete disclosure of contributions is important, but it is not enough."

Slightly more (49.2 percent) chose the statement that "Contribution limits do not work. Money always finds a way to influence politics. The best way to ensure the integrity of politics and maintain the confidence of the public is to eliminate contribution limits and to require complete, immediate disclosure of all contributions."

• Among those most likely to say contribution limits are necessary were the college-educated (53.8 percent), self-described liberals (53.9 percent), and respondents in households with incomes above $100,000 (52.0 percent).

• Among those most likely to favor disclosure requirements over contribution limits were the high-school-educated (57.4 percent), conservatives, (55.6 percent), political independents (56.6 percent), and respondents in households with incomes below $50,000 (54.2 percent).
* The poll also asked whether various groups had too much influence in Springfield or not enough…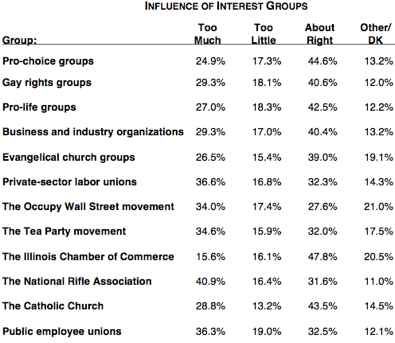 From the Institute…
The "too much influence" responses range from a low of 15.6 percent for the Illinois Chamber of Commerce (also note its higher-than-average "don't know" response) to a high of 40.9 percent for the National Rifle Association. Not much jumps out at the reader in terms of patterns, with "about right" being the modal response in most categories. The Occupy Wall Street and Tea Party movements, for example, draw "too much" responses from about a third. Pro-choice and pro-life groups draw similar ratings to each other, with about a quarter saying each has too much influence.

Business and industry groups (29.3 percent)—as well as the aforementioned Illinois Chamber of Commerce—were less likely to be seen as having too much influence than were labor groups, whether public employee unions (36.3 percent) or private sector unions (36.6 percent).
* The Citizens United case is hugely opposed by Illinoisans…
The Institute asked about the Supreme Court's Citizens United decision for the first time in the 2012 poll. Interviewers told respondents that "the U.S. Supreme Court decided that corporations and unions can spend unlimited amounts of money to directly support or oppose political candidates. Before the ruling, corporations and unions could not." They were asked whether and to what extend they favored or opposed the ruling.

Two-thirds (66.5) of Illinois voters surveyed said they opposed the ruling, more than half (52.1 percent) strongly opposed it. One in four (25.4 percent) either strongly or somewhat favored the Citizens United Ruling.

• Most likely to strongly oppose the Citizens United decision were college-educated respondents (59.5 percent) and liberals (63.0 percent).
• Strong opposition was higher in Chicago (57.5 percent) than in its suburbs (51.6 percent) or downstate (49.5 percent).

• As one might guess, Republicans (32.2 percent strongly/ somewhat favor) and self-described conservatives (30.7 percent) were more likely than average to favor the Court's decision. Among Democrats, 12.5 percent strongly or somewhat favored the Citizens United decision, and among independents, 19.8% favored the decision.
* And they want at least a one-year ban on lobbying by former elected officials…
Next, about former elected officials as lobbyists, which statement comes closer to your views?

To reduce the likelihood or the perception of corruption, or trading votes for money, politicians should be prohibited from lobbying
their former colleagues for one year after leaving office. 68.5%

Organizations hire former legislators for their expertise in the lawmaking process. Contacting governmental officials is a constitutional right for anyone and should not be regulated–even for former elected officials. 25.4%

Other/Don't know 6.1%
* Illinoisans also think that corruption in Illinois business is pretty bad, but not as bad as it is in state government…
In regards to corruption, would you say corruption in Illinois business is widespread or not?

Yes 62.3%
No 26.3%
Other/Don't know 11.4%

And what about in state government? Would you say corruption in Illinois government is widespread or not?

Yes 76.8%
No 16.3%
Other/Don't know 7.0%

Compared to other states, do you think Illinois state government is more corrupt than governments in other states, less corrupt than in other states, or do you think it is about the same?

More corrupt 58.0%
Less corrupt 2.1%
About the same 36.6%
Other/Don't know 3.2%

What about in your city or area of the state? Is your local government more corrupt than government in other parts of Illinois, less corrupt, or do you think it is about the same?

More corrupt 18.7%
Less corrupt 35.8%
About the same 41.6%
Other/Don't know 3.9%
* For years, University of Illinois political scientist Jim Nowlan has been posing an ethical scenario like this one to his students…
Next, I want to get your thoughts on a scenario I'm going to read to you: Let's say that you have a close relative who has just been arrested on a serious charge of driving under the influence of alcohol. He is in his first job out of college and cannot do his job without a driver's license. His wife is pregnant with their first child.

Your relative has hired a veteran lawyer who says he knows his way around the courthouse. The lawyer says that if your relative provides him $1000 in cash, in addition to his fee, he is confident that he can have the charge dismissed. Your young relative has asked for your advice. Would you tell him to accept or decline the lawyer's offer?
* This is what the Simon Institute found when it asked the question…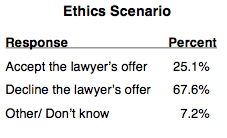 * Methodology…
For answers to these questions, the Institute surveyed 1,261 registered voters across the state, September 4 through 10, resulting in a statistical margin for error of plus or minus 2.77 percentage points. The questionnaire was available in both English and Spanish, and the sample included both land lines and cell phones. The Simon Institute developed the questionnaire, and phone interviews were administered by Customer Research International of San Marcos, Texas, which reports no Illinois political clients. The Institute paid for the project out of non-state funds from its endowment.
More on the poll later today.
- Posted by Rich Miller 16 Comments


* Unsurprisingly, Walsh doubled down…
* Transcript…
But what Mitt Romney meant to say was this: Here's why this is the most important election in our nation's history: Because we are at a very scary point right now where there are too many Americans dependent upon government right now. Or as a very wise woman told me in the last campaign, we have too many people in the wagon and not enough people pulling the wagon. And if we don't get this election right, the people pulling the wagon are going to put the wagon down and say, "You know what? I've had it, I'm tired." That's what this election is all about.
* But a Public Policy Polling survey of 508 likely voters taken Sept. 18-20 shows Mitt Romney isn't doing too well in the district…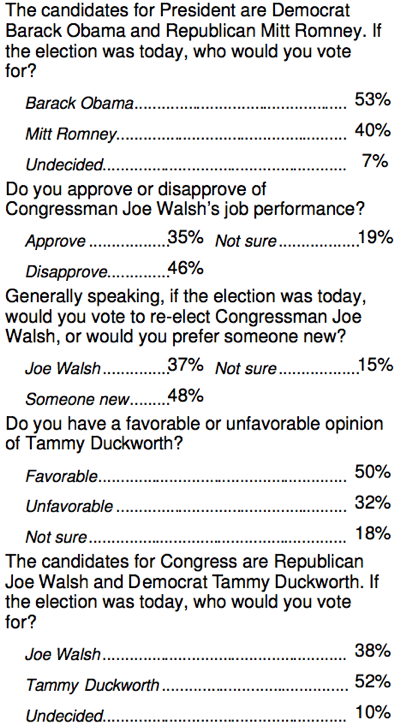 Other polling has shown this race much tighter.
*** UPDATE *** The Hill reports that the NRCC is not doing much of anything for Walsh…
The National Republican Congressional Committee (NRCC) has no airtime reserved for three of its most vulnerable incumbents, a sign it might think Reps. Joe Walsh (R-Ill.), Frank Guinta (R-N.H.) and Roscoe Bartlett (R-Md.) are beyond saving at this point.

Walsh and Guinta share media markets with other embattled GOP candidates for whom the NRCC has recently begun to air ads, leaving no ad time for their races.
- Posted by Rich Miller 27 Comments


* I'm on the road today, so posting will be light.
* The Question: What's been happening with your local races so far? Give us an update.
- Posted by Rich Miller 38 Comments


* The Wall Street Journal editorial board usually lives on a different planet than the rest of us, so we can take this for what it is…
Now that Chicago's children have returned to not learning in school, we can all move on to the next crisis in Illinois public finance: unfunded public pensions. Readers who live in the other 49 states will be pleased to learn that Governor Pat Quinn's 2012 budget proposal already floated the idea of a federal guarantee of its pension debt. Think Germany and eurobonds for Greece, Italy and Spain.

Thank you for sharing, Governor.

Sooner or later, we knew it would come to this since the Democrats who are running Illinois into the ground can't bring themselves to oppose union demands. Illinois now has some $8 billion in current debts outstanding and taxpayers are on the hook for more than $200 billion in unfunded retirement costs for government workers. By some estimates, the system could be the first in the nation to go broke, as early as 2018. […]

Look for Democrats in Washington to take up that call, and for such an effort to get some traction if Democrats control one or both houses of Congress next year. Jim DeMint, the South Carolina Republican, has seen this future and is already warning against it. He and Illinois Senator Mark Kirk have proposed a resolution opposing a federal bailout of state pensions, and we hope more sign on. States need to clean up their own fiscal messes.
Quinn's budget proposal included a federal guarantee of pension debt?
Not true.
We've been over this before. From February of 2011…
Brie Callahan, spokeswoman for the governor's office, said Quinn would turn down all offers of federal bailout if the state finds itself out of cash.

"We believe that the states have an obligation to pay their bills and to meet the demands they have put upon themselves," she said. "We don't want any federal assistance in terms of bankruptcy."
That above excerpt was from Illinois Statehouse News, now known as Illinois Watchdog. The publication failed to reference that quote when it ran a story on this silly topic the other day…
The Illinois Policy Institute launched "No Pension Bailout," a national movement to block Congress' attempts to rescue failing state and municipal pension plans.

U.S. Sen. Jim DeMint, R-S.C., joined John Tillman, the institute's CEO, on Thursday in presenting a study, proving any bailout would punish responsible states and reward reckless ones. The study shows the winners and losers by state and county.

"States will assume they can run their pension systems into debt and turn to the federal government," said DeMint. "For decades state legislators have endeared themselves to public employees with pension promises … based on accounting methods that would put any business in jail."
* So, the Wall Street Journal editorial was based on Sen. DeMint's press conference which was based on some Illinois Policy Institute fear-mongering about a single line in an administration analysis of the Fiscal Year 2012 budget over a year and a half ago, in February of 2011..
significant long-term improvements will come only from additional pension reforms, refinancing the liability and seeking a federal guarantee of the debt.
That line was immediately retracted by the governor's office and there's been zero discussion about this topic since then.
* From the governor's office…
The Illinois Policy Institute continues to incorrectly state this narrative about state's requesting "bailouts" ignoring that no governor is asking or has asked for any such bailout. We want to make clear, as Gov. Quinn did in early 2011, that the state of Illinois is not seeking a federal guarantee for its pensions.

When a statement to that effect was discovered in an Illinois budget document in 2011, Gov. Quinn immediately made clear the sentence was entered in error and many media outlets reported the correct statement: 'Illinois has no plans to seek a federal guarantee on any bonds or pension debt.' We ask that everyone please update their records to reflect what was made clear in 2011.

Gov. Quinn signed into law reforms for new employees which will save taxpayers tens of billions of dollars over the next several decades and he continues to call on legislators and groups like the Illinois Policy Institute to help enact comprehensive reforms for current employees.
The IL Policy Institute played a little game, and a US Senator and the Wall Street Journal played along.
- Posted by Rich Miller 41 Comments


* Anybody want to talk about that horribly refereed football game last night?
Oy.
- Posted by Rich Miller 76 Comments


* This is from an e-mail from AFSCME to its members…
Negotiations for a new state contract are at a virtual standstill as the Quinn Administration continues to press for massive concessions that would take thousands of dollars out of union members' pockets.

Governor Quinn's position is an insult to every state employee, demonstrating in no uncertain terms how little he values the vital services that state government provides to citizens.

The administration's proposal would move every employee down two pay grades in the first year of the contract, then freeze wages and steps for the remaining two years. It would also drastically increase employee health care costs.

For many employees this would represent a $10,000 pay cut next year.

Here's what the health insurance changes that Management has on the table would mean for you:

First year CHP Family Premium increases–$3,245 per year; Managed Care Family Premium increases–$2,940 per year

In the second and third year, the premium costs would increase even more because the employee's share of health care costs (now specified in dollars per month in the contract) would be determined by a fixed percentage of costs.

For the Quality Care Health Plan (QCHP), Management would more than double annual hospital admission deductibles, coinsurance, and annual out-of-pocket limits.
Prescription deductibles and copays would be increased.

Managed Care Plan (HMO or OAP) co-pays for everything (office visits; hospital admissions, surgery, emergency room, etc.) would double, as would the Rx deductible.

Dental Plan deductibles would increase by $275. Vision Plan co-pays for exams, lenses, and frames would also more than double.

The current contract expired on June 30, but the parties agreed to extend it pending the involvement of an independent mediator in the bargaining sessions. Management refused to participate in the bargaining scheduled for Sept. 10-12 because a mediator would not be present. The next bargaining session is scheduled for Oct. 1-3. However, there is still no agreement on a mediator and one may not be available for that session either.

The continuing deadlock at the negotiating table makes crystal clear that the only way state employees will gain a fair contract is through direct action at the worksite and in the community.
Thoughts?
- Posted by Rich Miller 108 Comments