* There will just never be another one like him. May he rest in peace, and I hope there's a bar there for him…
From a slate of senators, congressmen, governors and two Mayor Daleys on down, anybody who was anybody in Illinois politics over many decades knew and respected Bill O'Connell, the last of a breed of journalist-activists who covered the news in Springfield and wasn't shy about making the news happen behind the scenes along the way.

William J. O'Connell Jr., 83, died Sunday, Sept. 23, of complications from cancer.

From 1955 until his retirement in 1996, he commanded the political and Statehouse beat for the Peoria Journal Star. He quickly built a reputation for keeping a keen watch over Illinois' public officials.

But it was Mr. O'Connell's deep understanding of why and how things got done that brought admiration from his readers, fellow reporters and top politicians. […]

When Richard M. Daley was a young man sent to work on the state's 1970 Constitution in Springfield, he was urged to sit down with Mr. O'Connell to learn some of the more important ins and outs. And whenever Daley returned as mayor before retiring last year, he would speak about the one reporter he knew well in Springfield: Bill O'Connell.
O'Connell was somebody I always looked up to. We had different styles, different goals, different ways of doing business, different tastes, but Bill was the man. And everybody knew it…
Credited with the ability to bring together lawmakers from downstate and the Chicago area to the benefit of both, O'Connell was both journalist and community promoter. His influence helped persuade lawmakers to, among other things, fund the Peoria Civic Center and other area improvements.

"I can't think of a major project or event in the Peoria area that he didn't have a powerful hand behind the scenes in making happen," state Rep. David Leitch, a former reporting colleague, said at O'Connell's 1996 retirement.
He stomped on the terra.
*** UPDATE *** Bill O'Connell Services…
Visitation will be 4:30 p.m. to 8 p.m. Friday at Wright & Salmon Mortuary, 2416 N. North St.

Visitation also will be from 9 a.m. to 10 a.m. Saturday at St. Bernard Catholic Church, 509 E. Kansas St., Peoria. Mass will start at 10 a.m. Saturday at the church.

Mass will be followed by burial at Resurrection Cemetery, 7519 N. Allen Road, Peoria, according to Wright & Salmon.
- Posted by Rich Miller 8 Comments


Listings for Rep. Jesse Jackson Jr.'s (D-Ill.) Dupont Circle home have been removed from public view.

After news broke on Wednesday that Jackson's house was put up for sale, an online tour of the house and a public listing on a real estate website were both taken down. The Multiple Listing Services (MLS) listing for the house was removed on Wednesday, the Chicago Sun-Times reported Monday. A spokesman for Jackson Jr. told the Chicago paper that the listing had been made private. Similarly, a virtual tour of the house on YouTube was taken down after news broke that the house was up for sale on Wednesday.
When asked to respond to Jackson opponents who said the house sale was a sign the congressman's future prospects were doubtful, Lampe said: "it's speculation."

"His name is still on the ballot," Lampe said. When pressed to comment on whether Jackson were still running for reelection, Lampe repeated: "He's still on the ballot."

Lampe later added: "We're waiting for the doctor to release him to send him back to work."

Jackson aides indicated last week that the couple put the house on the market to defray the cost of medical bills. The Sun-Times reported last week that the couple took out a $405,000 loan against the Washington D.C. home two years ago. The couple also owns a home in the city's South Shore neighborhood.

The Jacksons have offered little public comment since Jackson took a leave from his congressional post on June 10.

The property was placed on the market Sept. 8, according to real estate data.

That's one day after Jackson aides announced the congressman had been released from Mayo Clinic and was back with his kids in Washington, D.C. "He may be back to work on Monday," his spokesman said at the time and his wife, Sandi, had said her husband intended on staying in office.
What's going on with you? It is impossible to discern the truth behind the cloak of secrecy, obfuscation and spin that you have created.

How can voters count on you to be an effective advocate if you can't manage credible, substantive communications about your illness and political future?
An impression has been created, through statements released to the news media, that Jackson is no longer capable of making decisions for himself.

There is an appearance that his wife, Sandi Jackson, a Chicago alderwoman, is making all the important decisions for him.

If that's in fact the case, Jesse Jackson Jr. should step down as congressman.

While every elected official relies heavily on the counsel of family and political associates, they are ultimately expected to determine for themselves how to vote and what issues to advocate or oppose.

There has been no evidence since Jackson took his medical leave of absence from Congress several months ago that he is capable of making such decisions on his own.

If Jackson plans on returning to Congress after the November election, he should make it clear immediately that he is capable of fulfilling his duties.
It will be best for the voters if Jackson stays in, then resigns if he must after his inevitable victory so that a field of candidates can vie for the seat in a special election.

I'm guessing, therefore, that the pressure now on him to resign is intense.

And because what's best for the voters is so seldom on the political agenda, I'm not optimistic that he'll hang on.
- Posted by Rich Miller 10 Comments


* Gov. Pat Quinn talked to reporters last week before he left for Brazil. He had this to say about some AFSCME protesters…
"They've had two contracts in the last eight years that raised their wages by 48 percent. That's far beyond the cost of living."
* Raw audio…
* The Question: Should AFSCME be forced to give back some of their wage hikes in contract negotiations? Take the poll and then explain your answer in comments, please.
*** UPDATE *** From AFSCME…
Quinn claim is FALSE

In fact the net annual increase over the life of the last two contracts is just 28.5%. (Gross increase 32.5% less 4% new employee pension contribution.)

And for nearly 30,000 employees, including all those in Human Services and Corrections, the increase is even less – because Gov. Quinn has refused to pay last year's increases totaling 5.25%. So most state employees have actually received just 23.25% over the last eight years.

The only way Gov. Quinn gets anywhere such a figure is by including step (longevity) increases that are only granted in an employee's first 8 years. Only about half of all state employees receive any steps at all, so if this is the basis for Quinn's fuzzy math, it is misleading. Further, only those employees actually hired eight years ago – in 2004 – would have received steps and COLAs in each of the eight contract years Quinn refers to. That is a miniscule number of our 40,000 members in state government.

Pat Quinn should stop lying to the public and attacking public servants who care for veterans and the disabled, keep our communities safe, prevent child abuse and perform countless other vital public services in Illinois communities each day.
- Posted by Rich Miller 48 Comments


* Conservative radio show host and Republican fundraiser Dan Proft had an, um, interesting take on the Democratic pension "cost shifting" proposal, which would force local school districts to pay the employer share of pension costs over several years…
* Transcript…
"'I'm sorry, we may now have to now confiscate your homes.' I mean, that's essentially what the pension push-down legislation that's been proposed in Springfield offers to do.

"We are going to use your home as collateral for somebody else's guaranteed pension.

"And so when you see your property tax bill go from five, to seven, to ten, to twelve, to fifteen percent of your mortgage that's what's happening.

"They see your home as useful… to them to help sustain promises they made that they knew they couldn't finance, and now they're running out of options to finance them at the state level. So, it's time to confiscate your homes to make sure that they keep their promises to their core political constituencies at your expense.

"So if the prospect of having your home liquidated for somebody else's public sector pension doesn't animate you and your neighbors, then frankly, I'm bit at a loss, I don't know what will."
No hyperbole there.
Full video.
* Other videos…
- Posted by Rich Miller 37 Comments


* A big court win for a couple of religious pharmacists…
An Illinois appeals court has ruled in favor of two pharmacists who objected to having to provide emergency contraception on religious grounds, setting a precedent their lawyer hopes will protect others from judicial or state sanctions.

In a seven-year legal campaign, Luke VanderBleek and Glenn Kosirog set out to shield their pharmacies from a 2005 executive order issued by then-Gov. Rod Blagojevich requiring all pharmacists to fill prescriptions for the so-called morning-after pill.

In a lawsuit, they argued that they were protected by the Illinois Health Care Right of Conscience Act, which says health professionals cannot be punished if they refuse to offer a service because of their conscientious convictions. A circuit court originally dismissed their claim, but the state Supreme Court ruled in 2008 that a court must hear it.

Friday's ruling affirmed an injunction granted by a lower court that found that state law "protects the pharmacists' decisions not to dispense emergency contraceptives due to their conscience."
* More…
The pharmacists had sued under the Illinois Health Care Right of Conscience Act, which states that health professionals and organizations cannot be discriminated against, coerced or punished civilly or criminally if they decide not to offer a health or medical service because of their conscientious convictions.

"This was the latest affirmative that the Illinois Health Care Right of Conscience Act really means what it says," Manion said. "It provides the broadest protections for the rights of conscience of health care professionals of any law in the country. It strikes an appropriate balance between the rights of people to have access to medical care and … the rights of people who object … to being coerced into violating their conscience."

The ruling, as decided, applies only to the two pharmacists and does not broadly apply to other pharmacists in the state. But Manion was optimistic about the implications.

"This is plenty, because the precedent that this will set in the state of Illinois means that the state is not going to go after a pharmacist that exercises conscientious objection when they know the court has ruled this way in this case," he said. "So we're very happy with it."
* Other news…
* State paying 6-figure pension to ex-teachers union lobbyist: Once Purkey decided to take advantage of the pension perk, she had to shift money — $666,300 in all — into the state retirement fund in a series of transactions, then start paying into it while she worked at the union, according to interviews, emails and pension records. The money covered the employee and employer contributions that would have been required if she had been in the state fund all along, plus interest.

* Special Report: The unkindest cuts of Medicaid - Uncertainty surrounds impact of lost services: The cuts include the elimination of payments for most adult dental services, the end of the popular Illinois Cares Rx program for senior citizens and disabled Illinoisans, new limits on prescription drugs, reduced eligibility for the Family Care program covering low-income parents, and tighter controls on Medicaid eligibility overall.

* Special Report: Cuts in Medicaid sting seniors, disabled

* Nursing homes sustain cuts, get RN staffing ratios they prefer

* Medicaid expansion: Impact for Illinois could be significant

* Why isn't Amazon paying sales tax in Illinois?: But other sources say communication has been minimal both ways. That may suggest that Illinois has to take the initiative, rather than waiting around for someone else to do something.
- Posted by Rich Miller 13 Comments


* Steve Rosenbloom at the Tribune…
And the whole Cubs' way of doing business these days is weening the idiot franchise off the warm-and-fuzzy loser mentality.
Really? How do you ween Cub fans off the loser mentality when the team you're fielding is just six "L's" away from losing 100 games?
Meanwhile, Go Sox. Lost a few games there, but still leading the division by one.
And what's up with those Cardinals? Wildcard? Wow.
* This is a Major League Baseball open thread. Cub fans don't bother. You clearly back a minor league team.
- Posted by Rich Miller 37 Comments


*** UPDATE 1 *** The DCCC is now using Plummer's comment in a new TV ad…
* Script…
When he praised the plan to end traditional Medicare… …Jason Plummer said the benefits are "pretty obvious."

You see, even though it makes seniors negotiate with insurance companies for coverage

… and pay sixty-four hundred dollars more every year

…it gives a massive new tax break to millionaires like Plummer.

That might be the obvious choice for Plummer, but ending the Medicare guarantee is wrong choice for the middle-class.
*** UPDATE 2 *** NRCC response…
Nancy Pelosi's campaign arm, the DCCC, has seen the writing on the wall for Blagojevich's General Bill Enyart and his struggling campaign. Today the DCCC launched a false and negative attack ad against Jason Plummer in an attempt to distract voters from the fact that their recruitment process failed them once again and they are stuck with a lackluster candidate in Blago appointee and trial lawyer Bill Enyart.

As you cover the DCCC's lame attempt to cover up the fact that Bill Enyart can't gain momentum with voters, please consider the following quote.

NRCC Statement: "Trial Lawyer Bill Enyart's Washington attack dogs are hoping they can distract voters from the fact that Bill is an Obama-Pelosi rubber stamp who will vote against Southern Illinois at every turn. The best way to keep Barack Obama and Nancy Pelosi's radical policies out of Southern Illinois is to keep trial lawyer Bill Enyart out of Congress." – NRCC Spokeswoman Katie Prill
*** UPDATE 3 *** DCCC…
Unexplained Millionaire Jason Plummer Calls Radical Congressman Who Compared Social Security to Slavery "An American Hero"

The Tea Party Majority Congress is one of the most unproductive and unpopular in history, and Unexplained Millionaire Jason Plummer today signaled he's in line with its most polarizing and extreme Members. Plummer praised Tea Party radical Congressman Allen West who is best known for incendiary comments like claiming Social Security is "a form of modern 21st century slavery," and that "if you support Medicare the way it is now, you can kiss the United States of America goodbye." Plummer today pledged to work with West and called him "an American hero."

"Unexplained millionaire Jason Plummer has found a role model in Washington - one of the most extreme Tea Party Members of Congress who believes Social Security is slavery and Medicare will be the end of the U.S.," said Haley Morris of the Democratic Congressional Campaign Committee. "Southern Illinois families are fed up with the mess in Washington, and Plummer today proved that he will make things worse by joining the most extreme ranks of the Tea Party majority in Congress."

Background

West Compared Social Security to Slavery. "Since June of 2009 or so, we have seen 2.4 million private sector jobs created, but we've had 3.1 million people going on Social Security disability," said West. "So once again, we are creating a sense of economic dependence, which to me, is a form of modern 21st century slavery." [Sun-Sentinel, 7/09/12]

West Said Medicare Would End United States. "I gotta tell you something: If you support Medicare the way it is now, you can kiss the United States of America goodbye." [WPTV, 4/27/11]

Plummer Called West an "American Hero." In September 2011, Plummer praised Allen West calling him an "American hero." Plummer said it was an "honor" to receive West's endorsement and is looking forward to working with him if elected to Congress. [JasonPlummer.com, 9/24/12]

West Voted to End Medicare, Protect Tax Breaks for Big Oil and Millionaires, Encourage Companies to Ship Jobs Overseas. West voted for two budgets authored by Congressman Paul Ryan. The budgets would end Medicare's guaranteed benefit, protect $40 billion in tax breaks for big oil, provide people earning more than $1 million a year with an average tax cut of $265,000, and create incentives for corporations to shift profits and jobs overseas. Additionally, the Congressional Budget Office estimated it will increase health care costs by an extra $6,359 by 2022 for future Medicare beneficiaries, while a household making between $50,000 and $100,000 would face a tax increase of at least $1,358. [H Con. Res. 34, Vote #277, 4/15/11; H Con Res 112, Vote #151, 3/29/12; Center for American Progress, 3/20/12; Center for American Progress, 3/20/12; Center for Budget and Policy Priorities, 3/27/12; Tax Policy Center, Table T12-0078 and T10-0132; Citizens for Tax Justice, 3/22/12; Joint Economic Committee, 5/20/11; Joint Economic Committee, 6/20/12]
[ *** End Of Updates *** ]
* Last week's debate between Republican Jason Plummer, Democrat Bill Enyart and Green Party nominee Paula Bradshaw included some testy back and forth over the so-called "Ryan plan." The Democrats are saying that Ryan's proposal has been a "down-ballot disaster" for the GOP, and candidates are actively running away from it, including Plummer…
Enyart accused Plummer of endorsing the deep cuts in federal spending, including the privatization of Medicare, called for in the Ryan plan.

Plummer denied supporting the Ryan plan.

"Let me repeat this in front of everybody," Plummer said. "I have never endorsed Paul Ryan's budget. And I do not support Paul Ryan's budget. And if you say that again you're being dishonest to the people of Southern Illinois."

Plummer said that if Enyart was going to be dishonest to the people of Southern Illinois "when you're asking for their vote, what are you going to do when you're their congressman?"
* Enyart's response…
Enyart said he had seen a tape of Plummer endorsing the plan. In defending their accusation, Bresler quoted Plummer speaking in June at town hall in Alton. A video of the speech is on YouTube.

In the video, Plummer doesn't explicitly say he endorses the plan, but said the benefits of it are "pretty obvious" and puts social security in a situation where it will be there when people are retiring. Plummer also said the negatives of the plan "are very political, to be frank."

"That's an endorsement," Bresler said.

Plummer said Enyart was trying to change the topic of conversation in the campaign by "making up the story" about the Ryan plan.

"I'm sure he's going to go out there and take something out of context and splice a video or something, but the honest truth is pretty simple," Plummer said. "He knows I've never endorsed it, he knows I've spoken out against several different portions of the plan."
* The Democrats have been using a video from a June 12th Alton town hall appearance by Plummer to reinforce their case. From the DCCC…
Plummer "Thinks The Benefits Of The Ryan Plan Are Pretty Obvious." At a June 2012 town hall, Plummer was asked if he supported the Ryan plan. He answered "The specifics of it are pretty simple. I think that the Ryan plan aggressively addresses basically every entitlement program that we have. […] I think the benefits of the Ryan plan are pretty obvious. They aggressively put Social Security in a situation where it will actually be there for people that are retiring. It puts Medicare in a situation that it will actually be there to fund the healthcare needs of the people that it's there for. The negatives of the Ryan care are very political to be frank."
* But that excerpt doesn't tell the whole story. Here's the full video of Plummer's Ryan plan remarks…
* And here's my transcript of Plummer's Ryan plan comments which the DCCC and Enyart missed…
"They're gonna have these ads where we're dumping senior citizens over the cliff. They're gonna talk about everything that they can possibly talk about except for the stuff that will actually solve the problems we're facing. And so the negatives of the Ryan plan are exactly those things. They're going to try to use the Ryan plan to defeat Republicans across this country because they're going to turn it into something that it's not.

"It's not something that's going to devastate the lives of senior citizens. It's not something that's gonna be destructive to American families across the 12th Congressional District. But they're gonna try to portray it as that.

"And we need to make sure that we have people out there going, 'You know what, don't you want to solve the problems or do you just want to talk about the problems?'

"And I think Republicans are trying to solve the problems, and they need reinforcements in Washington, DC to make sure that gets done."
He gets closer in that video to endorsing the Ryan plan of anything I've seen yet.
* I showed my transcript to Enyart's campaign. Its response…
Yes, that last line is the best part. They need soldiers like Jason to help end Medicare
Discuss.
* Related…
* VIDEO: Full debate

* VIDEO: After the Debate - Jason Plummer

* VIDEO: After the Debate - Bill Enyart

* VIDEO: After the Debate - Paula Bradshaw
- Posted by Rich Miller 25 Comments


* THe NRCC has yet another ad blasting Democrat David Gill in the 13th CD. Rate it…
* Script…
ANNOUNCER: On the issues, David Gill's out there.

Way out there.

Like the healthcare law gutting Medicare by $716 billion dollars.

Gill will vote to keep it.

Balancing the budget every year?

Gill called it foolishness.

Gill supported huge tax hikes even for the middle class.

And eliminating Medicare entirely?

That's Part of Gill's plan.

DAVID GILL: "Medicare would no longer exist."

ANNOUNCER: David Gill – he's too extreme.

DISCLAIMER: The National Republican Congressional Committee is responsible for the content of this advertising.
* Meanwhile…
Friday, the Federal Election Commission reported that the amount of so-called "independent" expenditures in the congressional race amounts to more than $800,000. The independent expenditures are those made within the congressional district but supposedly not in cooperation with a candidate's campaign committee.

Almost half of the amount — $400,224 — has been spent by the Democratic Congressional Campaign Committee on television ads opposing Davis.

Others spending money on the race include the National Republican Congressional Committee, the American Action Network and the New Prosperity Foundation, which have run or are running anti-Gill ads.

The Service Employees International Union's committee on political education reported investing more than $700 on pro-Gill campaign literature.

The $808,981 poured into the 13th District by independent groups ranks fourth among all 18 Illinois congressional districts this fall. The greatest amount — more than $1.2 million — has been spent in the 12th District race in southwestern Illinois between Democrat William Enyart and Republican Jason Plummer.
We'll get to that race later today.
- Posted by Rich Miller 5 Comments


* Most of you already know about the first half of my weekly syndicated newspaper column. But only subscribers know about the second half. I thought the rest of you might get a kick out of it…
I have two poll results to tell you about — one involving an alleged criminal, the other a proven liar.

Expelled state Rep. Derrick Smith (D-Chicago) is leading his only opponent by 38 points and is close to the 50 percent he will need to reclaim his House seat.

A poll of 556 likely voters conducted Sept. 12 by We Ask America shows Smith crushing third-party candidate Lance Tyson by 48 percent to 9 percent. The poll has a margin of error of plus/minus 4.15 percent.

Smith was expelled from the House in August, months after his federal indictment for allegedly accepting a $7,000 cash bribe. He's still on the ballot, though, and faces Lance Tyson, a Democrat, who was picked to run on a third party by the district's Democratic ward committeemen.

Tyson loaned his campaign more than $26,000 last week after the poll results were revealed. That's most of what he has raised so far.

Smith reported having almost $58,000 in the bank at the end of June. He has raised no money since then but still has enough to do some mailers and fliers, if he hasn't already spent his cash on legal expenses.

If Smith regains his seat in November, the Illinois Constitution forbids the House from expelling him for the same reason next year. The House would either have to come up with a new reason unrelated to his indictment or suffer the indignity of allowing Smith as a member while he's tried for bribery.

The Chicago Sun-Times' Carol Marin reported recently that House Speaker Michael Madigan (D-Chicago) and Cook County Board President Toni Preckwinkle were neutral in the Smith race. Madigan's spokesman told me that his boss is neutral because two Democrats are running against each other.

Illinois is grand, isn't it?

Sheesh.

Since Madigan refuses to help, Tyson will likely need a big assist from Secretary of State Jesse White, who was responsible for putting Smith in the House in the first place.

Meanwhile, state Rep. Jerry Costello II (D-Smithton) leads his Republican opponent by eight points. But the poll was taken before Julie Bigham Eggers (R-Columbia) was caught in a major gaffe and some big lies that could cost her dearly.

The We Ask America poll taken Sept. 11 has Costello leading Eggers 48 percent to 40 percent. The poll of 756 likely voters had a margin of error of plus/minus 3.55 percent.

Eggers told the Belleville News Democrat that the "No. 1 reason" why she ran for the House "was for the health care because it has pretty good health care."

Eggers later announced that she wouldn't sign up for the legislative health insurance plan or the pension plan and wouldn't even accept her salary and challenged Costello to do the same. But the damage already was done.

And it's tough to believe that she'll follow through on those promises because she has been caught before in some bizarre lies.

Eggers repeatedly has claimed in her campaign that she's a "lifelong southern Illinoisan." But the Belleville News-Democrat found out that she lived in Missouri for 10 years. When pressed, Eggers told the paper she lived out of state for "I don't know, a couple years."

The House Democrats then unearthed video of Eggers speaking at an event and claiming she got her law degree at the same time as her MBA degree.

"That's extremely hard," Eggers said about getting the two degrees at the same time. "And any of these judges running up around here will tell you, that's pretty much something you don't want to do."

Trouble is, Eggers dropped out of law school after a year.

Hey, there's no shame in dropping out of law school. Just don't claim that you obtained a law degree when you did not.

Costello, the son of retiring U.S. Rep. Jerry Costello (D-12th), now is using the Eggers video in a new TV commercial.

"I will always tell you the truth," Eggers says in the full video.

Except when she's not.

Eggers has reported that Anne Diaz Griffin contributed $5,000 to her campaign fund after I wrote about her many problems. Griffin's husband donated another $5,000.

Anne Griffin is a wealthy Chicagoan who is bankrolling a new online startup called "Reboot Illinois," which, among other things, is pushing for stronger ethics reforms in state government.

Only in Illinois would a "reformer" bankroll somebody like Eggers.
* Here's the original story from the Belleville News Democrat…
Illinois House candidate Julie Bigham Eggers said she's "in it for the insurance" because being a state lawmaker "has pretty good health care."

Eggers, a Republican from Columbia, also stood by assertions in her campaign mailers of being a lifelong resident of Southern Illinois, even though property and voting records show she lived in Missouri for 10 years, up until 2008.

Eggers made the remarks during a BND interview about her candidacy. At one point, she was asked whether she would sign up for a pension — a perk that a few candidates and lawmakers have declined.

Eggers said she would not accept the pension because the state is broke, but then added, "Actually, I'm in it for the insurance, health insurance. I'm an independent business owner and I've got a daughter that's got, one that's got kidney issues and one that's got breathing issues, and I've got an insurance rider for her kidneys, even though we're not supposed to be, what is it called, pre-existing."

She continued, "So, No. 1, the reason why I did it was for the health care, because it has pretty good health care. That's my honest answer."
* Audio of Eggers' remarks…
Click to download
* Eggers' press release…
Julie Bigham Eggers Signs 'No Perks Pledge' to Refuse State Pension and Healthcare Benefits if Elected State Rep.

Eggers will also refuse the legislative salary and challenges Costello II to sign the 'No Perks Pledge'

Republican candidate for State Representative Julie Bigham Eggers signed a pledge today stating that if elected state representative she would refuse to accept the taxpayer funded pension and healthcare benefits offered to Illinois legislators. Julie Bigham Eggers will also refuse the part-time salary of $67,836 offered to Illinois legislators. Eggers challenged her opponent Jerry Costello II to do the same by refusing to accept the taxpayer funded pension and healthcare benefits.

Julie Bigham Eggers issued the following statement regarding the 'No Perks Pledge'. I have signed a 'No Perks Pledge' to state firmly, "The State of Illinois is broke and in desperate need of repair. Illinois' deficit is $43.8 billion. Illinois' pension debt is $83 billion. $126 billion - That's how much Illinois is in debt thanks to our elected officials at our state capitol. Illinois legislators haven't earned nor deserve the lavish Pension and Cadillac healthcare benefits paid for by the taxpayers. By signing this pledge, I will refuse to accept any taxpayer funded pension and healthcare benefits."

"The state is broke and we cannot afford benefits like these for elected officials," said Julie Bigham Eggers. "I will also refuse the part-time salary of $67,836 offered to me if elected State Representative. I ask my opponent Jerry Costello II (A.K.A Jerry Costello Jr.) to join me in signing the 'No Perks Pledge' to refuse to accept any taxpayer funded pension and healthcare benefits. I await his response."
* As noted in my column, Ms. Eggers also has a problem with her claims about her residency. From the BND…
But property records suggest Eggers had resided in Missouri from 1998 to 2008.

In a property deed from March 1998, Eggers, at the time known as Julie Mckinstry, her name from a previous marriage, is listed as a Missouri resident.

Property records also show she sold a home in Missouri in February 2008, a few days after buying her current home in Columbia.

Voting records show that she voted in St. Charles County, Mo., in 2002, 2004 and 2006.

When asked during the interview about her assertion of being a lifelong Southern Illinois resident, Eggers said: "That's true. I consider myself a lifelong resident."
* Audio of those remarks…
Click to download
* The Belleville News Democrat's editorial page focused on her residency claims…
To us the bigger red flag is Eggers'' claim that she's a lifelong Illinois resident — although she lived in Missouri for 10 years. Even when called on it she didn't back away from that claim, but instead compared her situation to a student away at college.

But this wasn't college. This was buying a house and registering to vote in another state.

Politicians often bend the truth, but usually not over such an easily verifiable fact.

This will be another factor for the voters to consider on Election Day.
* Here's the TV ad by Rep. Jerry Costello that whacks his Republican opponent Judy Bigham Eggers for being a liar…
Click to download
* One of the ad's talking points is that Eggers claims she "did" her law degree, but she never got a law degree. The House Republicans initially wondered if the ad had been creatively edited, but they quickly backed away from that. The full video actually is much worse for Eggers. Watch…
In the video, starting at about the 2:28 mark, Eggers says that she "did" her law degree and her MBA at the same time. That part is in the TV ad. Then right away she says…
"That's extremely hard. And any of these judges running up around here will tell you, that's pretty much something you don't want to do."
Not good at all.
- Posted by Rich Miller 18 Comments


* My youngest brother Devin's birthday was this week. I won't say how old he is because he's probably still traumatized. They just keep coming, don't they? It ain't a joke once you turn 40. Not saying that's Devin's age. Just sayin…
Anyway, Iggy Pop is one of our shared favorites, so this one's for Devin…
I say oh my and a boo hoo
- Posted by Rich Miller Comments Off


* The 12th Congressional District debate last night got heated at times. But this was one of the sharper exchanges between Democrat Bill Enyart and Republican Jason Plummer. I know it's late in the day, and it's Friday, but it's a must-watch…
* Roundup…
* Enyart and Plummer blast each other in 12th Congressional debate

* Plummer and Enyart set acrimonious tone in second debate

* Tempers start to show

* Congressional Candidates Debate in Marion

* VIDEO: Full debate

* VIDEO: After the Debate - Jason Plummer

* VIDEO: After the Debate - Bill Enyart

* VIDEO: After the Debate - Paula Bradshaw
- Posted by Rich Miller 13 Comments


* From the Illinois Teachers' Retirement System…
The Teachers' Retirement System Board of Trustees today approved revisions to a number of assumptions contained in its actuarial model, including a reduction in the System's long-term assumed rate of return on its $36 billion investment portfolio from 8.5 percent to 8 percent.

The major effect of the new assumed rate of return will be to increase the System's long-term unfunded liability ratio from the current 54.8 percent to 57.6 percent. The lower rate of return also will increase the state's required annual contribution to TRS in fiscal year 2014 and after. This contribution covers the annual cost of pensions as they are earned as well as the unfunded liability that has accumulated over time. The state contribution in FY 2014 is expected to rise from $3.07 billion with an 8.5 percent rate of return to $3.37 billion with an 8 percent rate of return. […]

In August, the System's actuaries, Buck Consultants of Chicago, recommended reducing the assumed rate of return from 8.5 percent and outlined three options for a revised number – 7.75 percent, 8 percent and 8.25 percent. The Trustees delayed a final decision until September in order to allow further analysis by TRS staff and to ensure that all TRS trustees had a say in the final decision. On September 14 Gov. Pat Quinn named two new trustees to the Board, bringing the number of members to 13 for the first time in more than a year. [Emphasis added.]
That $300 million is a big jump for such a small decrease.
A chart…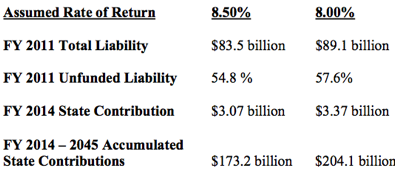 * React from the Republican leaders…
"The Teachers Retirement System's board decision today to adjust its estimated rates of return will drive our pension unfunded liability up by billions of dollars and the state's obligation to pay into the systems each year by hundreds of millions. This is yet another reason that comprehensive pension reform has to be addressed now. We are disappointed in the Governor and democrat leaders for taking a pass on pension reform until January. We believe that is irresponsible. The more time they delay–the harder it will be to put together a comprehensive plan that tackles our crisis in a meaningful way. Today's board action underlines the fact that our pension systems' realities keep getting worse, not better. Even though TRS lowered its average rate of return to 8 percent, some financial groups such as Moody's believe the rate should have been lowered even further to match current market conditions, which would have an even more detrimental effect on our state's finances."
*** UPDATE *** Senate President John Cullerton's office responds to the Republican statement…
The last thing we need right now is more press releases and posturing on pensions. Until the political rhetoric and blame is replaced with a commitment and compromise from both parties, pension costs will continue to crowd out essential state services. A constitutional template for reform has already been put in place by the Senate. So when Republicans are ready to return to Springfield to vote on plan that reforms the system and addresses fairness, we will not delay to schedule a vote.
- Posted by Rich Miller 8 Comments


* The Lunch Pail Republicans PAC is spending $54,000 on cable TV ads in two congressional districts. Here's the one in the 10th CD for incumbent Bob Dold. Rate it…
The other cable ad is for Congresswoman Judy Biggert. That one isn't online yet.
- Posted by Rich Miller 9 Comments


* From the AP…
Lawyers argued before the Illinois Supreme Court for more than an hour Thursday over an abortion notification law that's nearly two decades old but has never taken effect. The court's job is merely to determine whether the legal battle will continue.

The law, adopted in 1995, requires doctors of girls 17 and younger to notify a parent 48 hours before an abortion. A girl may bypass her parents by going to a judge.

Opponents of the dormant decree want permission to duke it out in a trial, which an appellate court agreed to last year. The state appealed that decision to the high court, with the Illinois solicitor general saying there's no need for a trial because of numerous other court rulings on the matter and because opponents haven't shown they have a right to one.

Similar laws — some even requiring parental consent for an abortion — exist in 44 other states. But the Illinois version never took effect because of ongoing judicial decisions and court wrangling.
* The Question: Do you support parental notification with judicial bypass? Take the poll and then explain your answer in comments, please.
- Posted by Rich Miller 48 Comments


* AFSCME sent out this alert early today…
A day after new data revealed the Illinois unemployment rate rose to 9.1% in August, public employees and retirees opposed to Governor Pat Quinn's threat to lay off nearly 4,000 child protection workers, disability caregivers, correctional officers and other public servants will demonstrate outside two public events where the governor is scheduled to appear.

CHICAGO: 7:45 a.m. today (Friday, Sept. 21) at Wildfire, 159 N Erie St.
JOLIET: 10:00 a.m. near Joliet Union Station, Jefferson and Scott Sts.

Union members will form a "Pat Quinn Truth Squad" to picket and leaflet against the governor's thousands of threatened job cuts, his false and exaggerated claims about public employee pensions, and his efforts to weaken workers' right to collective bargaining.

Gov. Quinn's scheduled Chicago appearance comes at a breakfast hosted by the Institute of Medicine of Chicago. He is slated to be in Joliet for the groundbreaking of a planned high-speed rail station.

In recent weeks similar "Pat Quinn Truth Squads" have dogged the governor's events at a farm near Mount Vernon, confronted him after a bill-signing ceremony near the Quad Cities and booed him off the stage at the State Fair. Two weeks ago a mobile billboard truck shadowed Quinn at the Democratic National Convention in Charlotte, NC, and last week a Truth Squad picketed a scheduled appearance in Springfield where the governor failed to appear.
* The union's Facebook page has some photos of the protests…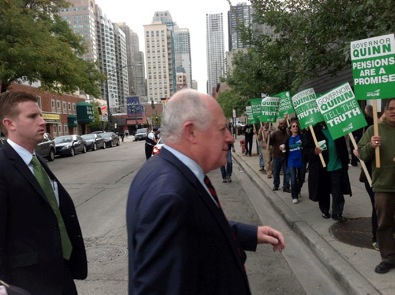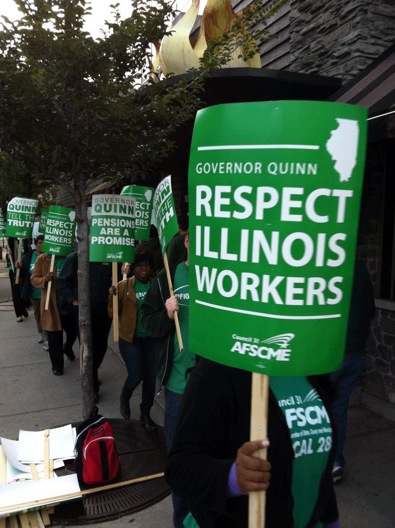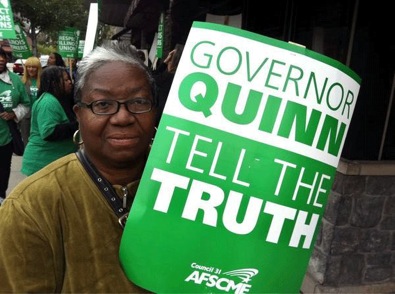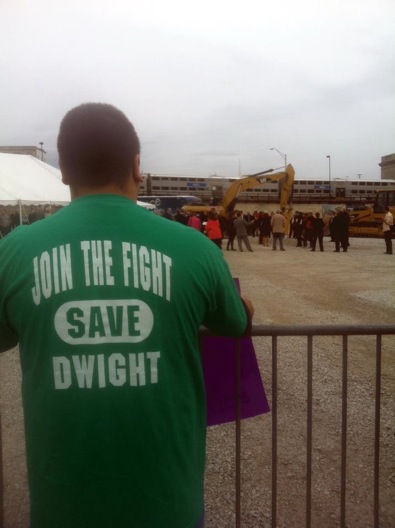 - Posted by Rich Miller 22 Comments


* I agree that the Joe Walsh vs. Tammy Duckworth race is closer than pretty much anybody thought it would be. And the $810,000 just put into the race by a Super PAC for Walsh ain't gonna be a bad thing for him.
But just to be clear, I'm told Walsh is trailing by five points in the We Ask America poll. The article below kinda makes it seem like he's ahead.
Anyway, check it out…
The survey reportedly was taken in late August by the Tarrance Group, an Alexandria, Va.-based firm that usually works for Republicans. According to a source who has seen it, it shows Ms. Duckworth up just 47 percent to 45 percent.

Tarrance hasn't called me back, and I'd sure like to have more details.

But the Tarrance survey is not inconsistent with a We Ask America survey — the group is closely affiliated with the Illinois Manufacturers' Association — that showed a five-point Walsh margin, I'm told.

Team Duckworth isn't releasing its numbers. A source there tells me that she's up more than five points and that Mr. Walsh has yet to crack the 40 percent mark — a critical shortfall, if true. But that source also terms the race "competitive" and says it's "not going to be a blowout."
Discuss.
- Posted by Rich Miller 33 Comments


* Robert Bruno of the University of Illinois at Chicago described Mayor Rahm Emanuel's battle with the teachers union quite well, I think…
"It appeared as if he was more interested in winning; that he was involved in a fight, and he wanted to beat the union. He wanted to beat them. He was looking for a victory, as opposed … to the ultimate goal was, what would it take to get a settlement, what would it take to get a deal with my partners."
And he's still at it. Aides are quietly pushing anti-teacher stories to reporters. He appeared in a million-dollar TV ad paid for by an anti-teachers union group. If that wasn't a message to the CTU about his continued defiance, I don't know what was.
It's still a war to him. A campaign, if you will. Governing is more than warring and campaigning, however. And that's a hard lesson that I don't think he has yet learned, even with his much-vaunted White House experience.
He plays politics like the Hanson Brothers played hockey. That's fine in a campaign. Not so good when running a big city.
…Adding… From a commenter…
The Hanson brothers were never arrogant. They seemed happy to meet with the public. They also were willing to listen to their coach when he (temporarily) thought the team should play old-time hockey and not brawl.

The Hanson brothers would be behaving much, much better than Rahm is.
- Posted by Rich Miller 43 Comments


* Oops!!! I guess I could blame IR for this mistake, but I should've checked the "Rush" FB page a little more closely. It's a fan page. Says so right at the top.
Sheesh.
Sorry.
Headline changed and stuff stricken from the record.
* From Rush Limbaugh's EIB Network Facebook page…
Let's help Rep. Bobby Schilling out. I need 25 of you to chip in $25 or more to help him fight these far-left special interest groups trying to run a strong conservative out of Congress. We need more people like Bobby in Washington who lead by example as they fight for us.

Do what you can! Bobby needs you!
Kinda set the bar low there. Twenty-five people giving $25 each is $625. He can't do better than that?
Also, Schilling is running to the center. I'm not sure this helps.
* Rush>Rush "Fake Rush" was responding to this Breitbart post…
In this morning's Politico Huddle, something the corrupt website describes as "a play-by-play of the day's congressional news," this morning's email blast headlined the following [emphasis added]:

Senate Democrats surging, Kaine leads Allen, Coburn: Dems' vets bill same old 'crap,' Issa won't stop probing 'Furious,' Schilling walks out of town hall, GOP: Reid's Mitt-bashing broke rules, trivia

…Looks pretty bad, doesn't it — a sitting Congressman turning tail and running from his own constituents?

Yep, pretty weak.

Oh, except…

Politico's source published incomplete video. And had Politico been the least bit curious and skeptical of its left-wing source, it would've seen that Rep. Schilling did not "walk out" of the town hall meeting.

In fact, what the Republican Congressman did do was actually pretty shrewd. He made it look as though he was going to leave, which got the obnoxious protesters to leave, and then after they left, Schilling coolly and calmly returned to the front of the room and picked up right where he left off.

The picture of poise and composure.
* The video of Schilling coming back into the room, which I've already posted…
* Meanwhile, speaking of Schilling…
Al Ramos of East Moline, Illinois was surprised to be on the receiving end of the wrath of the female phone pollster who called his home this week.

"She asked if I was going to vote for Bobby Schilling or Cheri Bustos," Mr. Ramos recounted. He says he told her he was leaning toward Bustos, but was still a bit on the fence.

Then, he said, she asked if the election were held today, would he vote for Mitt Romney or Barack Obama. Ramos says he told the pollster he isn't a Romney fan because "he's for the rich," but he is not entirely happy with the president, either.

"I told her I'll go with the lesser of two evils, I would go with Obama, and she said, 'What, so you want to live in a communist nation? You want to live in a communist state, because that's what's going to happen,'" he said.

Ramos said he was shocked that a survey taker would turn on him.
- Posted by Rich Miller 10 Comments


* You knew this had to happen. The legislative scholarship program was killed by the General Assembly, but members were allowed to give out a final round of scholarships this summer. Some were questionable. Tribune…
Among those giving multiyear waivers was state Rep. Scott Penny, D-Fairmont City. When Penny, a police chief in that small town outside St. Louis, was appointed by local Democratic leaders late last year to replace a departing lawmaker, he vowed not to run for an additional term and to focus only on serving his constituents.

"It's a wonderful job, but I don't know if it's for me," he told his local newspaper, the Belleville News-Democrat. "The thought of me being up here (in Springfield) long-term, I don't think is realistic or practical."

But it didn't take Penny long to dive into the well-worn Springfield practice of doling out legislative scholarships.

With the perk about to expire just months into his new job, Penny gave out two four-year scholarships to a pair of students. State records show that the parents of both students have ties to the St. Clair County Democratic Party.

One scholarship went to Danielle Fiudo of Fairmont City, where Penny has been police chief since the late 1980s until taking an unpaid leave to serve in the General Assembly. Fiudo's father, Michael, is a village trustee in Fairmont City.

The other scholarship went to Taylor Lundy of Belleville. Records show she is the daughter of Michael Lundy, a Democratic precinct committeeman in Belleville Township and former Belleville city treasurer. He is now executive director of the Southwestern Illinois Development Authority.

Another Lundy daughter also received a four-year ride to Southern Illinois University at Edwardsville, from powerful Sen. James Clayborne, D-Belleville, starting in 2008.
* The Tribune also reported on scholarships given out over the past ten years…
In the past decade, at least 75 legislators awarded scholarships to children of people who contributed to the lawmakers' re-election committees or other political funds they controlled, according to the Tribune review. At least three students whose fathers were later charged with public corruption had their tuitions waived by Democratic lawmakers, records show.

During that same time period, lawmakers also awarded at least 317 scholarships to the relatives of state workers, whose positions range from toll collector to assistant attorney general, according to a comparison of scholarship recipients with the state payroll. Family members of at least eight judges — none of whom makes less than $140,000 annually — also received tuition waivers, according to the paper's review.
That program had to go. It did some good over the decades, but it was just rife with abuse. Good riddance.
- Posted by Rich Miller 8 Comments


* Sun-Times…
When it comes to raising money, the 10th congressional district race notches among the top 10 highest in the nation.

Opensecrets.org ranked the 10th congressional district contest as the 10th highest in the nation with candidates raising more than $5.5 million.

Incumbent Bob Dold, a Republican has raised $2.8 million and spent $844,000, according to the site.
His challenger, Brad Schneider, a Democrat, raised $1.6 million.
The 10th is actually ranked higher when you toss out the districts without major races. Speaker Boehner's district is ranked first. Michelle Bachmann is second, Eric Cantor is 6th and Paul Ryan is 9th.
But that cash is nothing compared to what's been raised in the Massachusetts Senate race: $53,011,580.
Wow.
- Posted by Rich Miller 5 Comments


* Interesting…
The Illinois Supreme Court heard arguments Tuesday in a lawsuit by two homeowners challenging the state's school funding system.

Ron Newell of Cairo and Paul Carr of Chicago Heights say the current method discriminates against taxpayers based on where they live and violates the equal protection clause of the state constitution.

They say they pay higher property tax rates because they live in poorer school districts, while owners of similarly valued homes in wealthier districts pay a lower rate.

"The plaintiffs having to pay more taxes… to reach the same level of funding… that's unequal treatment," said attorney Alexander Polikoff, who is representing Newell and Carr.

The case comes 15 years after the court issued a ruling upholding the state's educational funding system, saying it was a matter of local control. But that decision was based on the effect of a property tax-based funding scheme on school students, not property owners.

Under the scenario presented to the court, a Chicago Heights property is taxed at a rate 2.5 times higher than a similar property in Winnetka, a wealthier suburb north of Chicago.
* Audio of the arguments…
Thoughts?
* Related…
- Posted by Rich Miller 18 Comments