* Many news reports on Congressman Jesse Jackson, Jr.'s mysterious disappearance have included comments from constituents about their supreme frustration with their US Rep. But a new We Ask America poll found that he still has a strong majority of support…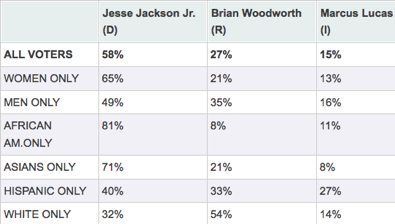 Keep in mind when reading these numbers that Jackson's new remapped district is much less African-American than his old district. It's 53.8 percent African-American, compared to 67.7 percent under the old map.
Also, Marcus Lucas is a write-in candidate. I'm not sure he'll end up with that many votes come election day. Oops. Got my candidates mixed up. Lucas is on the ballot. Sorry.
* Respondents were then asked "Do you AGREE or DISAGREE with this statement: 'I am happy with the congressional candidates on the ballot. I do not wish someone else was running instead.'" The results…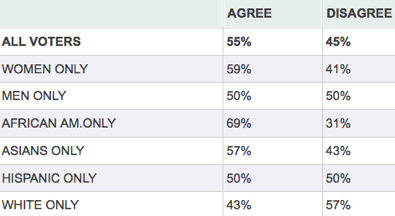 Clearly, Jackson enjoys the support of the voters he represents, and perhaps its time for those who continue to express incredulity to get over it. Jesse Jackson Jr. is safe at home.
* Meanwhile, in other Jackson news…
U.S. Rep. Jesse Jackson Jr., D-Ill., who is dealing with mental health issues, will return to the Mayo Clinic "soon" for further care, his father said Sunday.

The Rev. Jesse Jackson Sr. told the Chicago Tribune his son would go to the clinic Rochester, Minn., for re-evaluation and to seek to "regain his equilibrium." The newspaper said a source close to congressman said he would head to the Mayo early this week, but the elder Jackson said it would not happen Sunday. […]

The elder Jackson said his son had been seeing doctors daily in Washington since leaving the clinic early last month as he attempted to return to work while dealing with his health issues, the newspaper said.

The father said his son's condition does not lend itself to an "artificial schedule."
* And Jackson has paid for a robocall to his constituents…
Embattled United States Rep. Jesse Jackson, Jr. says he's "anxious to return to work," but gave no timeline for ending his months-long medical leave from Congress, instead asking for constituents' "patience" in a 90-second automated call sent out to his south suburban 2nd Congressional District Saturday.

In the robocall, first reported by WBEZ and confirmed by a Jackson family spokesman, the congressman explains he's been undergoing medical treatment to address "several serious health issues."

"Like many human beings, a series of events came together in my life at the same time and they've been difficult to sort through," said Jackson, who has been on leave since June and is reportedly also dealing with legal and personal problems.

"I am human. I'm doing my best. And I'm trying to sort through them all," Jackson said.
* The robocall…
18 Comments





















































Sorry, comments for this post are now closed.