* Forwarded by a friend…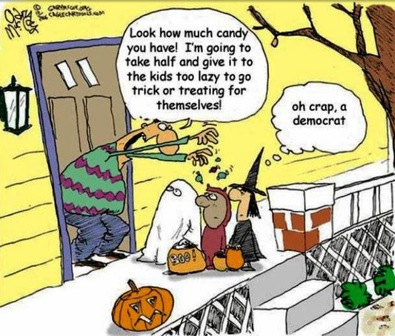 * From Tammy Duckworth…
The prospect of Joe Walsh being re-elected to Congress is a bit like the threat of an actual zombie apocalypse: absolutely terrifying.

But while a zombie apocalypse is pretty unlikely, Joe Walsh's reelection is a very real possibility and we only have 6 days left to prevent it. Will you contribute $10 now to help us defeat Joe Walsh?

Not convinced yet? Here are three more ways a second term in Congress for Joe Walsh would be like a zombie apocalypse:

1. They both involve lots of screaming. In the case of a zombie apocalypse, the screams would come from frightened victims. In the case of a Joe Walsh second term, the screams would come from a congressman who yells at his constituents and said he went to Washington to "scream from the mountaintop."

2. Both would bring back to life something better left alone. The idea of dead bodies rising from their graves is pretty scary. So are the retro policies Joe Walsh wants to resurrect - including big tax giveaways to the wealthy and policies that side with big corporations that pollute the air and ship jobs overseas.

3. No matter how fast you run away, you won't be able to escape its effects. If Joe Walsh is reelected, it would have consequences for everyone - from seniors who rely on Medicare to students seeking an affordable education.

We're having some Halloween fun, but truly, we can't afford to head into Election Day unprepared.
* From 21st Century Democrats…
It might be Halloween, but what is a scarier thought than Mitt Romney and Paul Ryan in the White House and the Republicans in control of the Senate?

That would be horrible for our country.

But we are close to reaching our goal – we need to raise only $2,700 before midnight tonight.

With your help, we can do it!

Our candidates are counting on your support, so let's make Halloween the scariest day of the year, not Election Day!
* And, of course, the Illinois Republican Party's scary message about Speaker Madigan…
Be safe this Halloween. Observe your local ordinances regarding Trick-or-Treating hours, and above all, be on the alert for Democrats who may try to trick you with more debt, higher taxes, more wasteful spending and sucking the blood (money) out of suburban taxpayers with their plan to shift their pension mistakes on suburban homeowners who already pay some of the highest tax rates in the country.

House Speaker Mike Madigan, State Senate President John Cullerton and Governor Pat Quinn are plotting, scheming and threatening the state with more of the same, tired, 67% tax hike politics.

It's a poisonous brew, but there's no need to scream or be frightened.

Republican candidates can reverse the curse and put Illinois back on the right track.

Vote Republican on Tuesday.
Boo!
19 Comments
























































Sorry, comments for this post are now closed.