* I told subscribers about this last night, but the Sun-Times also had a story on its blog yesterday…
In a House district that is 51-percent Latino, state Rep. Angelo "Skip" Saviano said Tuesday he has lined up backing from the best-known Latino politician in Illinois.

Saviano (R-Elmwood Park), who is running against Democrat Kathleen Willis for the 77th House District, plans to announce an endorsement by U.S. Rep. Luis Gutierrez (D-Ill.) during an event Tuesday at Saviano's Wood Dale campaign office.

"The leaders of the community know what I've done, and I've been working to get that message out," Saviano told the Chicago Sun-Times.

"This just solidifies my whole record with the community," Saviano said of Gutierrez' endorsement.
* Here's a photo of Democratic Congressman Gutierrez with GOP Rep. Saviano after last night's big endorsement announcement…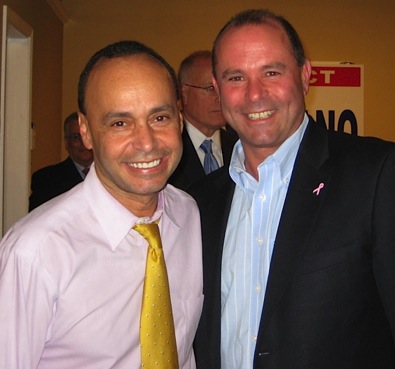 * The Question: Caption?
Best comment wins a hard-to-get invitation to my election night party, which is being co-sponsored by Google. Yes, Google. I'm not making that up. I swear.
61 Comments






















































































































































































Sorry, comments for this post are now closed.