* ABC7's Ben Bradley scored a rare interview with House Speaker Michael Madigan yesterday. Madigan spoke mainly about pensions. And it's becoming ever more clear that MJM is zeroing in on the cost-shifting plan. Madigan focused on the fact that 75 percent of the state's pension costs cover teachers and universities.
* From Ben's story…
"There's just too many people in the legislature that don't want to do the heavy lifting of legislating," said Madigan. "They want to go there and talk among themselves. They want to talk to people you and say the right things for your consumption; but then when it comes time to cast a difficult vote they're in the bathroom somewhere."

House Speaker Mike Madigan, like almost every other state official, admits there is a real need for pension reform.

What they don't agree on is how to do it.

Democrats think the state's universities, community colleges and local school districts should pay for the pensions of their own employees. Currently, the state does, and Madigan says it account for 75 percent of the state's annual pension payments.

"People are spending the money and sending the bill to someone else. It's not a good policy anywhere, especially in government," said Madigan.
- Posted by Rich Miller 49 Comments


* Tribune…
President Barack Obama will briefly visit Chicago today to cast his ballot early — the first sitting president to do so.

Democrats have been aggressively trying to gain an advantage over Republicans in states that allow early voting. When Obama announced that he would be voting early, he said on Twitter, "If your state has early voting, join me," and directed followers to a link with more information about early voting.

Obama dominated early voting in 2008, giving him an edge over Republican John McCain well before Election Day.

In Colorado, Florida, Iowa and North Carolina, for example, Obama banked so many votes early in the process that he won each state even though he lost the Election Day vote, according to voting data compiled by The Associated Press.
* From the Chicago Board of Election Commissioners…
Just under 16,000 Chicago ballots were cast in Early Voting [yesterday] (Oct. 23), in addition to the 15,700 cast [Tuesday].

That's two record-setting days, whether measured against the first days of Early Voting in 2008 or whether measured against the same portion of the election schedule (the15th and 14th days before the election in 2008).

On Oct. 21, 2008 (the 14th day before the 2008 election), Chicago had 14,740 ballots cast in Early Voting.
* The Question: Have you/are you voting early? Take the poll and then explain your answer in comments, please.
- Posted by Rich Miller 61 Comments


* Democratic congressional candidate David Gill has a new testimonial ad…
That move probably shows the Republican ad barrage is working. He needs to build up his positives again.
* Two competing partisan polls have completely different results…
David Gill has a 9 percentage point lead among likely voters in the 13th Congressional District race, according to a poll paid for by the Democratic Congressional Campaign Committee.

But the campaign of Republican Rodney Davis said Tuesday that its polling gives Davis a 43 percent to 39 percent lead over Gill. The Davis poll, taken by the Virginia firm Public Opinion Strategies, was of 400 likely voters. It has a margin of error of plus or minus 4.9 percent, putting Davis' lead within the margin of error.

The Republican poll gives independent John Hartman of Edwardsville a 10 percent share of the vote, and says that 8 percent are undecided. […]

An earlier Anzalone Liszt poll of the race, taken in September but never released publicly, reportedly showed the race a tie at 41 percent. And an earlier Public Opinion Strategies poll, taken in early October, also showed the race a tie. An August poll for the Gill campaign by Victoria Research gave the Democrat a 6-point lead, but all polls since have showed a narrower margin. A We Ask America poll of 1,253 likely voters earlier this month gave Davis a small lead.
* The candidates debated in Springfield last night, but neither man broke anything close to new ground. Roundup…
* Sparks, accusations fly during 13th Congressional District debate

* Davis, Gill clash in Springfield debate

* Outside groups have spent millions on 13th Congressional District race
- Posted by Rich Miller 3 Comments


* Will Caskey has an insightful post about "earned" vs. "paid" media. He doesn't think much about media coverage of campaigns and uses the Cook County Assessor's race between Joe Berrios and Forrest Claypool as an example…
Now it would not be accurate to say the Chicago press does not like Berrios very much, because it doesn't really do justice to their intense, singular hatred of the man. They were really, really [angry] that Berrios was running for anything at all and super duper jazzed that he had a credible, well-funded challenger. The details are mundane and boring, as details tend to be. Suffice to say Berrios for Assessor did not face a very pleasant earned media environment. […]

Going into election day if there was one thing any remotely interested Chicago pundit agreed on it was that we [the Berrios campaign] were toast, gone, finished.

Except that didn't happen. We won, and not by a little. And of course, this is just an anecdote, and the jokes write themselves about the two-party system or Chicago-style politics, but that doesn't change the facts: The narrative was downright apocalyptic, and it didn't change the election. It didn't even make it close. Because newspapers don't vote, and actual people who do vote don't make up their minds based on what some goof on tv says will happen. That's just another version of crying about press bias.

The truth is that from a campaign perspective the press is just earned media, and you get what you pay for.

If you get your preferred, poll-tested message into print, great! Whatever else that's said on top of that is a distraction. If it's flatly impossible to get your message into earned media, c'est la vie; buy more paid media and move on.
For the most part, he's right.
Media coverage can have an impact on very close races. The Tribune's endorsement of the hapless Andy McKenna in the 2010 GOP gubernatorial primary probably cost Sen. Kirk Dillard the 200 or so votes he needed to beat Sen. Bill Brady. But there were other reasons for Dillard's loss.
What reporters cannot usually do is elect a candidate against long odds, or even impact a race separated by more than a point or so.
There are caveats, of course. Sometimes, big revelations are reported by the media which sink candidates. But, usually, the other side has to put those revelations into TV/radio ads and/or direct mail and robocalls to burn that message in. So, even then, earned media is only part of the game. Moving real numbers is almost always accomplished via advertising. [Adding: Earned media is important, however, to paid media attacks or praise because it adds a level of authority to the attacks/praise.]
Just something to keep in mind.
- Posted by Rich Miller 29 Comments


* The House Majority PAC has a new TV ad for Democrat congressional candidate Bill Enyart…
* But I can't help but wonder something: It's less than two weeks before the election and Enyart has yet to run an ad featuring retiring Congressman Jerry Costello.
What the heck?
The polls have this race super tight. Where's Costello?
He's apparently doing some robocalls. He's in some mailers and the walk pieces. He's done public appearances with Enyart, including an East St. Louis rally yesterday. He's raised money and done other things for the campaign, but no TV ads.
I'm hearing that the Enyart campaign had a "very short window" to introduce Enyart and just didn't have the resources.
There are lots of rumors about how Costello would rather see Enyart lose so he could put his own son in there two years from now. I've never really bought into that, but his absence from Enyart's ads is certainly causing some tongues to wag.
The DCCC owes Enyart a favor after putting the horrifically unpopular Pat Quinn in a TV ad. Whatever the case, that TV ad they're running right now is pretty much just more of the same.
* Jason Plummer has won the Illinois State Rifle Association's endorsement…
"We are proud to support Jason Plummer for his unwavering support of the Second Amendment and the freedoms that the United States Constitution grants," Richard Pearson, executive director of the ISRA, said in a news release.
That's a very big deal down 'yonder, in case you hadn't already guessed. In a super-close race, that could be the difference right there.
- Posted by Rich Miller 22 Comments


* From the AP…
Illinois Gov. Pat Quinn's corrections chief is reconsidering requests from The Associated Press and other media outlets for tours of state prisons.

Corrections spokeswoman Stacey Solano said in an email Wednesday night that prison director Tony Godinez is working to determine "a manageable and appropriate way" to conduct media visits.

It was not immediately clear whether Godinez could still decide against allowing tours.
This has been a ridiculous charade from Day One. They let community college kids tour prisons but not reporters. It's insane.
- Posted by Rich Miller 12 Comments


* Gov. Pat Quinn's budget spokesman was asked this week when Quinn was going to launch his plan to "activate the grassroots," which he announced in August and has kept putting off since then…
Pallasch said Quinn's plans to wage a grass-roots campaign to get voters on board with pension cuts will start after the election and before lawmakers are set to return to Springfield at the end of November.
* The governor was asked in Champaign-Urbana yesterday about the grassroots campaign. He had initially put it off until after the presidential conventions, then came up with more excuses for why it hadn't yet launched. Check out his very Quinnesque response…
"Well, we'll be talking about that very shortly. I think we'll let the election take place on November 6th. That's got everyone's attention, obviously, and it's very, very important to our country and our democracy.

"Right after that, our Illinois legislature and government will be coming together to deal with the issue of pension reform and we've got to get it done in the best traditions of Lincoln's democracy."
The "best traditions of Lincoln's democracy"? OK. I can't wait to see that.
Listen…
- Posted by Rich Miller 45 Comments


[The following is a paid advertisement.]
Illinois is facing a crisis in education funding and the currently proposed state budget would leave a $200 million shortfall for Illinois schools, exacerbating an ongoing trend of school underfunding in our state. In fact, a 2010 research report conducted by the National Education Association found that Illinois ranks last among U.S. states in percentage of revenue for public K-12 schools from state governments. Further, the Education Law Center gave Illinois a "D" on its 2010 School Funding Fairness National Report Card.
Fortunately, the Illinois Senate identified a solution to bring more funding to our schools and protect Illinois students. In June, the Senate passed an amendment to HB 5440 that generates $75 million in revenue for the state's education fund. This new revenue would directly support students by providing general state aid for local schools, early childhood education, and the Monetary Assistance Program for Illinois college students.
HB 5440 will fill a significant portion of the education gap, helping avert large budget cuts that would impact Illinois students and educators.
We urge members of the House to vote YES on HB 5440 and close the education gap for Illinois students.

- Posted by Advertising Department Comments Off


* From August 10th…
Illinois prisons "aren't country clubs," Gov. Pat Quinn said Friday in rejecting the notion that news reporters should be let inside to see conditions in the crowded system for themselves.

Letting journalists visit the prisons is a security risk, the Chicago Democrat said, and taxpayers will have to trust his administration's experts on how the system is run.

"That's my decision," Quinn said. […]

"Prisons aren't country clubs," he said after cutting the opening-day ribbon for the annual state fair in Springfield. "They're not there to be visited and looked at."
* But, lo and behold, some community college students "visited and looked at" a prison just the other day…
Gov. Pat Quinn's administration is describing a prison tour by community college students as "educational" while continuing to bar news reporters as a "security risk."

The Department of Corrections says 25 criminal justice students from Heartland Community College in Normal toured the maximum-security Pontiac lockup on Friday. […]

Corrections spokeswoman Stacey Solano says Heartland's "educational" tour was closely monitored. But she wouldn't say how a media tour would be handled any differently.
The governor is most definitely hiding something. That's the only conclusion which any reasonable person could possibly arrive at.
Enough, already.
- Posted by Rich Miller 34 Comments


* A candidate for state Senate has been claiming that she was a Catholic nun for five years. Phil Kadner says she wasn't…
Republican Barbara Bellar boasts on her website and on the campaign trail for the 18th District state Senate seat that she was once a Catholic nun.

But when asked if she ever took vows of fidelity and obedience she refused to return telephone calls for days and repeatedly walked away from this columnist during a Republican candidate forum at Moraine Valley Community College on Saturday.

"Dr. Bellar served as a Benedictine nun for five years and remains active in her church," Bellar claims in a biography on her campaign website, which includes a logo that reads: "Barbara Bellar, State Senate, There's 'Nun' Better."

But Sister Patricia Crowley, prioress of the Benedictine Sisters of Chicago, said Bellar was only a postulant in the order, meaning she was there for a year and was a candidate to join the order.

Crowley explained that the layman's definition of a nun really doesn't mean anything to her order.
Now I've seen everything.
Wow.
Just.
Wow.
*** UPDATE *** Check out Bellar's yard sign…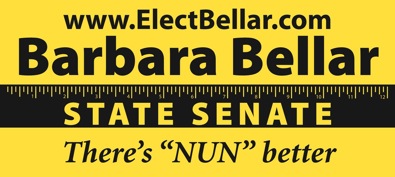 Oy.
Catholics make up most of that district. What a disaster.
[ *** End Of Update *** ]
* Nothing could possibly top that story. But there's an, um, interesting candidate running for Kane County Board…
Kerri Branson didn't expect that her past as a video-game actress and Playboy model 20 years ago would be in the spotlight when she decided to run for a seat on the Kane County Board.

"It has actually been rather funny how my past is blowing up like this," said Branson, the Democratic challenger in the race for Kane County Board District 18.

Branson, 42, of North Aurora, has been fielding interviews about the Sonya Blade character she portrayed in the Mortal Kombat video game series and her nude, lingerie and swimsuit poses for a dozen Playboy special newsstand magazines.

"I don't regret what I did," said Branson, who is from Minnesota. "I was very successful at it and it brought me to Illinois, where I met my husband and have a beautiful family."

She and her husband have four children: twin sons, 15, who suffer from severe cerebral palsy, a son, 12, and daughter, 10.
Hey, it takes all kinds to make a world. And at least she didn't lie about it.
* I've told you before about Natalie Manley, the Joliet Democratic House candidate who was arrested for allegedly beating up her daughter. The charges were later dropped. But the House Republicans are running a new ad that, while not directly mentioning the alleged assault, most certainly alludes to it. You gotta watch this one…
- Posted by Rich Miller 39 Comments


* I've told you before about my fascination with the New York Times' "Disunion" blog. It's mostly a day-by-day account of what happened during the Civil War 150 years prior. But some posts take a broader view, like this one on baseball…
As hundreds of thousands of Billy Yanks and Johnny Rebs enlisted in the Union and Confederate Armies during1861 and 1862, military and civilian officials and journalists from both sides recognized that soldiers who trained for deadly combat would need relief from their endless drills and chores. Among other activities, people on both sides urged soldiers to take up the relatively new sport of baseball.
* There are some harrowing stories in the post…
Generally, soldiers sported within the relative security of their encampments, though sometimes they violated Army regulations and competed outside the fortifications and beyond the line of pickets. George H. Putnam remembered a contest among Union troops in Texas that was aborted by a surprise enemy assault. "Suddenly there came a scattering fire of which the three fielders caught the brunt; the center field was hit and was captured; the left and right field managed to get into our lines," he wrote. The Northern soldiers repulsed the Confederate attack, but "we had lost not only the center field," but "the only baseball in Alexandria," Texas.
* And the post explains how the Civil War influenced the way baseball evolved into the sport it is today…
Most of the ballplaying soldiers were natives of Northeastern states, and in particular those cities and towns where the baseball mania had been the most intense during the late 1850s. When New Englanders competed among themselves they generally played by the rules of the "Massachusetts Game." John G. B. Adams of the 19th Massachusetts Regiment recalled that early in 1863, while he was encamped in Falmouth, Va., a "base ball fever broke out." Enlisted men and officers played "the old-fashioned game, when a man running the bases must be hit by the ball to be declared out." […]

While New Englanders naturally favored the Massachusetts rules, they were outnumbered by soldiers from Manhattan and Brooklyn, who preferred the "New York Game," developed during the 1840s and 1850s by that city's Knickerbocker club. In October 1861 a "bold Soldier boy" sent the Clipper newspaper an account of a baseball game played by prominent Brooklyn club members on the parade ground of the "Mozart Regiment, now in Secessia." He was eager to report the sports news to civilians on the home front, since they "might imagine that the `sacred soil' yields only to the tramp of the soldier, that its hills echo only the booming gun, and the dying shriek." The men, he explained, were "engaged in their old familiar sports, totally erasing from their minds the all absorbing topic of the day."

By 1863 the New York version of baseball had gained a decided advantage over cricket, the Massachusetts Game and a related game called townball. Nicholas E. Young, later president of the National League, was a cricketer from a town in upstate New York who played the English game in an army camp near White Oak Church, Va., in the early spring of 1863. That year he switched his allegiance to baseball after the 27th New York Regiment organized a club.
* The Question: Which team would you like to win the World Series this year, or do you not care? Take the poll and then explain your answer in comments, please.
- Posted by Rich Miller 27 Comments


* A new ad being run by Democratic congressional candidate Bill Foster accuses incumbent Republican Judy Biggert of voting to "privatize" Social Security. Watch…
* The Tribune takes a look…
The spot accuses Biggert of voting to privatize Social Security, making reference to two 2001 votes the veteran Hinsdale Republican cast in Congress.

One case involved a procedural vote Biggert took against a Democratic plan opposing President George W. Bush's Social Security Commission that was recommending a portion of the program be privatized. The ad also cites Biggert's vote for a budget that year that included funding for privatized Social Security accounts.

What Foster's ad doesn't tell voters, however, is that the votes were tied to a proposal that was never implemented and has no bearing on current seniors. The Bush plan would have applied only to younger workers paying Social Security who could have invested 2 percent of their contributions in private accounts.
A procedural vote and a budget vote. Not much. But, I suppose I've seen less made into more.
* Democrat Brad Schneider has another unusual ad. This one uses archival footage of LBJ talking about Medicare. Have a look…
* And the NRCC has a new independent expenditure ad blasting Democrat David Gill. View it…
- Posted by Rich Miller 20 Comments


* We talked a bit about a St. Louis Post Dispatch article last week which revealed that Republican congressional candidate Jason Plummer paid his property taxes late. But this section sparked my interest as well…
Plummer, who is a multimillionaire according to a personal financial disclosure, also took an owner occupied exemption on the property, which means the house must be your primary residence. The house is outside of Illinois' 12th district, which runs from parts of eastern Madison County to the Kentucky border. His campaign noted that the tax bill was for the past year. He moved to O'Fallon, Ill., which is in the district, in October of 2011.
* A check of Madison County records shows that Plummer's homestead exemption was renewed on March 26th of this year…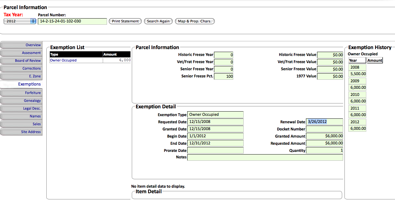 A closeup…

* So, he's voting at an address in Fairview Heights, but he is getting a homestead exemption in Edwardsville. You have to swear that this is your primary residence to qualify for this exemption, and it's an issue which has ensnared other politicians, including Tammy Duckworth, and many more.
* The explanation from the Plummer campaign…
The homestead exemption is automatically renewed. The next property tax bill Mr. Plummer will get on that property is in May of 2013 for the 2012 year.
OK, he won't be getting any benefit from that exemption until next year. There's still time to opt out of it. It's not a huge deal.
Even so, when Plummer moved his residence, he took the time to register to vote in the 12th but he didn't fill out any paperwork to change the homestead tax exemption and as of right now he's voting at one address and there's a record saying that his primary residence is somewhere else.
It's not like he's gonna go to jail or anything. But, c'mon, man. You're running for Congress. Take care of this stuff.
- Posted by Rich Miller 29 Comments


* From a Chicago Tribune profile of Joe Walsh this week…
Walsh is also against gay marriage, saying it is a religious as well as a "socioeconomic issue." Walsh argues that "male-female, two-parent households" produce children who do better in school, stay away from drugs and are less likely to be in poverty.
* But Walsh used to be solidly for gay rights. Check out this 1996 story from the Windy City Times when he ran against longtime Congressman Sid Yates. Click for a better view…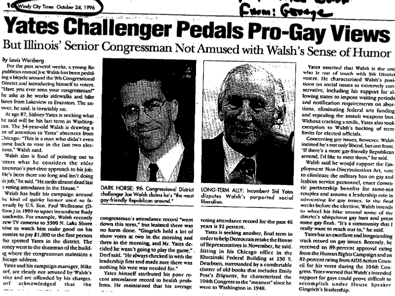 * Now for the closeup…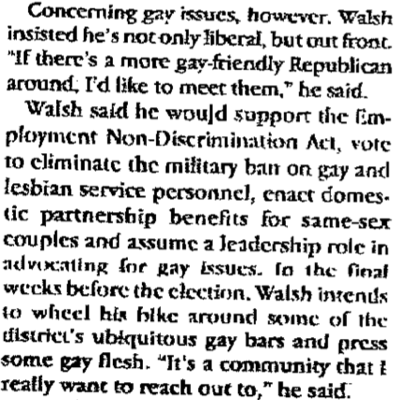 Discuss.
- Posted by Rich Miller 40 Comments


[The following is a paid advertisement.]
Although all energy development comes with risks, Americaís natural gas producers are committed to protecting America's air, land, and water. Across the country, advance in technology:
* Protect air, by reducing emissions and monitoring air quality near drilling sites;

* Protect land, by reducing our production footprint and helping to create thousands of acres of wildlife preserves; and

* Protect water, through conservation and recycling technologies, and the use of reinforced cement and steel-encased drilling systems that go thousands of feet below fresh-water tables.
That's smarter power today. Go to ANGA.US to learn more about our safe and responsible development practices.
- Posted by Advertising Department Comments Off


* The problem with the coverage of what budget office spokesman Abdon Pallasch told the Daily Herald yesterday is that he wasn't saying that universities would definitely close or taxes would definitely increase if AFSCME's contract wasn't resolved in the state's favor and pensions weren't reformed to the workers' detriment. He was just throwing out hypotheticals if that stuff didn't happen. This shouldn't be taken too seriously or blown out of proportion.
Trouble is, it's two weeks before the election. Everybody's naturally jumpy. Democratic candidates don't want to needlessly aggravate AFSCME or the teachers, or taxpayers.
Not only that, but thousands of state workers and retirees have succumbed to a weird conspiracy theory that the innocuous constitutional amendment on the ballot next month will somehow take away their pensions. And the Illinois Policy Institute is convinced that there's a secret plan to raise taxes after the election.
So, right now is, to say the least, not the best environment to broach concepts which lead to stories like this…
Gov. Pat Quinn has tried to close prisons, mental hospitals and other state facilities in his quest to cut state spending.

On Tuesday, one of his top budget aides added another institution to the possible target list: Public universities.

The (Arlington Heights) Daily Herald reported Tuesday that assistant budget chief Abdon Pallasch said the state's labor unions must make some concessions at the bargaining table in order to avoid deeper cuts in state spending.

"The alternative is we, you know, close a few prisons or universities, I guess," Pallasch told the newspaper's editorial board. "I'm not threatening to close prisons or universities. I'm just saying, let your imagination run wild with what we'd have to do."
* And this…
Asked if getting pension cuts approved before [the new General Assembly takes office in January] is a do-or-die scenario, Pallasch said "yes."

"There's really no plan B. We can't not reform the pensions," he said.

"If we do, what do we do? Double or triple the state income tax?" Pallasch said. "There's all sorts of untenable choices."
* Or this…
Pallasch said the governor does not support raising income taxes further but emphasized the state's budget situation is dire.
Everybody should just calm down. He wasn't saying, he was just saying.
But it should be fun to watch the reaction when Gov. Quinn visits the U of I today.
Heh.
* Meanwhile, thanks but no thanks…
A report due Wednesday on Illinois' fiscal crisis is heavy on definition but light on recommendations for repair, one of its authors said Tuesday.

An offshoot of a national report released in July that was headed by former Federal Reserve Chairman Paul Volcker and former New York Lt. Gov. Richard Ravitch, the Illinois edition of the State Budget Crisis Task Force aims to drive home how big of a hole Illinois has dug itself, according to Richard Dye.

"It spends a lot of time talking about the magnitude of the problem, which is huge — somebody's ox is going to be gored, or oxen," said Dye, an economist with the University of Illinois' Institute of Government and Public Affairs.

"Rather than weighing in on the tough choices and focusing people's attention on specific cuts that we might recommend, we stayed out of that," Dye said. "That's the big thing: Something's got to be done and sooner rather than later."
Any idiot with half a brain knows we have big problems in this state. For instance…
Because an agreement between state and union officials has expired, 60 union employees of the state had no choice but to report for work Monday to the otherwise empty and unused Illinois Youth Center in Murphysboro — which was the previous place of employment.

The specific agreement between the Department of Juvenile Justice and AFSCME had allowed the workers to be transported for duties at IYC Harrisburg. The agreement expired Sunday, however, and contract talks failed last Thursday. That led to employees returning Monday to IYC Murphysboro — which hasn't housed a resident since Quinn's closing decision took effect.
So another study announcing that we have a problem doesn't really interest me. Ideas from the ivory tower for fixing these problems while doing as little harm as possible to actual people would've been nice, but these goofs took the easy way out.
- Posted by Rich Miller 76 Comments