* Indicted and ousted state Representative-elect Derrick Smith received almost 62 percent of the vote in Secretary of State Jesse White's 27th Ward. White had Smith appointed to the House, but has since turned completely against him and backed third party candidate Lance Tyson in the general election. White is the 27th Ward's Democratic Committeeman, but he failed miserably.
Here are the ward-by-ward results for the Smith-Tyson race…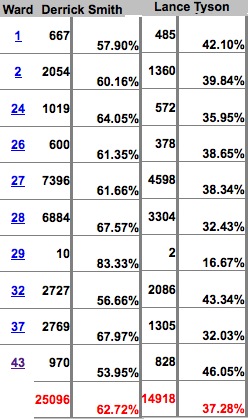 Smith, by the way, won every single precinct in Secretary White's ward.
Thoughts?
46 Comments









































































































































Sorry, comments for this post are now closed.