* The Tribune pretty well sums up the policy and style problems with the governor's new "grassroots campaign"…
After months of promising a major grass-roots effort to win public support for reforming the state's government worker pension system, Gov. Pat Quinn on Sunday unveiled a plan that featured an incomplete online strategy, children wearing red plastic megaphones and an animated "Squeezy the Pension Python" mascot.

There were, however, no solutions offered on how to fix the nation's most underfunded retirement system.

The Democratic governor, known for a style that sometimes veers into the corny, attempted to jump-start the pension overhaul push by lauding the power of "the people of Illinois, good and true" through what he called the "electronic democracy" of Twitter and Facebook. Quinn went so far as to encourage families gathering at the Thanksgiving dinner table to "speak to each other" about the pension crisis.

The approach left some lawmakers questioning whether the governor demeaned the severity of one of the most pressing unresolved problems facing state government in Illinois. State Rep. Jack Franks, D-Marengo, called Quinn's strategy "juvenile."
* And here he is, ladies and gentlemen, Squeezy the Pension Python…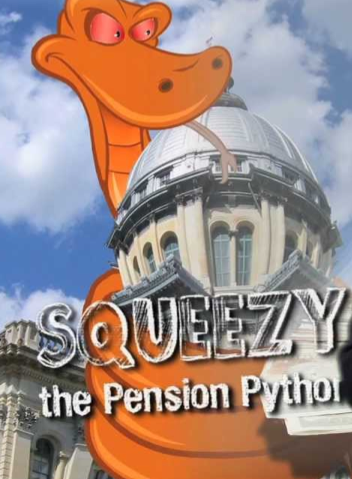 Sheesh.
* Go check out the website. Our own OneMan lays out some of the missteps pretty well…
The video is too long (it is the longest 3:44 of my life, do it in 90 seconds with a different host). Do not explain what a pension is in your intro video, have a different video for that.

Have some ways to illustrate the problem from a local perspective…

Enter your address and see how much the pension hole is for your school district(s) for example… How big is your family's cut of the pension hole.

Have immediate next steps defined. There should be no 'stay tuned', there should be we are having a meet-up/tweet-up/google+ meetup thing on X at Y and again at Z on A

Start taking names for an e-mail list… Gee, this is obvious.
* The overly long video…
* As ArchPundit points out, the hashtag they're trying to push (#thanksinadvance) is already in widespread use and won't stick out. For example…
If someone could kindly go and remove the sand from formby beach before tomorrow morning i would be very greatful. #thanksinadvance
* Finding the accompanying Facebook page ain't easy, but here it is. Check out some of the comments…
#Peggy Glatz: How about politicians work for minimum wage FOR ONE YEAR. That would fix a lot.

#John C. Gallagher: What about the grants given to the families of large campaign funders? Maybe some of that money could have gone to funding the pensions in prior years. Always easy to say this caused that, Governor Quinn, but how does it feel coming the other way?

#Bob Madura: Posts are being deleted from this forum !
* But most of the comments are focused on the thing that Quinn's new website completely ignores…
#Jim Johanson: Don't Penalize The Employees Who Made Their Contributions…While The Politicians Underpaid The Pension Funds For Decades!!!!
Go check out the website and report back.
225 Comments


































































































































































































































































































































































































































































































































































































































































































Sorry, comments for this post are now closed.