* Whatever you may think of the charges, these town hall meetings are a pretty gutsy move by indicted state Rep. LaShawn Ford (D-Chicago). From an e-mail sent to his constituents yesterday afternoon…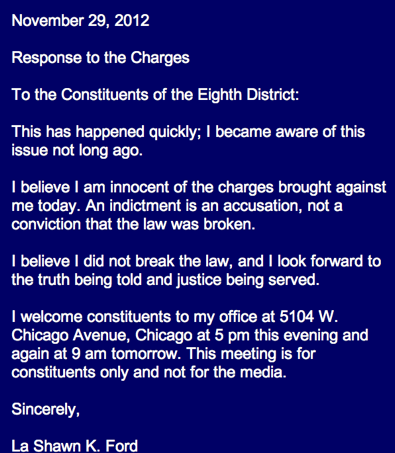 * ABC7…
Indicted State Representative LaShawn Ford met with constituents to defend himself in his West Side office Thursday night and offered his side of the story.

He said he has yet to read the federal indictment, but he fully intends to fight it.

The feds say he defrauded Shore Bank by misusing more than half a million dollars in loans. Ford says he did nothing wrong.

"What we have is a failed bank and there were problems with that bank and the federal justice department, they're doing their job. They want to make sure that everything was done right," he said.

The allegations date back to 2006, before Ford was elected to the state house. And they concern his real estate business, not his work as a state representative, which supporters say has been stellar.

"Me personally, I don't believe he did anything wrong," said Roy Flowers.

"LaShawn has been a pillar of the community for years, from his real estate company all the way to as a state rep," said Marlon Ryals.
* Ford also talked to several reporters yesterday, and attempted to refute the charges one by one…
He vehemently denied the charges and insisted he had committed no bank fraud in the years before he was elected to office and while he was actively buying and rehabbing homes on the West Side.

"An indictment is an accusation and a theory of what those people believed happened as far as the life I live," Ford said, adding that he plans to continue to serve as state representative while he fights the charges. […]

Speaking by phone to Austin Weekly News shortly after the news of the indictment broke, Ford responded nearly point-by-point to the lengthy indictment.

As for the charge that he needed the money to support a lavish lifestyle, Ford insisted that he has been successful in real estate through legitimate means and didn't need to commit any crimes.

"This is a case of the feds not knowing how real estate is done in the community," Ford said. "I respect their job, but I also have a job to do and that's to defend myself."
* And…
The lawmaker said his business failed when the real estate market collapsed, falling particularly hard on the city's underdeveloped West Side.

"My business failed. ShoreBank failed. The problem is the owners of the bank, they're gone. And little ol' me is right here, being indicted."

Ford also dismissed the federal allegations about using money for gambling payments, saying he was making enough money to "do what I wanted to do."

"I gamble when I can," he said. "If I can afford to gamble, I gamble." Asked if he had a gambling problem, Ford said "no" and said he had no gambling debts. Ford said he did not divert any of the bank money to gamble.

"The jury will decide on my guilt or innocence," he said. "I know me. I know I didn't lie to the bank."
* More…
In August, the legislative chamber voted to oust state Rep. Derrick Smith (D-Chicago) for allegedly accepting a $7,000 bribe from an undercover FBI informant who was acting on behalf of a purported daycare center operator seeking Smith's assistance in obtaining a $50,000 state grant. Smith went on to win election in November despite being under federal indictment and will be seated in the House in January.

Ford voted present on the resolution to expel Smith, one of only three lawmakers to do so. Six voted no.

"It's up to the speaker of the House and the members," Ford said, when asked whether he thinks he too could face possible expulsion.

"I want to serve in the House of Representatives. I want a place where people understand this is America and in America, we believe in justice. We say the Pledge of Allegiance every day when we convene [in Springfield].

"An indictment is no more than an accusation, no more than a hypothesis, their theory of what they believe happened back in 2006 of 2007. This is 2012," Ford continued. "There's no damn way."
As I told subscribers earlier this morning about my own interview with the man, Ford is either the most brazen liar I've ever seen or there's something really lacking in that indictment.
24 Comments







































































Sorry, comments for this post are now closed.