* 2:22 pm - From the US Attorney's office…
LaShawn K. Ford, an Illinois State Representative who also invested in real estate in Chicago, was indicted today on federal bank fraud and related charges for allegedly fraudulently obtaining a $500,000 increase and a two-year extension on a line of credit from the failed ShoreBank and obtaining multiple advances by making false statements about his intended use of the funds.

Ford, 40, of Chicago, who operated Ford Desired Real Estate, Inc., and also invested personally in real estate, purportedly obtained bank funds to rehabilitate specific investment properties in the city, but instead used the funds to pay unrelated expenses, including, car loans, credit cards, other mortgages held at ShoreBank, payments to a casino in Hammond, Ind., and for his 2006 campaign for Illinois State Representative, the indictment alleges. The charges do not involve Ford's position as a state legislator after he was first elected in 2006. Ford represents Illinois' 8th House District, which includes portions of Chicago's west side and several western suburbs in Cook County.

Ford was charged with eight counts of bank fraud and nine counts of submitting false information to the bank in a 17-count indictment returned today by a federal grand jury. Chicago-based ShoreBank failed in August 2010 and now operates as Urban Partnership Bank.

Ford will be arraigned on a later date to be determined in U.S. District Court in Chicago.

The indictment was announced by Gary S. Shapiro, Acting United States Attorney for the Northern District of Illinois, and William C. Monroe, Acting Special Agent-in-Charge of the Chicago Office of the Federal Bureau of Investigation.

According to the indictment, Ford had multiple loans with ShoreBank, including a $1 million line of credit, which he was permitted to use solely to purchase and rehabilitate investment properties. On May 22, 2006, he obtained a $500,000 increase — to $1.5 million, and a two-year extension of the credit line, allegedly by submitting false tax return documents that inflated his personal and business income.

On seven different occasions between April 2006 and March 2007, Ford applied for and obtained a total of $373,500 in advances from the credit line, allegedly by making false statements that he intended to use the funds to rehabilitate six different investment properties on the city's west side. In each instance, however, Ford allegedly knew that he intended to use the funds, in part, for expenses unrelated to the specific rehabilitation projects.

The indictment seeks forfeiture of approximately $832,000.

Each count of bank fraud and making false statements to a financial institution carries a maximum penalty of 30 years in prison and a $1 million fine, and restitution is mandatory. If convicted, the Court must impose a reasonable sentence under federal sentencing statutes and the advisory United States Sentencing Guidelines.

The government is being represented by Assistant U.S. Attorneys Greg Deis and William Ridgway.

The investigation falls under the umbrella of the Financial Fraud Enforcement Task Force, which includes representatives from a broad range of federal agencies, regulatory authorities, inspectors general, and state and local law enforcement who, working together, bring to bear a powerful array of criminal and civil enforcement resources. The task force is working to improve efforts across the federal executive branch, and with state and local partners, to investigate and prosecute significant financial crimes, ensure just and effective punishment for those who perpetrate financial crimes, combat discrimination in the lending and financial markets, and recover proceeds for victims of financial crimes. For more information on the task force, visit: www.StopFraud.gov.

An indictment contains only charges and is not evidence of guilt. The defendant is presumed innocent and is entitled to a fair trial at which the government has the burden of proving guilt beyond a reasonable doubt.
* 2:27 pm - The indictment is here.
* We successfully "freeped" Public Policy Polling's website a couple weeks ago and convinced them to do an Illinois poll. I'm not sure how valuable the numbers are because it's so very early in the gubernatorial process, but let's get to it.
The poll was taken November 26-28 of 500 Illinois voters.
* Gov. Pat Quinn's job approval rating continues to be super dismal…

Quinn disagrees with voters, however…
"I think I'm doing a good job under the circumstances and want to continue."
* Except for Lisa Madigan, most people really don't know much about the other candidates tested here…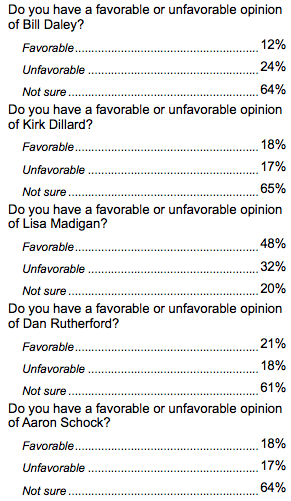 * Quinn only does well against Aaron Schock, who is a Downstate congressman and not yet very well known statewide…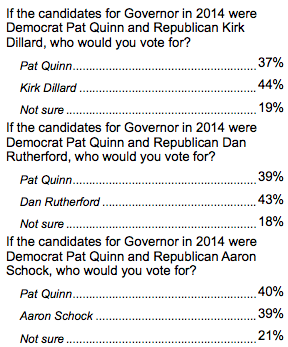 Keep in mind that Quinn was trailing Bill Brady for months before he finally won. Party love generally kicks in late.
* Same goes for Bill Daley…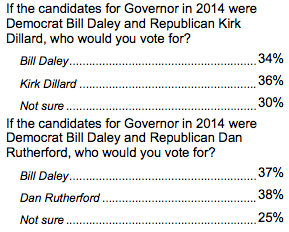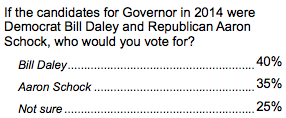 * Lisa Madigan is a different story, but she's not killing it like I thought she would…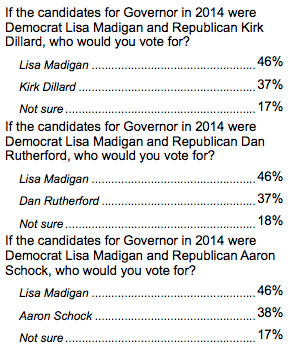 Madigan is barely outperforming the generic party ID test…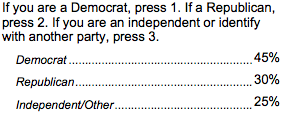 I've been saying for a while that I didn't think Attorney General Madigan would run for governor in 2014. But I had a long off the record talk with her on election night (she attended my Google party), and let's just say I'm no longer 100 percent sure about anything. She probably won't, but I can't say that for sure right now.
* PPP also polled for the primaries, but the sample sizes were so small that they have to be taken with a grain of salt. Of just 303 GOP primary voters…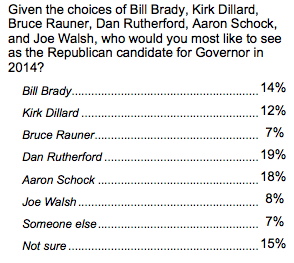 And…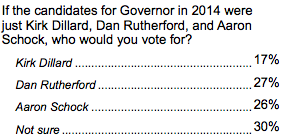 * But check out the Democratic poll of 319 primary voters. Quinn is in a world of trouble…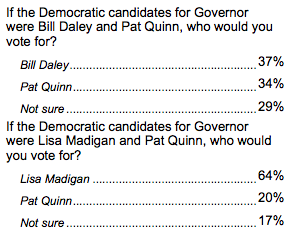 If Lisa runs, she could crush Quinn. But we already knew that.
* Links…
* State Rep.-elect Sue Scherer (D-Decatur) told Bernie that freshman orientation included a section on "things that you need to know but nobody will tell you"…
"I remember the first one — you're going to gain 60 pounds, and so take the stairs," she said. "And your heels don't have any give on marble floors."

"So I have not even ridden the elevator, and maybe never will," she said. "Because when there's food out, it's not like apples and bananas. It's always like brownies."
There was some serious advice as well, I'm sure.
* The Question: Your advice for incoming freshmen?
*** UPDATE *** This will happen tomorrow, not today, but it's happening…
The huge field of candidates running for Jesse Jackson Jr.'s former seat in Congress is about to get slightly less huge.

A source who would know says that Ald. Will Burns, 4th, will announce this afternoon that he's changed his mind and won't be running. Mr. Burns didn't do very well in a poll recently commissioned by Cook County Board President Toni Preckwinkle and, given the short nature of the special-election campaign, decided to hold his fire for now. But don't be surprised to see the former staffer for then-state Sen. Barack Obama pitch himself for statewide office down the road, perhaps comptroller or treasurer.
[ *** End Of Update *** ]
* As subscribers already know, Cook County Democrats will meet in December to see if they can slate a candidate for resigned Congressman Jesse Jackson Jr.'s old seat. Thornton Township Supervisor and Democratic Committeeman Frank Zuccarelli will be chairing the slatemaking committee and he already has a preferred candidate…
While Zuccarelli is encouraging candidates to contact him to be part of the December slating session so they can make their pitch, he's not exactly walking in to this with an open mind. He said he already knows that if state Sen. Donne Trotter (D-Chicago), who has expressed interest in the job, is running, that's who he's backing. Trotter's legislative district, which stretches from the South Side to the suburbs, covers some of the same territory as the 2nd Congressional District, helping him understand the issues facing residents there, Zuccarelli said.

"Even though some people who've been mentioned (as candidates) might do a decent job — nobody comes close" to Trotter, Zuccarelli said. "I'm going to conduct inteviews and I'll listen to what people say — but the only way my mind would change is if Donne dropped out."
Sen. Trotter appears to be in the race to stay, and that endorsement by Zuccarelli is huge. He's already lined up other wards and townships, but Zuccarelli has just about the best organization in all of Cook County, and an absolute ton of the weighted vote.
* Ted McClelland interviewed Trotter back when Trotter ran for Congress against Bobby Rush and Barack Obama...
Trotter, who has thrown his hat into the ring for Jesse Jackson Jr.'s congressional seat, is a member of one of the biggest, oldest clans on the South Side, a family that beat everyone else to Chicago by a generation or two. Trotter's roots in this town go all the way back to 1900, when his great-grandfather, a Choctaw Indian named Granville Trotter, arrived here from Oklahoma. The senator says Granville and his wife had "13 kids who begat another 13 kids who begat another 13 kids."

Trotter's grandfather, Walter Trotter, was a prominent minister in Hyde Park, and his cousin Larry was a bishop at Sweet Holy Spirit Full Gospel Baptist Church. Combing through the voter rolls, the senator's staff decided to invite all the Trotters they found to a fund-raiser. (Another time, he held a "Trottin' with Trotter" event at the harness races at Hawthorne Race Course.)

Trotter lives in South Shore, at 84th and Yates, but he grew up in Grand Crossing, around the corner from Ralph Metcalfe, the Olympic sprinter who represented the First District for many years. He was a Boy Scout with Metcalfe's son, Ralph Jr., who later ran for alderman. He remembers when the Palm Tavern was the hangout for "Billy Eckstine and all the jazz greats," and when the Rosenwald Building, now a flophouse, was home to the black middle class. His campaign was "Chicago's Native Son" — as opposed to Rush, who'd grown up in Georgia, and Obama, who was from Hawaii.

Trotter, who was and still is the best-dressed man in Illinois, embodied South Side urbanity, with tailored suits, bow ties, soul food lunches, and smooth jazz oozing from the speakers of his Jeep. He held his campaign kick-off luncheon at Army and Lou's. When we sat down for an interview, he took me to a vegetarian soul food restaurant on 87th Street.
If he can raise the money, Trotter could very well be the one to beat.
* If you're watching our live veto session coverage, you already know that the Senate Executive Committee approved a Republican-backed amendment that helps ensure passage of a bill to allow undocumented immigrants to obtain special drivers licenses. From the amendment…
A temporary visitor's driver's license is invalid if the holder is unable to provide proof of liability insurance as required by Section 7-601 of this Code upon the request of a law enforcement officer, in which case the holder commits a violation of Section 6-101 of this Code.
* From the Senate Republicans' Twitter feed…
Radogno on SB 957: This is a tough issue but not a new issue. We are placed in this situation because of inaction from Fed Gov.

Radogno: We have taken steps to ensure there is as little fraud as possible. Important to monitor this & see how we can make better if abuse
* Yesterday afternoon, conservative Republican state Sen. Bill Brady announced he was supporting the legislation. From a press release…
Senator Bill Brady said today he will support legislation to improve traffic safety and lower insurance costs for Illinois motorists by permitting undocumented immigrants to obtain temporary visitors drivers licenses already allowed for many other foreign-born individuals.

At Brady's urging, language is included in the bill to stipulate that the temporary visitors driver's licenses cannot be used for purposes of identification, such as registering to vote, boarding an airplane or purchasing a firearm.

"I am pleased that the sponsors of the legislation and the Illinois Coalition for Immigrant and Refugee Rights addressed my concerns and agreed that the temporary visitors licenses should include notification in bold type that they cannot be used for identification purposes," said Brady, an Assistant Senate Republican Leader from Bloomington.

Brady said he decided to support and co-sponsor the legislation because of valid economic arguments for licensing an estimated 250,000 undocumented immigrants in Illinois. Other states which have implemented similar provisions, such as Utah, have seen dramatic numbers of their undocumented immigrants become licensed and purchase the required auto insurance.

"Without licenses, our law enforcement officers cannot check their driving records, and without licenses, Illinois motorists are footing the bill for their uninsured motor vehicle accidents," Brady said.

"This isn't just an issue in the City of Chicago. It's also an issue in the suburbs and Downstate areas where the Latino population is growing."
Brady is no stranger to the illegal immigration issue. He strongly supported in-state tuition for the children of undocumented immigrants.
* House Speaker Michael Madigan's proposal to limit state employee contractual wage increases to zero passed the House yesterday 84-29. Several Republicans voted with the union, including Springfield's Raymond Poe and Rich Brauer…
"There should be a contract negotiated," Poe said. "If Quinn wants to tell them there's zero (money for raises) in the negotiation, that's the way it should be done, rather than forcing it on them."

Brauer said the state needs to cut entitlement programs before it eliminates pay raises.

"They've made promises to workers, and now they're taking it away to keep entitlements," he said.
In all, 14 HGOPs sided with AFSCME: Bost, Brauer, Brown, Cavaletto, Hammond, Mathias, Bill Mitchell, Jerry Mitchell, Moffitt, Poe, Reis, Rosenthal, Saviano and Watson.
* The Speaker's statement…
"We're telling the negotiators, 'Don't be sending us a bill for (wage) increases when we are in the process of reducing every other area of state government,'" Madigan said.
* Background…
AFSCME and Quinn's office are still negotiating a contract, with the next meeting set for December. AFSCME officials have said they are willing to consider a one-year freeze on wages, but Quinn wants the union to OK a freeze for the duration of their next contact.

Last weekend, Quinn ruffled feathers by ending the union's contract with the state, which expired this past June, but was extended during the ongoing negotiations.
* Meanwhile, in another development, check out the new proposal introduced by Sen. John O. Jones (R-Mt. Vernon)…
Authorizes the Senate Appropriations Committees to jointly: (1) review the misconduct and mismanagement in the Illinois Department of Corrections; (2) review the physical condition, the size and composition of the inmate population, and any specific and immediate needs of each correctional facility managed or operated by the State; (3) hold public hearings, take testimony, and request detailed and specific information relating to the inmate population and staff of any individual correctional facility managed or operated by the State, as well as the State's prison system at large; and (4) issue their findings and recommendations in a final report outlining a long-term objective plan for the State's correctional facilities, the populations they hold, and the workforce needed to best protect the citizens of Illinois, by September 1, 2013.

Urges the Governor to seek the immediate resignations of the Director, Executive Chief, Deputy Chief of Operations and Southern Illinois Deputy Director, then begin an immediate internal investigation into the negligence and corruption within the Illinois Department of Corrections.

Urges the Governor not to close any prison facilities proposed to be closed.
* This sort of talk is freaking out business lobbyists in a major way and is a big reason why so many of them are paranoid and up in arms about Senate President John Cullerton's proposal to force publicly traded corporations to disclose their Illinois income tax payments. House Majority Leader Barbara Flynn Currie is also sponsoring the measure and had this to say earlier in the week…
"Maybe if we were to find out that there are some very profitable corporations operating in the state of Illinois, we might want to say that maybe they should pay a little more."
Um, maybe if we find out that there are some very profitable corporations in Illinois, we might look to see how we can make other businesses just as profitable.
I mean, I know what she's probably getting at here, but, seriously, c'mon. That's no way to calm the waters.
* In light of Currie's comments, the Taxpayers Federation's warnings should be listened to…
An equally scathing review came from the Taxpayers Federation of Illinois, which is known more as a watchdog than an ideological group.

If lawmakers need more information, they can get it from the Revenue Department instead of demanding specific figures on each company, which will "undermine" taxpayer privacy, the federation said in a statement. Passage would make Illinois "an even less attractive state to invest and create jobs" in, and give other states a leg up by pointing to Illinois' "taxpayer climate."
* Despite Cullerton's sponsorship, the bill just barely passed yesterday…
The Senate voted 30-27 Wednesday to OK a proposal Cullerton says would help lawmakers plan tax policy.

The Chicago Democrat says legislators don't know whether their tax incentives and credits are working. He says two-thirds of businesses doing work in Illinois pay no corporate income tax.

Republicans criticized the measure as "anti-business (and) anti-employment." Others questioned whether it would be legal to post the information. Cullerton amended the bill to prevent posting of federally prohibited tax information.
There are those who believe that Cullerton's bill is somehow politically motivated. It wouldn't surprise me. He has grumbled about Caterpillar's constant complaints about high state taxes. Cat is suspected of paying little to no income taxes. But Cat's CEO was mostly complaining early on about the increased personal income tax rate and its potential impact on its executives and future recruitment.
* Other stuff…
* Quinn Expected to Hike License Sticker Fees

* Editorial: Pension problem is no cartoon

* Editorial: Pensions more than python problem - Action, not gimmicks, please
[The following is a paid advertisement.]
The cable industry is asking lawmakers to place a NEW 5% tax on satellite TV service. HB 5440 is not about fairness, equity or parity – it's a tax increase on the 1.3 million Illinois families and businesses who subscribe to satellite TV. They cannot afford another NEW tax – not now and not in this economy!
HB 5440 Will Hurt Illinois Families and Small Businesses
• Satellite TV subscribers will see their monthly bills go up 5%.
• This tax will impact every bar, restaurant and hotel that subscribes to satellite TV service, which will translate into higher prices, decreased revenues, and fewer jobs.
• Rural Illinois has no choice: In many parts of Illinois, cable refuses to provide TV service to rural communities. Satellite TV is their only option.
HB 5440 Is Not About Parity or Fairness
• Cable's claim that this discriminatory tax is justified because satellite TV doesn't pay local franchise fees could not be further from the truth. Cable pays those fees to local towns and cities in exchange for the right to bury cables in the public rights of way—a right that Comcast and Charter value in the tens of billions of dollars in their SEC filings.
• Satellite companies don't pay franchise fees for one simple reason: We use satellites—unlike cable, we don't need to dig up streets and sidewalks to deliver our TV service.
• Making satellite subscribers pay franchise fees—or, in this case, an equivalent amount in taxes—would be like taxing the air It's no different than making airline passengers pay a fee for laying railroad tracks.
Tell Your Lawmakers to Stop The Satellite TV Tax

Vote NO on HB 5440
* This was as much about gun rights as about legislative rights. Gov. Quinn drastically rewrote a bill to turn it into an assault weapons ban, but the Senate buried him yesterday…
An aide says Illinois Gov. Pat Quinn will "vigorously pursue" a ban on assault weapons even though the Senate rebuffed his attempt on Wednesday.

The Senate voted 49-4 Wednesday to override Quinn's rewritten legislation to prohibit the sale or possession of semi-automatic rifles, high-capacity magazines and .50-caliber guns.

Spokeswoman Brooke Anderson says the Democratic governor will continue seeking a statewide assault-weapons ban to enhance public safety. She would not elaborate on his strategy.
Maybe they can use Squeezy in the new "strategy" to pass an assault weapons bill.
"No" votes were Clayborne, Jackie Collins, Maloney and Silverstein, all Democrats. A whole lot of other liberals voted for the override.
* From a press release…
Governor Pat Quinn today announced that the remaining residents at the Jacksonville Developmental Center (JDC) have transitioned to community care. The moves are part of the governor's rebalancing initiative to increase community care options for people with developmental disabilities and mental health challenges while reducing the number of outdated institutions in Illinois.

"Today is a historic step forward in our effort to improve the quality of life for citizens with developmental disabilities and mental health challenges in Illinois," Governor Quinn said. "I thank all of the family members and committed advocates who worked together to make this transition safe and responsible. I am committed to strengthening community care in Illinois and helping to ensure that all people have an opportunity to reach their full potential."
I'll post AFSCME's response as soon as it arrives, but the union has bitterly fought this facility closure, saying that private community care homes are ill-equipped to deal with many of JDC's residents.
* David E. Smith, executive director of the Illinois Family Institute, speaking about the push for gay marriage…
Smith, of the Illinois Family Institute, alleged that the real motive for some activists is "more sinister" and that "the goal, for some, is the eradication of marriage altogether."
Um, huh?
[The following is a paid advertisement.]
ComEd is pushing Senate Resolution 821 in an attempt to reverse the ICC's $133 million rate reduction decision – which will mean more rate hikes for struggling Illinois consumers and businesses.
ComEd says: We expected higher rates when it wrote the law (PA97-0616).
FACT: ICC applied the law (PA97-0616) as it was written.
ComEd says: The law "meant" that the ICC should throw accounting to the wind, charge consumers for unreasonably high costs, and impose the highest possible financing charges on consumers.
FACT: The law has the ICC set rates based on ComEd's actual costs and standard accounting principles, and that is what the ICC did.
FACT: If the General Assembly adopts Senate Resolution 821 and attempts to rewrite the law to suit ComEd, consumer rates will rise not just this year, but in every year over the 10 years the formula rates will be in effect.
Haven't we had enough of ComEd's games? Vote NO on SR 821!
* Sun-Times…
Senate Minority Leader Christine Radogno (R-Lemont) fended off a challenge to her leadership slot Wednesday, winning re-election as the top Senate Republican by a convincing margin.

The closed-door vote of 19 incoming Senate Republicans swung 12-6 in favor of Radogno, with one member voting present, according to a source.
* Tribune…
A lone vote went to Sen. Kirk Dillard of Hinsdale, but Dillard was not a candidate for the leadership post. The senators then voted for Radogno by acclamation, several lawmakers said.

Radogno emerged from the closed-door meeting, saying "it was a challenging process, but it was a good one."

"We need to pull together after that process," Radogno said.
Dillard says he didn't vote for himself, by the way. But that was certainly a weird ballot choice.
* And despite the vote of acclamation, there were some sour grapes by the loser. From Sen. Kyle McCarter's Twitter page…
Stepped up to lead & stood by my principles but not enough Rep senators had the courage to break from the Radogno failing status quo.

— Kyle McCarter (@SenatorMcCarter) November 29, 2012
Ouch. I'll be curious to see what Radogno does to McCarter now. Any suggestions?
[The following is a paid advertisement.]
ComEd's grid modernization work directly related to the Energy Infrastructure Modernization Act (EIMA) enacted last year created more than 700 jobs from January through September 2012, with more than 100 jobs created in the third quarter alone. These include jobs at ComEd and contractor and supplier positions involving a broad range of functions required to build a 21st century electric grid.
With passage of EIMA, ComEd embarked on a 10-year, $2.6 billion program to modernize the power system in northern Illinois. The EIMA investments also have provided an important boost to local manufacturers with the expertise needed to support the electrical system upgrade. Through October 2012, ComEd has awarded $80 million in contracts to companies providing services and products ranging from engineering to cable to smart switches.
While grid modernization work continues, the pace is slowing from earlier this year as the first rate case under EIMA has jeopardized funding available for the program. ComEd has appealed the decision in court. In the meantime, it is proceeding with about 75 percent of the core grid modernization programs as planned. ComEd is postponing the deployment of additional smart meters until 2015. ComEd hopes to reach a positive outcome soon so that it can deliver the promised reliability improvements, cost-savings and customer service benefits while creating the 2,000 jobs as required by the legislation and further boost the Illinois economy.
* The governor's people were predicting earlier in the week that this would be a close vote. It wasn't…
Illinois Gov. Pat Quinn is going to the House of Representatives with a simple message: Spend money on children, not outdated prisons.

The Democratic governor's office said Wednesday it will continue to fight to divert money from prisons to child-protection services after the Senate rebuffed the attempt there.

The Senate voted 35-16 to reject Quinn's cuts of $57 million that lawmakers want to restore to keep open the Tamms high-security prison, the Dwight women's lockup and juvenile detention centers.
A simple majority was required to override Quinn's reductions. But the vote was mainly symbolic. Even if the House concurs, it won't stop Quinn from closing state facilities.
* Quite a few Democrats voted to override the governor, but Republicans have been clamoring for budget cuts for years now, yet most of them voted to override. Here are a few quotes from memory lane…
* "Everything that can be cut should be cut."

- Senate President Christine Radogno, New York Times March 19, 2009

* "We can't spend more money than we did last year. We need to see cuts in the budget. The families of Illinois have made sacrifices and the state of Illinois needs to do the same with their budget."

- Sen. Bill Brady,, Bloomington Pantagraph Feb. 13, 2011

* "No one wants to be cut. Everyone points the finger and says: 'Cut them, not me.'"

- Sen. Kirk Dillard, Daily Herald, April 27, 2012

* "It is time that we stop this abuse of tax dollars and make the real spending cuts needed to balance the budget."

Sen. Kirk Dillard, campaign release, March 16, 2012

* "Yeah, we're on course, but we're on a collision course if we don't get our spending under control."

- Sen. Sam McCann, State Journal-Register, Feb. 1, 2012

* "I think it's time to have the governor realize that we're going to have to do with less state government, and it's time to make some cuts."

- Sen. Shane Cultra, Quad City Times Feb. 13, 2011
Food for thought.
[The following is a paid advertisement.]
The State of Illinois faces another budget crisis and severe cuts are on their way. The currently proposed budget would leave a $200 million shortfall for Illinois students and educations. Outside experts agree that Illinois is falling behind. Illinois already ranks dead last in the nation in the amount of school funding provided by state revenues according to a recent NEA study. 
The Center for Tax and Budget Accountability finds that states provide an average of 51% of the funds for education. Illinois provides only 30%.
In these harsh economic times for the state, we cannot afford to lose a dime. Still, satellite companies are currently exploiting a corporate tax loophole and taking their profits out of Illinois. House Bill 5440 will close this loophole and ensure everybody pays a fair share to support our students and communities. Twelve other states have successfully closed similar tax loopholes on satellite providers and in turn have worked towards more balanced government budgets.
HB 5440 would generate up to $75 million in additional revenue for Illinois' education system.
The status quo isn't working. Close the loophole and support our students. Vote YES on HB 5440!