* From the Senate Republicans in the wake of the state's latest credit rating downgrade…
The rating drop from S&P gives Governor Quinn his 11th downgrade since taking office. No other Governor in the state's history has presided over more credit downgrades than Quinn. In fact, Quinn now owns more downgrades than all earlier governors combined. The previous record holder, Rod Blagojevich, had three downgrades during his time in office.
* The Illinois Policy Institute has posted a couple of useful graphs. First, dates of the Quinn downgrades…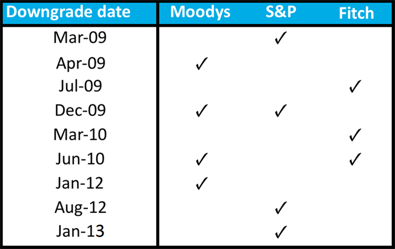 * And here's the interest premium Illinois pays above AAA-rated states on 10-year bonds…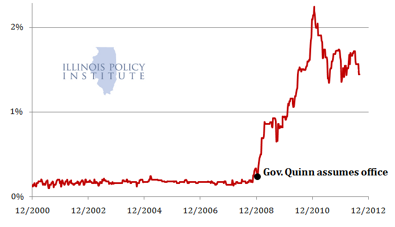 * Wordslinger had this to say in comments yesterday…
Illinois has and is cutting spending, has raised taxes substantially and is making big-time pension system contributions.

That, of course, gets you regular rating downgrades.

Yet during the Blago years, when spending kept going up, tax rates remained unchanged and pension payments were being blown off, the ratings remained unchanged until his last year or so.

Makes perfect sense.
I would only add that two years ago the state also reformed pensions for new employees, which should save quite a bit of money in the future.
* Whatever you say about Pat Quinn, and you can say a lot, he has at least tried to get the state's finances in order. He's made some very tough decisions, unlike his predecessor. Yet, it wasn't until after both Rod Blagojevich and the big-spending George Ryan were both in prison did Illinois begin to pay a real price for fiscal profligacy.
Seems a bit like CYA for the ratings agencies to me. For all their tsk-tsking about Illinois, either they didn't really see this coming, or they didn't care. If they had, we'd have been slammed with big downgrades long ago.
59 Comments
















































































































































































Sorry, comments for this post are now closed.