* AFSCME has declared today and tomorrow to be action days on its contract. From the union's Facebook page…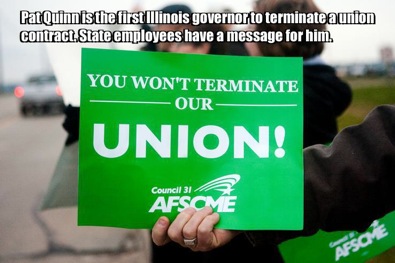 Anything going on in your office or shop?
* Meanwhile, the Southern Illinoisan, which forcefully opposed the closure of the Tamms state prison, ran a recent editorial about a couple of assaults on prison guards, including this one…
Less than two weeks ago, on Jan. 19, Menard Correctional Center in Chester was placed on lockdown after an inmate assaulted a correctional officer. Fortunately, the staff member's injuries were limited to bruises, but a spokeswoman for the department of corrections expressed concern about the attack. […]

You may also recall Tamms was defended by some as an appropriate home for the "worst of the worst" state inmates before falling victim to protestations of inhumane conditions and excessive costs. Opponents of Tamms' closure also said the super-maximum prison helped control inmate violence throughout the correctional system because prisoners did not want to get sent to the facility as punishment.

Ty Peterson, of the American Federation of State, County and Municipal Employees, the bargaining unit for prison staff, said the employee attacked at Menard recently was transferred to the correctional center from Tamms, which still housed some inmates until the end of the year.

Are you beginning to see a disturbing pattern? Is what we are seeing at Pontiac and Menard the "new normal" for correctional centers in Illinois?
Wait. The guard was transferred from Tamms to Menard, not the prisoner. I'm not sure I get it.
44 Comments



































































































































Sorry, comments for this post are now closed.