* Be really careful when reading these poll results, which are not being read at all carefully elsewhere…
Burdened by a wave of murders, dissension over proposed school closings and perhaps his own hard-ball image, Mayor Rahm Emanuel's job-approval rating has taken a big hit in recent months, according to a new Crain's/Ipsos Illinois Poll.

Negative attitudes toward the mayor are significantly higher in suburban and downstate areas than in Chicago proper. That may not be surprising, given Mr. Emanuel's fierce focus on his extensive agenda for Chicago. But there is slippage among city voters, too.

Overall, according to the survey of 600 voting-age Illinois residents, 50 percent say they at least lean toward disapproval of his performance as mayor, versus only 19 percent who somewhat or strongly approve, or lean toward approval. That's a margin of 31 percentage points. […]

Specifically, just 2 percent of Chicagoans surveyed said they strongly approve of the mayor's job performance, with 12 percent somewhat approving and 5 percent leaning that way. At the opposite end, 13 percent strongly disapprove, 9 percent somewhat disapprove and 13 percent lean toward disapproval.
* OK, first, this is a poll of residents, not even registered voters.
* Second, while the statewide results may actually be valid, the Chicago subset is just way too small to make any sort of claim about the mayor's poll ratings.
Chicago's population is 21 percent of the state's. So, if the poll was properly balanced, that would mean only about 126 people were polled. That's a margin of error of about 9 percent.
There's just no way to make a realistic judgment about a situation based on that small of a polling universe. Period.
* From Crain's…
The Crain's/Ipsos poll is a representative survey of voting-age Illinois residents conducted over the Internet. Ipsos validates the sample against offline data sources such as telephone surveys to ensure the accuracy of its weighting. The survey has an accuracy margin of plus or minus 4.7 percentage points statewide, with higher margins in sub-regions, such as Chicago or its suburbs.
Internet polling gets a bad rap, but it is picking up some admirers. Even so, a purely Internet poll is kinda radical.
* A coverage sample…
* Rahm Emanuel: Liked by Few, Loved by Fewer: Labor insiders call the drop in Emanuel's numbers "horrendous."

* Poll: Mayor Rahm Emanuel's approval rating slipping

* Emanuel Struggling With Approval Ratings In IL & City Proper

* Rahm Emanuel Not so Popular Anymore?

* Rahm Emanuel's allies dismiss negative Internet poll on mayor: John Anzalone, a political pollster who has done work for state Senate Democrats and President Barack Obama, said when Crain's internet poll last fall showed Emanuel with an approval rating of 37 percent in Chicago, Anzalone's firm had the mayor at over 52 percent.
*** UPDATE *** I should've known to check Drudge. So, with a hat tip to a commenter…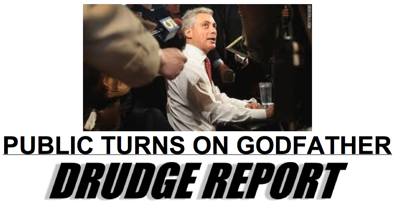 Cue Kass in 3… 2… 1…
28 Comments



















































































Sorry, comments for this post are now closed.