* From New York Times polling analyst Nate Silver…
In the past, we have sometimes considered the possibility that support for same-sex marriage is increasing at a faster rate than before. The data seems to suggest, however, that the increase in support has been reasonably steady since about 2004.
The national polling graph…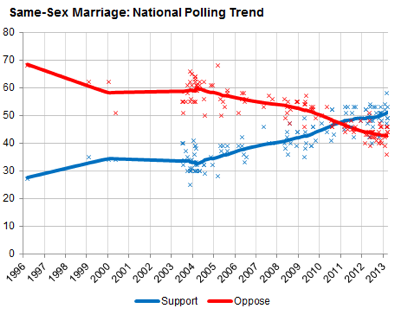 * And using a model based on polling and demographic analysis, Silver projects the future…
I assume that support for same-sex marriage will continue to increase by one and a half percentage points nationally per year, which reflects the recent historical trend from both polling and ballot-initiative data. (The way that the model is designed, support might be projected to increase slightly faster or slower than that in individual states based on the number of swing voters.) Thus, we can extrapolate the results forward from 2008 to 2012, and to future years like 2016 and 2020.
* Some of his projected support results for same sex marriage in ballot initiatives. Note Illinois…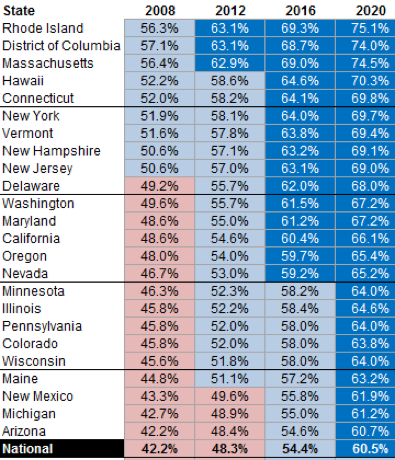 Illinois doesn't have binding ballot initiatives, of course, but you get the idea.
* Meanwhile, the Sun-Times looks at the prospects for the gay marriage bill…
While Illinois Speaker Michael Madigan said the legislation is 12 votes shy, quiet momentum continues to build among Illinois lawmakers – including Republicans – who believe now is the time to embrace the issue.

"The margin is smaller than what the Speaker had stated," said one state legislative source who asked not to be named.

Several sources said a small group of Illinois Republicans are considering voting in favor of the bill, which would almost certainly give it the 60 votes needed to advance. "There's some indication that there's more than one Republican supporting this bill," said one of the sources.
As I told you yesterday, Madigan overstated the margin. Right now, there's only one Republican openly supporting the bill, Rep. Ron Sandack. There may be another out there, but so far, not much more than that.
* But GOP Chairman Pat Brady is standing firm…
"Whether you agree or disagree with particular Republican beliefs … we have to be gracious in a diversity of opinions," Brady said. "I think that's the way we can get more people to support our candidates."
If Silver's projections are even close to accurate, then Brady has made the right decision: Get on the bus before it runs you over.
But Brady is also giving the GOP cover in case the Republican House vote for gay marriage is as low as it was in the Senate, which is also pretty smart.
57 Comments










































































































































































Sorry, comments for this post are now closed.