* Click the pic for a larger version…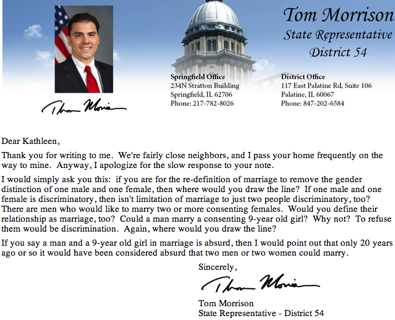 Um, this issue is about marriage between two consenting adults, not pedophilia.
Let's try to make this clear. To "refuse" an adult the right to marry a nine year old wouldn't be "discrimination." It would be preventing statutory rape. It's defined as statutory rape because a nine year old girl cannot give such "consent" to an adult.
* I talked with Rep. Morrison this morning. He clearly regretted sending the e-mail, which he said he did in haste, adding "I don't hate anybody," and saying he wanted to have a "healthy debate" on the issue. He also insisted that he didn't ever mean to imply that proponents are "advocating for statutory rape."
Still, some things are just best left unsaid. And when given an opportunity to back down, he wouldn't.
"If you look at my follow up e-mail, I flesh it out." Morrison then referenced an article about a nine-year old Saudi girl forced into marriage that he'd read a while ago. "Two years ago we were told, we don't want marriage, we want legal protections, and furthermore there's going to be no impact on religious institutions… And less than a year later, Catholic Charities is out of the adoption business, and in the next General Assembly we see SB 10. I think it's a fair question to ask 'What is the next thing?… I think that's the kind of dialogue I want to have with my constituents."
"Maybe this is a little provocative," he said, but also claimed that he was being unfairly singled out. "I think the proponents of the bill have to keep the interest level up. That's why this group sent this e-mail to the media outlets."
"I apologized to her," the legislator said. "I invited her to a meeting… This is an attempt to make me look like a bad guy. It's an effort to paint me in the worst possible light. It's an attempt to assassinate my character."
* Rep. Morrison also forwarded me a long e-mail he sent his constituent in response…
Dear [Redacted],

I got an email and phone call tonight from Natasha Korecki at the Chicago Sun-Times. She told me that you were upset by the last email I sent you regarding SB10.

I get hundreds if not thousands of emails everyday, and I do my best to read and personally respond to as many as I can. Sometimes in my haste to deliver, words or thoughts do not translate well.

As you're well aware, we do disagree on this issue and likely will continue to disagree. That's OK. I have my strongly felt reasons, and you have yours.

To be clear, however: I do not equate same sex marriage with statutory rape.

The point I was trying to make was this: the state already has certain restrictions on what marriage is. The law itself makes distinctions on who can and cannot marry. For example, one cannot be married to more than one person at the same time. You are not advocating for polyamory (I don't think), but there are those in Illinois who do. Just google Polyamory Chicago, and see for yourself. They argue that the state is discriminating against their sexual orientation, love, desire to commit, freedom, equality, etc.

The state also defines the age at which individuals may marry. There are groups today that believe young girls ought to be able to marry. Check out the following: (http://jonathanturley.org/2010/02/26/marriage "Saudi Cleric Defends Marriage of Nine-Year-Old Girls and Blasts Human Rights Treaties as the Work of Atheists and Fornicators"). Yes, I find that shocking, too! Saudi Arabia is not Illinois obviously, but would this Saudi Cleric consider IL's law on marriage to be discriminatory? Probably. I think it's a fair question to ask. By whose standards do we make our laws? I learned to drive a car at age 10. Was the state prejudicial against me in not allowing me to get a license and drive until I was 16? Why not 15? Why not 12? Why not 10?

So how do we as a society deal with differences of opinion and beliefs on important and emotional issues?

We have a democratic process here. The people's elected representatives are deciding whether or not our state's marriage law should be re-defined. Our society is engaged in a healthy debate about that now. You and I can continue to engage in that now, if you wish, either via email, phone call, or in person. In fact, I will be meeting with a Palatine man who is in a same sex civil union later this summer (assuming SB10 still hasn't been decided by then). You and I could also meet individually or as a group to discuss this.

Changing a law like this is not a light matter. Same sex relationships have been around for millenia, obviously, but codifying marriage as a relationship without regard to gender is a shift of enormous proportions. Interracial marriages have been in existence for millenia, too. Though they were temporarily (in the scope of human history) outlawed in certain jurisdictions, the unions were still of man and woman. That's why I don't believe it's appropriate to say SB10 is analogous with interracial marriage laws, by the way.

Just two years ago, in a lame duck session, the legislature passed a civil unions law. You may believe that it was late in coming, or inadequate, or still discriminatory to same sex couples; you and I haven't discussed those details so I don't know. During the debate two years ago, however, the sponsors of the civil unions bill stated that marriage was not their end goal. They also stated that religious individuals and organizations would not be affected if the civil unions law was enacted. We discovered in short order that neither was the case. Same sex marriage is under discussion now, and two large religious-based adoption agencies have had their state contracts cancelled due to religious beliefs. That's why opponents have real concerns about SB10.

[Redacted name], I don't seek to intentionally offend or be condescending to anyone, and if I was to you it was unintentional, and I genuinely apologize. If this ever happens again, please do not hesitate to contact my staff or me personally, and I will do my best to respond in a timely manner.

Sincerely,

Tom
Discuss.
60 Comments



















































































































































































Sorry, comments for this post are now closed.