[This story was originally posted Saturday, but has now been updated and bumped up for conversational purposes.]
* Opponents of Republican Party Chairman Pat Brady were not able to muster the votes to oust him today. Indeed, no votes were even taken on an ouster, which was a serious defeat to his most outspoken opponents.
However, the central committee did set up a process to find a replacement. So, it appears as though the "surrender with honor" idea by top Republicans has worked. Brady can announce a resignation "of his own accord" and without a sword over his head. The opponents "win" because Brady will step down, but there will not be a hardline conservative appointed in his place. Expect either Sen. Matt Murphy or somebody like him.
* The Illinois Review summed up a few tweets from the meeting…
# Meeting went to Executive Session without period for public comment

# Crowd got rowdy and began to chant outside Executive Session

# Oberweis went out to crowd to calm them. Offered ice cream.

# Tinley Park police called because of noise complaint

# Reports of "hundreds" outside GOP State Rep. Ed Sullivan's office - protesting his intention to vote for marriage redefinition
* Um, here's a photo of what IR called "hundreds" of people outside Rep. Sullivan's office…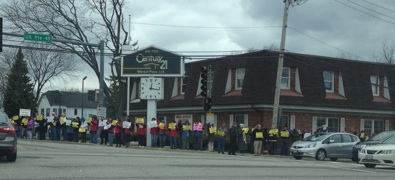 Doesn't look like "hundreds" to me. More like a few dozen or so.
* Also, click here for tweets from the hashtag #ilgop for your entertainment purposes.
*** UPDATE *** Coverage roundup…
* Tribune: Brady still chairman, but state GOP panel preps for his succession

NBC5: Brady Ouster Fails, Support for Gay Marriage Continues

* Daily Herald: Republicans keep Brady as party chair at Tinley Park meeting

* AP: Brady to remain Illinois Republican Chairman

* IL Review: Illinois Republican State Central Committee retains Brady as party chairman

* IL Review: Videos of ILGOP meeting begin to emerge

* IL Review: Another video from ILGOP meeting

* William Kelly: Kelly Calls on Pat Brady to Apologize for "Treating Republicans Like Animals"


Click here to help buy presents for LSSI foster kids!
35 Comments








































































































Sorry, comments for this post are now closed.