* Former state Senator Rev. James Meeks appears in a new robocall aimed at African-American voters. Meeks encourages people to call their Illinois House members and demand they vote against the gay marriage bill. Listen…
* Sun-Times…
"The [African-American Clergy Coalition] has begun distributing fliers to Cook County African American Churches," a release from the AACC said today. "African American Clergymen have now taken the AACC flier and began instructing their Congregations to call their legislators."

The fliers contain a list of African American House members with their phone numbers.
Direct lobbying by pastors in their churches seems pretty darned close to the line. Click the fliers for a larger view…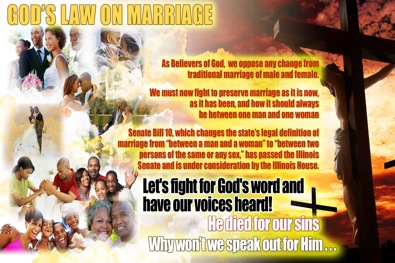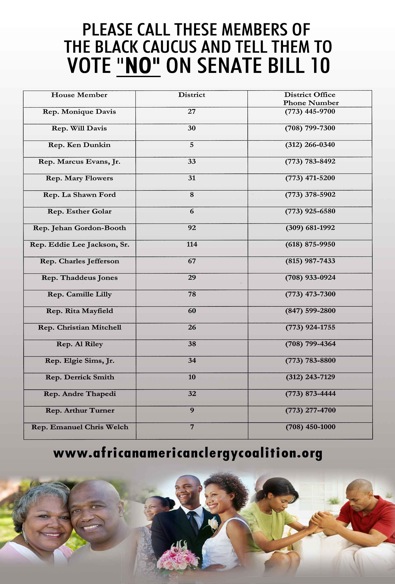 * In other news, Carol Marin writes about House Republican Leader Tom Cross' stance on gay marriage…
Inside Cross' caucus of 47 Republicans, David Harris and most others will vote "no" when the time comes. Only two Republicans, Ron Sandack of Downers Grove and Ed Sullivan of Mundelein, have publicly voiced support for same-sex marriage. And they're reportedly taking a huge amount of heat from some GOP brethren because of it.

Enter Cross.

"I'm trying to balance . . . and respect the wishes of a whole caucus . . . at the same time trying to remind everybody in our caucus that there are folks who are for this. You have to respect them," he said by phone on Friday.

The ironies abound.

Some of the downstate members of Cross' caucus who invoke their conservatism in opposing gay marriage don't seem very conservative at all when it comes to pension reform. On that issue, they seem to have found common ground with their liberal Democratic colleagues, dependent as many of them are on the support of public employee unions.
* Related…
* New conservative lobbying push for gay marriage: The group has spent $500,000 on lobbying since last month, including efforts in Rhode Island, Delaware, Indiana, West Virginia and Utah.

* Rhode Island Beats Illinois To Gay Marriage: The risk of a black lawmakers losing his seat seems minimal, though. They can't lose their seats to Republicans, and in 2014, is any Democrat going to run a primary campaign on the issue of opposing same-sex marriage? The winner wouldn't have a lot of friends in the House Democratic Caucus. More likely, a black legislator trying to move up to alderman, county board, state senate or Congress would be denied a Sunday appearance at a conservative black church. That's a valuable endorsement in the black community, so that may be enough to make a politician hesitate before pressing "yes."
54 Comments

































































































































































Sorry, comments for this post are now closed.