* We lost a great one today…
George Jones, known as "the greatest voice in country music," died today at a Nashville Hospital after being hospitalized last week with a fever and irregular blood pressure, his publicist said today. He was 81 years old. "The world has lost the greatest country singer of all time," his friend Merle Haggard said in a statement to Rolling Stone. "Amen."

Born in Saratoga, Texas into an extremely poor household, Jones went on to 143 Top 40 country hits; fourteen went to Number One, beginning with 1959's "White Lightning," and they continued through the decades including "She Thinks I Still Care" and "He Stopped Loving Her Today." Sinatra called him "the second greatest singer in America" (second only to himself) while Keith Richards calls him "a national treasure." "If we all could sound like we wanted to, we'd all sound like George Jones," Waylon Jennings once sang.

"Most people's voices are a gift from God," Garth Brooks once said. "With George Jones, I think it started out as a gift from God and then they built a body around it because anybody who has ever wanted to sing country music wants to sound like George Jones."
* Here's one from last year with George, Jamey Johnson and Blackberry Smoke singing "Yesterday's Wine"…
You give the appearence
Of one widely travelled
I'll bet you've seen
Things in your time

- Posted by Rich Miller Comments Off


* Lynn Sweet wrote a great obit of Cal Sutker. Go read the whole thing…
Calvin Sutker devoted much of his adult life to politics — as chairman of the Illinois Democratic Party, Cook County commissioner, state representative, Skokie trustee — and for 33 years, the Niles Township Democratic committeeman.

But he spent his last decade speaking to community groups about his experience as a young soldier who witnessed firsthand the horror of the Dachau Nazi concentration camp in southern Germany.

"We were sickened at the ghastly spectacle of the depravity of the Nazi perpetrators," Mr. Sutker said at a 2003 Kristallnacht observance marking the Nov. 9, 1938, night when Nazis destroyed thousands of Jewish businesses.

"He had never spoken publicly about it before that day," said a daughter, Sharon McGowan.

A longtime Skokie resident, Mr. Sutker died Thursday morning, a few weeks before his 90th birthday, at Evanston Hospital.

Mr. Sutker met his late wife, Phyllis, when he delivered an order from his father's Austin deli and grocery to her home — an event orchestrated by her mother. […]

Visitation will be at 12:45 p.m. and a funeral service at 2 p.m. Friday at Ezra-Habonim, the Niles Township Jewish Congregation, 4500 W. Dempster St., Skokie. Burial will be in Westlawn Cemetery, 7801 W. Montrose, in Norridge.
You can watch Sutker talk about his experience at Dachau by clicking here.
- Posted by Rich Miller 6 Comments


* Uh-oh…
Gov. Pat Quinn's administration has cut off funding to the state's largest charter-school operator, the politically influential United Neighborhood Organization, over insider deals it says violated terms of a $98 million state grant, according to a letter obtained by the Chicago Sun-Times.

The deals involved millions of dollars in state funds that went to companies owned by two brothers of a high-ranking UNO executive, Miguel d'Escoto, that were hired as contractors on state-funded school construction projects in Chicago, according to the letter, which was sent to the organization Thursday from the Illinois Department of Commerce and Economic Opportunity.

The state agency began investigating UNO in response to reports in the Sun-Times that revealed that d'Escoto Inc. and Reflection Window Co. have been paid a total of $8.5 million out of the state grant. D'Escoto Inc. is owned by Federico "Fred" d'Escoto. Reflection Window is owned by Rodrigo d'Escoto.

The two men are brothers of Miguel d'Escoto, a city transportation commissioner in former Mayor Richard M. Daley's administration who resigned Feb. 12 from his $200,000-a-year position as UNO's No. 2 executive following the Sun-Times reports.

State officials said UNO should have notified them it was using the companies owned by the d'Escoto family members.
The DCEO letter is here.
* Gov. Quinn emphasized today that the grant funding suspension was "temporary" until the state can "get to the bottom" of what's going on. Unless the group "straightens things out," Quinn said, "they won't get any money."
Listen…
* Meanwhile…
Federal prosecutors raised the prospect on Friday in court of having their experts examine former Rep. Jesse Jackson Jr. if his lawyers plan to raise his bipolar disorder as a mitigating factor in trying to reduce his prison sentence.

U.S. District Court Judge Amy Berman Jackson made no decision after prosecutor Matt Graves said he wanted to "alert" her to the possible issue in advance of the sentencing July 1 of Jackson and his wife, former Ald. Sandi Jackson. […]

Graves said the government is "entitled" to have Jackson checked "by our own experts" if Jackson's lawyers decide to argue Jackson's mental health should be taken into consideration by the judge when she sentences him.

Defense attorney Reid Weingarten told Judge Jackson that the former congressman's bipolar disorder is well known and "not controversial."
- Posted by Rich Miller 8 Comments


* From the Twitters…
Hope you were smiling if you were in the #Illinois Senate yesterday. Artist William Crook was drawing his latest work
The pic…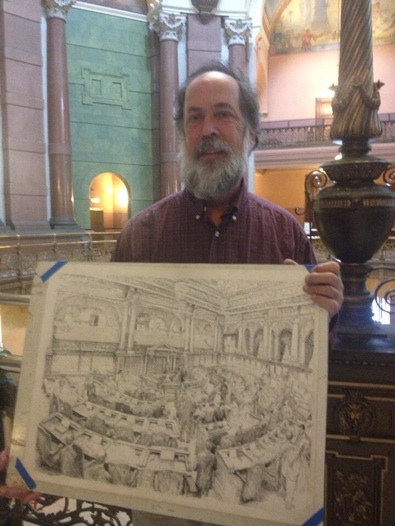 I have one of Bill's drawings on my wall just above my computer screen. He's an old friend and he does incredible work.
* The Question: Caption?
- Posted by Rich Miller 36 Comments


* I gave the Illinois Department of Employment Security a bit of a tough time the other day for its rose colored outlook on its unemployment rate press releases. This one is far more straight-forward…
Seven of 12 Metro Areas See Increase in March Local Unemployment

4/25/2013

Chicago, Rockford, Kankakee Lead March Job Growth

CHICAGO - March local unemployment rates increased in seven of 12 metro areas, decreased in four, and were unchanged in one compared to last year, according to preliminary data released today by the Illinois Department of Employment Security (IDES). Not seasonally adjusted data compares March 2013 to March 2012.

The largest increases were in: Decatur MSA (+1.4 points to 11.8 percent), Danville MSA (+1.1 point to 10.8 percent), and Peoria MSA (+0.9 point to 8.9 percent). The Chicago-Joliet-Naperville Metropolitan Division was up +0.5 point to 9.5 percent. The largest decreases were Metro East (-0.9 point to 8.9 percent) and Quad Cities (-0.5 point to 7.2 percent).
Not good news, and not sugar-coated.
* The chart…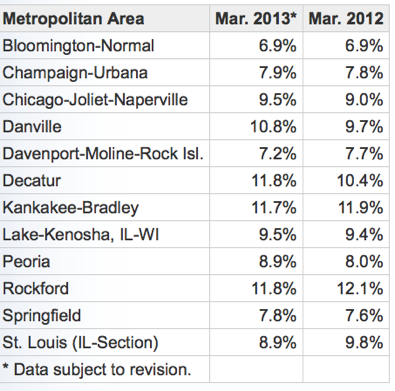 Oy.
- Posted by Rich Miller 27 Comments


* Rep. Mike Bost (R-Murphysboro) on Gov. Pat Quinn's announced closure of the Murray Developmental Center…
Bost said the Legislature has put money in the budget for the center, but Gov. Pat Quinn still refuses to keep the Murray Center open.

"The Governor has never visited the center," Bost said. "We are still trying to do everything we can procedurally to keep it open. These are our most vulnerable citizens. It's awful what is happening."

"The Governor is a politician and fake," Bost continued. "I appreciate him showing up at veterans funerals. It's easy to show care and compassion in a situation you have no control over. In this case, he has the control. It flies in the face of sincerity on other issues.

"If he is so compassionate, why doesn't he just walk in the facility? If he had been there first, he may have understood the need. It's heartbreaking."
Fair or not?
- Posted by Rich Miller 48 Comments


* The AP follows up on a story that first appeared here yesterday…
Illinois Gov. Pat Quinn wants Attorney General Lisa Madigan to drop a lawsuit over back pay for unionized state workers so he can implement a new state contract he says will save hundreds of millions of dollars.

But Madigan's office said Thursday the attorney general won't dissolve the legal action until her lawyers know whether lawmakers will put up $140 million to pay the back wages that are at the center of the wrangling. If there's a hang-up in the General Assembly, the attorney general needs to keep legal options open, spokeswoman Natalie Bauer said.

Quinn and the employees' union settled the dispute at the bargaining table, and his assistant budget director, Abdon Pallasch, said prolonging the lawsuit holds up $900 million in health care savings. The union won't sign the contract its membership ratified until the lawsuit is pulled off the docket.

Madigan, a Chicago Democrat like Quinn, is considering opposing him in the gubernatorial primary next spring, but officials were careful Thursday to stress the lawsuit is not a question of political ill will. […]

Quinn wants to put the rancor behind him now, particularly with election season approaching, but also because there are savings to be had. While he gave up the fight over the raises, Quinn is eager to realize the health care savings from current and retired state workers in the newly ratified pact, Pallasch said.

"Failing to resolve the $64 million lawsuit now risks the $900 million in health care savings for taxpayers under the contract," he said.
This is a real standoff. Right now, it doesn't look like the GA is in any mood to fund the back pay. So the lawsuit won't be dropped. But that means the contract won't be signed. The whole thing could come tumbling down, and might even spark another contract vote.
*** UPDATE *** AFSCME just sent this e-mail to its members…
AFSCME has informed the Quinn Administration that the union is not prepared to sign the new contract without further authorization from the union membership. Your AFSCME Bargaining Committee is convening on Monday to recommend a course of action—and further information will be coming to you soon.

I know that the situation can be confusing and frustrating—especially for those employees who have not received their negotiated raises. However, it's critical to keep in mind how far we have come by standing together and standing firm.

When the pay raise was initially withheld, AFSCME immediately took the issue to arbitration—and won. When the State appealed that decision to court, the Union battled through all the legal delays and maneuvers and secured a ruling that the contract must be honored. When the state said it had no money to pay any raises, AFSCME's research turned up tens of millions of dollars which resulted in thousands of employees receiving the wages owed over the past two years and many more in line to receive monies from the funds held in escrow.
We've succeeded time and again when others said it couldn't be done. We're not going to give up now. We'll keep on fighting to ensure that justice is done for all members. And if all members stand together, we can succeed once more.

Sincerely,
Henry Bayer
Executive Director
*** UPDATE 2 *** If you click here, you'll see an amendment to a Speaker Madigan bill filed today by Rep. John Bradley which appears to fund the back pay.
- Posted by Rich Miller 38 Comments


* My Sun-Times column…
Not all that long ago, DuPage County was about as reliably Republican and rock-ribbed conservative as they came.

Things are changing

For one, it's not nearly as Republican. Back in the 1998 governor's race, Republican George Ryan defeated Democrat Glenn Poshard by 104,000 votes in DuPage.

But in 2010, during the greatest Republican landslide since 1946, Republican Bill Brady managed to beat Gov. Pat Quinn by less than half Ryan's total: 45,000 votes. Barack Obama carried the county in both of his presidential bids.

DuPage used to be dominated by Pate Philip, the no-nonsense conservative former state Senate president. Pate wasn't much for women's rights, or civil rights, or gay rights or whatever. Back in those days, whenever you thought of DuPage County, you automatically thought of Pate Philip. He seemed to embody an area built on white and corporate flight out of Chicago.

I tried reaching Pate on Thursday because I wanted to ask him about some new polling I'd seen of his beloved county. No luck. That's too bad, because I genuinely enjoy talking to him. You always know where you stand with that man, and he always tells you what he thinks.

The We Ask America poll I wanted to talk to Pate about found that a plurality of DuPage County's likely voters support gay marriage.

According to the poll, 49 percent of DuPagers say lawmakers should pass legislation to allow gay marriage while 45 percent oppose it. The poll of 1,052 likely voters taken April 22nd had a margin of error of plus/minus 3 percent.

The poll found that 62 percent of people aged 18-24 support gay marriage. In fact, every age group backed gay marriage except for senior citizens, who opposed it 55-40.

If you had told me a year ago that a poll could turn up these sorts of results in DuPage, I would've thought you were dipping into your medical marijuana stash.

But here we are.

There are those in the Republican Party who say that their setbacks in Illinois are just temporary. The party, they say, needs to stick to its core principles, including its very clear party platform plank opposing gay marriage.

To compromise, they say, is to just become "Democrat Lite." So, only one Republican state senator voted for gay marriage in February. Just three of 47 Republican state representatives say they're in favor ahead of a House vote.

Famed political prognosticator Nate Silver projects that national support for gay marriage will continue increasing by 1.5 percentage points per year. If he's right, it'll just be a few more months before there's actual majority support for the issue in DuPage.

Conservatives are, by nature, slow to change. That's totally understandable. It's who and what they are. But there's slow and then there's political suicide. Eventually, they're going to have to come to grips with this issue. Their all too often harsh rhetoric is alienating the people they need to get their party members elected.

Pate Philip has been out of power for 10 years, now. I truly miss his straight talk, but his brand of politics was on the way out here even before he retired. These days, it seems as though he lived in another world. The trouble is, too many Republican politicians still live in that world.

But now that more people in Pate's DuPage County favor gay marriage than oppose it, if the GOP still can't see the writing on the wall, then they probably deserve whatever's coming to them
Discuss.
- Posted by Rich Miller 75 Comments


* Let's start our roundup of Aaron Schock's decision not to run for governor with the Sun-Times report…
"He said back in the fall he was going to see whether he thought he could do more good running for re-election for Congress or running for governor," Schock aide Steve Shearer told the Peoria Star late Thursday.

Schock, 31, ultimately decided to remain on Capitol Hill, where he serves on the House Ways and Means Committee, said Shearer, Schock's chief of staff and campaign manager.

But the young third-term Peoria congressman also faced the reality of a crowded GOP field — and a tough general election race if he prevailed. […]

"Aaron realized he is only 31 and is not willing to risk everything against Rauner's millions and probably Lisa Madigan," said one state House Republican familiar with Schock's thinking.
* That last point is worth noting…
Had Congressman Schock survived a brutal Republican primary race, he still would have faced the daunting challenge of either facing an incumbent governor, Pat Quinn, or a popular attorney general with a well-known family name, Lisa Madigan. Or even throw in the longshot possibility of running against Bill Daley, former Secretary of Commerce and brother of Chicago's former mayor, Richard M. Daley. All three would be tough opponents, making this race for governor "mission impossible," that could have resulted in ending his promising political career.
* Another factor…
In February, the House Ethics Committee announced it would continue an investigation into Schock over allegations he sought donations of more than $5,000 per donor to a political action committee. The super PAC backed Rep. Adam Kinzinger, who was running in a House primary against Rep. Don Manzullo. Kinzinger won the March 2012 primary.

At the time, Schock spokesman Steve Dutton said Schock hadn't done anything wrong and the case was "without merit."
* And yet another factor…
Shearer said Schock's increasing seniority in the House after the changeover of members in the previous two national congressional elections was a significant factor in the decision not to seek the governor's office. Schock is only two seats away from the halfway point of seniority on the powerful House Ways and Means Committee.

Schock also serves on the House Administration Committee and in an advisory role to the House Republican Conference.
* Schock has had a storied career so far, and he's only 31…
The 31-year-old won an unexpected write-in victory for the Peoria District 150 School Board in 2001 by a 20 percent margin over the incumbent board president while still a student at Bradley University. Three years later he won an equally difficult victory in a majority-Democratic state House district where he served for two terms before running for Congress in 2008.

In the House especially he has proven to be a prolific fundraiser, bringing a host of high-profile speakers to central Illinois including former vice presidential candidate Paul Ryan, House Speaker John Boehner, former Secretary of State Condoleezza Rice, then-President George W. Bush, first lady Laura Bush, former House Speaker Newt Gingrich and former House colleague Allen West.

During the first three months of 2013, Schock brought in just shy of three-quarters of a million dollars to his federal campaign fund, and was sitting on a war chest of about $2.7 million, according to disclosure documents filed with the Federal Election Commission.
He could very well be the future of the GOP in this state.
* A look ahead…
His decision not to run leaves only one Republican candidate at the moment with access to major campaign cash, Chicago investment mogul Bruce Rauner, though Illinois Treasurer Dan Rutherford has raised some hundreds of thousands of dollars.
Thoughts?
- Posted by Rich Miller 32 Comments