* Yesterday, I received an e-mail from a friend about Bruce Rauner's new campaign video…
Go to 1:47 in his video and look at the mountains in the distance behind the irrigation in the field. Now exactly what part of Illinois has mountains like that?
* The video is here. Screen cap…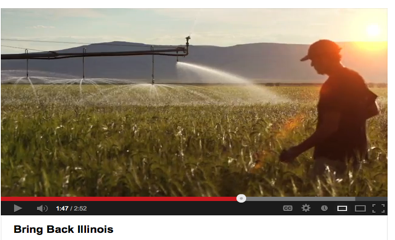 I replied that it could be the bluffs near the confluence of the Mississippi and Illinois rivers. They look almost mountainous and it's one of the prettiest areas in the state.
So, I sent the Rauner campaign an e-mail. I never heard back.
* I think my friend also contacted Sneed…
Huh? Is this a case of mountains or molehills?

Sneed watched multimillionaire Bruce Rauner's video announcing his Republican run for governor and poses a question.

Just where are those mountains and/or huge hills in Illinois appearing in Rauner's campaign video — which seems largely comprised of stock B-roll — and includes a farmer irrigating his field in front of a mountainous silhouette?

Could this be near Rauner's ranch in Montana? Nawwww.
I asked the campaign again this morning whether this is just stock footage of any old corn field or if it was actually from Illinois. No reply.
Obviously, this is not the biggest issue in the campaign. But if Rauner is attempting to appeal to Downstaters with his freshly minted Carhartt-ish jacket and innumerable images of farms in his roll-out spot, then it would be nice to know if all his images were actually from this state.
*** UPDATE *** Thanks to a diligent and eagle-eyed commenter, it appears the video comes from a Canadian company and is posted on a stock video site.
81 Comments


















































































































































































































































Sorry, comments for this post are now closed.