* I'm not sure many people realize this, but after a very steep payment ramp the past several years, the state's pension payment increases will slow down considerably starting in Fiscal Year 15, which begins a little over a year from now. From the state's Commission on Government Forecasting and Accountability…
The FY 14 certified contribution appropriation for the five retirement systems is a combined $6.8 billion. This is an increase of $965 million, or 16.4% compared to the current fiscal year. Under current law, estimated payments in fiscal years 2015 and 2016 are $7.0 billion and $7.2 billion, respectively. The FY 15 estimated payment is an increase of $200 million, or 3% over FY 14. The increase in FY 16 is an additional $204.7 million (3%).
Those are relatively manageable increases, as long as the income tax hike doesn't start to go away.
* But don't get your hopes up too high. From a different COGFA report, here's the expected state pension funding payout chart for the next 30 years. Click the pic for a larger image…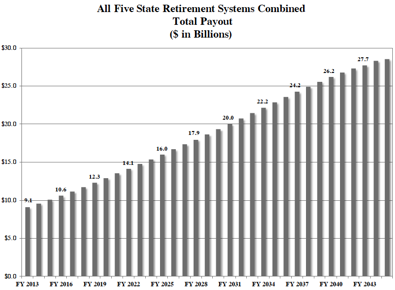 Oof.
59 Comments
















































































































































































Sorry, comments for this post are now closed.