* 2:39 pm - From the Senate Democrats…
Speaker Michael J. Madigan and President John J. Cullerton today filed a lawsuit challenging Governor Pat Quinn's unconstitutional action to suspend lawmaker pay. Their letter to members of the General Assembly and the official legal complaint is attached.

As the joint letter states, "the purpose of this lawsuit is to protect the independence of the legislature and preserve the separation of powers. It is our hope that the court will remedy this constitutional violation and that future governors will not feel empowered to use such coercive tactics."
More in a minute.
* The lawsuit is here. It was filed in Cook County.
* The Cullerton/Madigan letter to legislators…
Dear Fellow Legislator:

As you know, Governor Quinn took unprecedented action when he used the line item veto to eliminate General Assembly members' salaries for the entire year. This action was purely political and an unconstitutional attempt to coerce the legislature to comply with his demands. We write to inform you that later today we will file a lawsuit challenging Governor Quinn's unconstitutional action.

This matter is of fundamental constitutional importance, as Governor Quinn's action threatens the independence of each branch of government. The Illinois Constitution protects the salaries of members of the judiciary, the legislature, and the executive branch. These provisions were added to safeguard the people from a weakened judiciary, to ensure the legislature could not diminish the power of the executive, and to prohibit the governor from running roughshod over the legislature.

By eliminating General Assembly member's salaries, the Governor has chosen to disregard separation of powers and its necessity if our government is to work properly and efficiently.

For us to ignore the Governor's actions, or override the veto, would severely and irrevocably compromise the independence of the legislature and set a very dangerous precedent. Just as it would be inappropriate for the General Assembly to refuse to appropriate a constitutional officer's salary simply because we disagree with his or her philosophy, it is no less offensive for the Governor to attempt to withhold legislators' salaries because they have not complied with his demand for action on a particular issue. If unchecked, any governor could attempt to employ the same tactic to threaten the legislature, the judiciary, or another constitutional officer to accomplish his or her own personal agenda. In this case, the Governor is seeking changes to the pension system, but next time it could be tax policy, gun control, or education reform. The possibilities are endless.

The purpose of this lawsuit is to protect the independence of the legislature and preserve the separation of powers. It is our hope that the court will remedy this constitutional violation and that future governors will not feel empowered to use such coercive tactics.
* From the suit…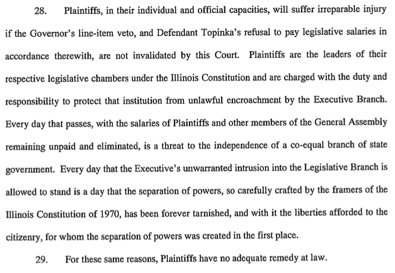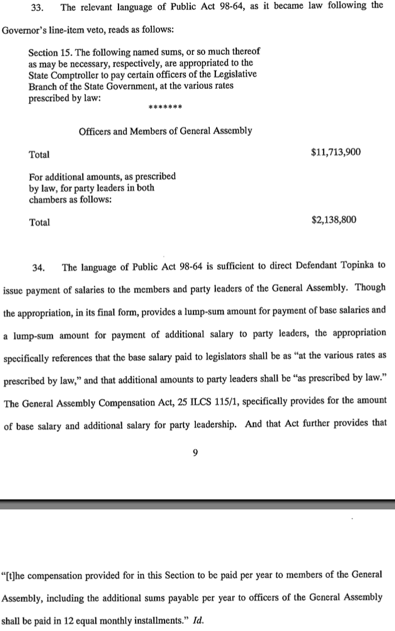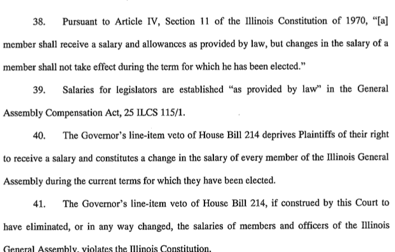 The suit asks for pay plus any back interest.
* The lawyers…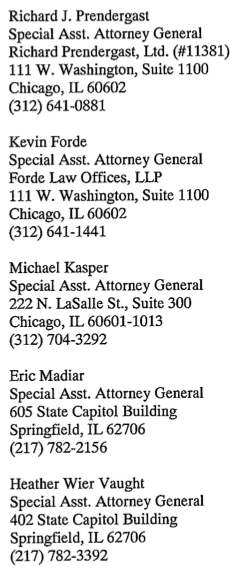 * From the Twitters…
State money used for Cullerton/Madigan lawsuit, "It's filed in their official capacities so state funds are allowed" says Cullerton spksm

— Mary Ann Ahern (@MaryAnnAhernNBC) July 30, 2013
…Adding… From the Senate Democrats in response to that Tweet…
It comes out of the General Assembly existing appropriations.
* Gov. Pat Quinn's response…
"Today's lawsuit filed by two members of the Illinois General Assembly is just plain wrong.

"If legislators had put forth the same effort to draw up a pension reform agreement that they did in crafting this lawsuit, pension reform could have been done by now.

"Instead of focusing on resolving the state's pension crisis – which is costing taxpayers millions of dollars a day – legislators have chosen to focus on their own paychecks and waste taxpayer time and money on this lawsuit.

"My action to suspend the appropriation for legislative pay is clearly within the express provisions of the Illinois Constitution.

"Legislators should not be rewarded for an endless cycle of promises, excuses, delay and inertia on the pension problem.

"I've spent a lot of time with working people across Illinois who understand the importance of this issue. They work hard for their paychecks and they do what's hard to support their families.

"They don't get paid if they don't do their jobs. And neither should members of the General Assembly.

"I will defend the interest of Illinois taxpayers in the courts. Nobody should be paid until the pension reform job gets done for taxpayers."
Man, some of that is extremely childish. The same effort into the lawsuit as pension reform? Is he kidding?
Roddish.
And speaking of Roddish, from the lawsuit…

Oof.
* From Comptroller Topinka's spokesperson…
We're reviewing the suit and will hold off on further comment. But as she noted last week, the Comptroller welcomes additional guidance from the Court.
* Sun-Times…
At mid-afternoon Tuesday, Cullerton spokeswoman Rikeesha Phelon said the case had not been assigned to a judge, leaving it unclear how quickly — or if — an injunction may be issued to set aside the governor's action while its legality is vetted in court.
* From the We Are One Illinois coalition…
"Today, legislative leaders sued over the constitutionality of Governor Pat Quinn's line item veto of legislators' salaries.

"We remind lawmakers that the entirety of the Illinois Constitution must be upheld for all citizens, including public employees and retirees — teachers, police, nurses, caregivers, and others — whose modest pensions are protected in Article XIII, Section 5.

"Legislators take an oath to support this constitutional provision — just as they promise to support all constitutional provisions equally.

"Lawmakers must not cherry-pick or apply a double standard in determining what parts of the constitution should be defended. They shouldn't adhere to the constitution only when it's convenient.

"To this end, we continue to urge adoption of the constitutional pension reform plan embodied in Senate Bill 2404, unchanged, and the closure of wasteful corporate tax loopholes to fund vital services."
* From Senate GOP Leader Christine Radogno…
"A lawsuit now will unfortunately take the focus off pension reform, which must be accomplished. However, there are legitimate issues concerning a governor's use of power to intimidate a General Assembly. If those issues are not resolved now, this practice could become more widespread and misused."
* Bill Daley's response…
Governor Quinn's governing by side show is doing nothing to end the pension mess that is hurting our school kids and stands in the way of creating jobs. The Governor's action is likely unconstitutional and has not gotten us any closer to fixing the pension problem.
* With a hat tip to a commenter, the Tribune may wanna rewrite this false headline…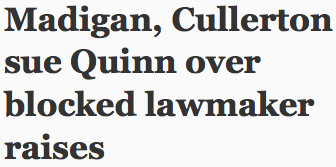 …Adding… Ask and ye shall receive. Headline fixed.
* AP…
But the 10 members of the bipartisan pension committee have repeatedly said that pressure from Quinn won't rush their work. They say they are making progress on developing a plan to present to the Legislature but are waiting for actuarial numbers to come in.

State Rep. Elaine Nekritz, a committee member and House point person on pension reform, called the suit and the pension committee's work "apples and oranges."

"I think the basis for the lawsuit is the separation of powers which had nothing to do with pension reform," she said.

Nekritz said she knew the two leaders were considering filing the suit, but was not consulted about it.

"I do share the view that this is a very dangerous place for us to tread," Nekritz said. "And it doesn't mix with good government."
* From House GOP Leader Tom Cross…
"While there may be a legitimate separation of power issue, we need to make sure that we remain focused on what must be our top priority – finding a solution to our pension crisis."
* Bruce Rauner…
"Springfield has never looked more dysfunctional, and the people of Illinois deserve better. Instead of showing leadership and solving the pension crisis, the politicians running Springfield are once again pointing fingers at each other and are afraid to take on the government union bosses. This is why we need to shake Springfield to its core."
172 Comments



































































































































































































































































































































































































































































































































Sorry, comments for this post are now closed.