* The DCCC sent out a press release yesterday morning with this subject line…
Meltdown Mike Bost Botches His Rollout
* From the e-mail…
Meltdown Mike Bost's rollout went so badly that Bost is probably yelling right now – but this time he's got no one to yell at but himself. The headlines tell the tale of the Springfield lifer's botched rollout:

"Paper-flinging Illinois state Rep. Bost running for Congress"

"Congress may get quite a bit rant-ier in 2015″

"Congress Could Get Angrier"

"Mike Bost's Greatest Hits"
Actually, there wasn't much to the stories. Just cute headlines. No serious botching there.
* What was really botched, however, was the "greatest hits" video that was distributed by southern Illinois Democrats and pushed by the DCCC which ostensibly bashed the Republican legislator who has tossed his hat in the ring for Congress.
I told you about the video on Monday. What you may not know is that since then, it was removed from YouTube due to an alleged copyright violation…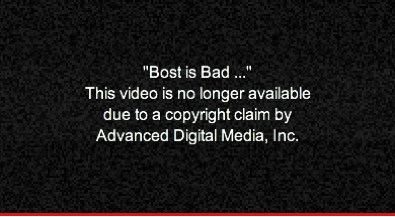 Oops.
* Advanced Digital Media runs BlueRoomStream.com, which broadcasts legislative debate over the Internet.
From Tony Yuscius at Advanced Digital Media…
Our HD Mike Bost footage that was part of the "Bost is Bad" compilation cannot be used for campaign commercials as part of our licensing. The additional ILGA session footage is not ours and is subject to ILGA rules. The objection was only for our footage that was not licensed by the campaign using it.
Oops.
21 Comments






























































Sorry, comments for this post are now closed.