* I was standing there when Rep. Rich Brauer ponied up and jokingly encouraged him to sponsor another keg, but was shocked when I heard the price. Finke…
Belated credit is due to Brauer for helping to bail out Republican Day at the Illinois State Fair.

Both Republicans and Democrats have some similarities in their annual political gatherings at the fair. Namely, they have food, soft drinks and beer available for the party faithful. And the one thing you don't want to do is run out of food, soft drinks or beer. Particularly the latter.

"They said we're shutting down. We're out," Brauer said. "There were quite a few people left there. I said put me down for one."

That's one as in one keg of beer. Brauer said he offered to buy the keg of beer to keep the festivities going. Or in Republican Day political parlance, Brauer said he offered to sponsor a keg. The price tag was $240.
Both Brauer and I flinched a little when the price was announced. We were told that the State Fair gets a big cut of every keg sold. Ouch.
* Meanwhile, the Du Quoin State Fair opened last week. Gov. Pat Quinn was there for a bipartisan ribbon cutting…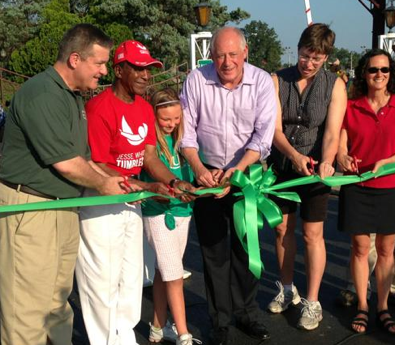 Caption?
Quinn also publicly hugged Glenn Poshard during his visit, which was odd considering that the two men have been at each others' throats over the SIU board of trustees for a year or so. Bygones be bygones and Quinn has a tough primary ahead, I suppose.
* Related…
* DCFS to honor the Poshard Foundation for Abused Children at Du Quoin State Fair

* Du Quoin State Fair sets opening day attendance record
35 Comments








































































































Sorry, comments for this post are now closed.