* The Tribune editorializes against electing Rep. Raymond Poe as House Republican Leader…
In recent years, Poe has voted against several signature cost-cutting initiatives that would reduce the size of state government and the demands on taxpayers. He voted against every pension reform bill that came to the House floor this year — there were at least four. He voted against closing half-empty state buildings. He voted to protect free health insurance coverage for state retirees, an enormous cost. He voted against giving public school children in Chicago the freedom to choose their schools.

If you want to know where he stands on issues, ask the lobbyists for teacher and state employee unions. Poe has accepted more than $100,000 in union money for his campaigns during his tenure in Springfield. Sure, he represents a district with many public employees. But based on his fiscal voting record, he might as well move his desk to the Democrats' side of the chamber.
* The paper's political cartoonist piles on…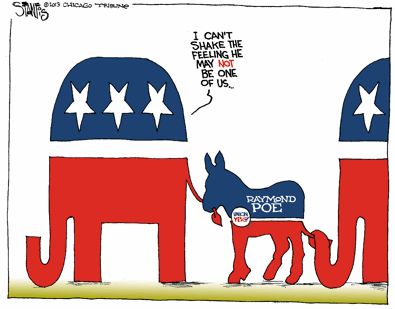 Poe represents his district and he does it well. To suggest that somehow makes him a Democrat is as ludicrous as calling his chief rival Rep. Jim Durkin a Democrat because he has voted with the trial lawyers in the past.
* On the other hand, as mentioned yesterday, the social conservatives believe that Rep. Jim Durkin is far too liberal to be the GOP Leader…
Illinois is in desperate need of leadership that is both principled and courageous. Every day/week/month/year that passes without such leadership results in the degrading progression of conditions that we've seen over the past many years. Without moral and enlightened leaders our state's continued decline is guaranteed. Rep. Jim Durkin possesses neither the wisdom nor skills necessary to provide the kind of bold political leadership families across our state are demanding. […]

As with anyone who has held public office as long as Durkin has there are many questionable, even disappointing, votes. For example, Durkin has voted for tax increases and a massive expansion of gambling and against virtual schools.
The problem with the Republican Party is that too many of its factions believe they possess the sole authority to declare who is and who is not a "true" party member. That wrong-headed thinking has resulted in a long string of losses in this state.
Ray Poe is a Republican.
Jim Durkin is a Republican.
That should go without saying.
Sheesh.
99 Comments








































































































































































































































































































Sorry, comments for this post are now closed.