* The Illinois Democrats' state central committee met in Springfield yesterday and slated Gov. Pat Quinn and the rest of the unopposed ticket…
It took less than a half hour for the party's state central committee to slate candidates in six statewide primary races. Five candidates currently are unopposed. […]

Gov. Pat Quinn touted the party endorsement as significant even though Daley, his main challenger, withdrew last week with a parting shot — predicting that Quinn would be defeated by a Republican. The only other announced gubernatorial primary candidate is Tio Hardiman, former director of a Chicago anti-violence group and who is little-known outside the city. […]

"The Democratic party is like a family and in any family you've had differences," party chair and House Speaker Michael Madigan said after the meeting. "What I've learned about Democrats is that when they have differences, they're able to work through the differences, and when it's time for a general election they unite." […]

Only three of the six candidates — Quinn, U.S. Sen. Dick Durbin and Lt. Gov. Sheila Simon, who is making a bid for comptroller — were present to make a pitch for the committee's endorsement.
* Bernie Schoeburg was there and tweeted a pic…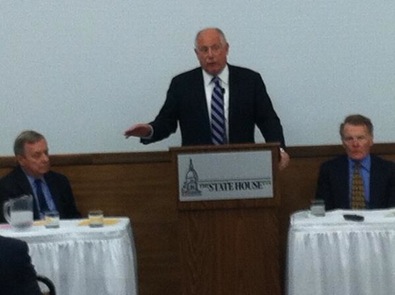 Funniest commenter wins a free state legislative mobile app that I'm preparing to unveil.
Our last winner was Michelle Flaherty.
70 Comments

















































































































































































































Sorry, comments for this post are now closed.