* The Sun-Times has a story called "Kwame Raoul would run for lt. gov., but Quinn's not asking." I asked Sen. Raoul about the rumors I'd been hearing last week, and I came away with a different impression than the Sun-Times…
Lately, it's a question that state Sen. Kwame Raoul (D-Chicago) gets all the time: Would he run as Gov. Pat Quinn's lieutenant governor?

The answer is basically yes.
* Here's what he told the Sun-Times…
"A lot of people have been calling me," said Raoul, who told the Chicago Sun-Times he would be open to running as Quinn's lieutenant governor for the 2014 race. "A lot of people — not the governor — have called and inquired, hearing rumors." […]

Raoul said he would consider the job with a major caveat — that it would come with responsibilities.

"The state Senate hasn't been an awful place for me, I've been able to engage in a lot of things. It's not the worst place in the world. I don't have to run for higher office this time around," Raoul said.
* And here's what he told me via text…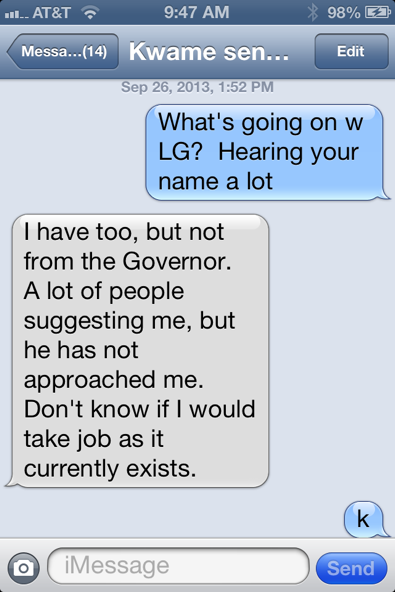 Obviously, Raoul doesn't want to just sit around his office for four years doing nothing as Quinn's lieutenant governor. He would want some real responsibilities. Whether Quinn would give those to him is anybody's guess. As I've already pointed out today, Quinn has been trying to increase the power of the governor's office, not dilute them.
* And then there's the fact that Quinn is now essentially unopposed in the primary. His running mate choice can now be aimed at the general election.
So, does Quinn really need an African-American running mate now? It could help boost turnout, at least some. First black lieutenant governor, etc. But how much? I dunno.
Your thoughts?
*** UPDATE *** A valid point from Matt Dietrich…
Should they win in 2014, Raoul could be an effective envoy for Quinn in the General Assembly. That's something Quinn has sorely lacked throughout his time in office. Quinn's inability to shepherd legislation through the legislature via floor leaders has been a big weakness for his administration and is among the major reasons why his pension reform efforts led to the current stalemate.
…Adding… As some have already pointed out in comments, Quinn doesn't listen much to Gary Hannig as it is, and the former Deputy House Majority Leader Hannig was a very good choice to run the legislative shop. If he won't listen to Gary, would he listen to Kwame? Maybe not.
40 Comments























































































































Sorry, comments for this post are now closed.