* I need to update my calendar…
Happy Manufacturing Day. We appreciate the ingenuity and American spirit in the manufacturing sector that helped build our nation.

— Mark Denzler (@IllinoisMfgAssc) October 4, 2013
* Let's jump into the spirit of things. From Rep. Tom Demmer's Facebook page…
The latest innovation from Swenson helps reduce road salt use by controlling the direction of the spreader. Proud to have Swenson and its 120 employees in the 90th District.
Photo…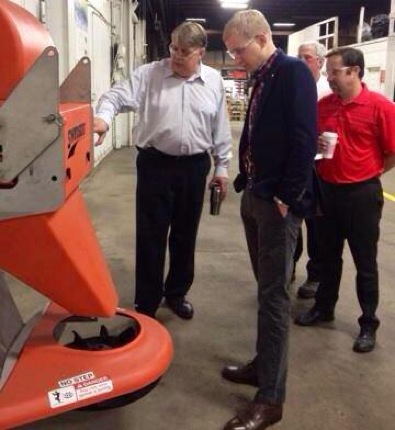 Cool.
One of his commenters chimed in…
My co. builds the crates to ship these.
Manufacturers create tons of new jobs this way.
* Check this out…
In trying to claw its way back to prosperity, Rockford only recently stumbled upon a hidden hometown gem — a quietly thriving aerospace and aviation industry.

The implication, officials say, is profound: Aviation might just be the key to Rockford's decades-stalled economic turnaround.

"Who would have thunk?" said Mark Podemski, vice president for development at the Rockford Area Economic Development Council.

Local officials are fond of saying that no airplane being made today flies without a component made in or around Rockford.

Electric power systems for the Boeing 787 Dreamliner? Made by UTC Aerospace in Rockford. Fuel system components on aircraft engines? Made by Woodward Inc. near Rockford. Airplane toilet systems in the newest Boeing 737s? That's B/E Aerospace in Rockford. Software that allows pilots to access flight documents on an iPad? That's Comply 365 Solutions near Rockford. Gears on NASA's Mars Curiosity rover? Made by Forest City Gear Co. near Rockford.

The Rockford region is home to nearly 100 businesses related to aerospace and aviation. Extending the region to Chicago and southern Wisconsin raises the number to more than 200 such businesses.
* Manufacturers rely heavily on trucking companies. Well, we got it covered…
One of the fastest-growing success stories of the last seven years is Chicago-based Coyote Logistics. Founded in 2006 by Jeff Silver, a former executive at Chicago freight brokerage company American Backhaulers, Coyote went from startup to the middle market in record time. In 2012, Crain's estimated the company's five-year growth rate to be an outlandish 41,438 percent. Coyote currently sits at No. 26 on Forbes' list of America's most promising companies, with annual revenue of nearly $800 million.

That kind of growth would be impressive enough if Coyote were functioning in a young industry with few rivals. That it entered an already established market with plenty of mature competitors makes its success extraordinary.

One of the keys to Coyote's rise has been its success in fighting "deadheads."

That doesn't mean the same thing to people in the trucking business as it does to the rest of us. For truckers, deadhead is slang for an empty backhaul: a truck that heads back to its point of departure without carrying a return cargo load. To a shipping company, a deadhead represents all the cost of a normal haul with none of the income.
* Tech? How about this?…
Google has announced that it is launching a Tech Hub Network in North America, starting with seven locations, one of which is the 1871 co-working center in Chicago.
Excellent.
* Google explains…
Over the past few years, tech hubs have sprung up in cities across the globe, making it possible to start a high-growth company from almost anywhere, not just London or Silicon Valley. Tech hubs help make that happen—providing desks for entrepreneurs who are chasing their dreams, mentorship and educational opportunities for talented developers, and a vibrant community for innovative startups.
* Tech growth is kicking tail…
BuiltinChicago.org, an online site for digital entrepreneurs, posted its new list of the top 100 digital firms (by head count) in Chicago, and said the number of people employed by digital technology-related companies in the city grew by 21 percent in 2013.

That means, according to Built In Chicago, that more than 40,000 people are working in the digital sector in 2013, compared to 33,000 in 2012. Built In Chicago also calculated that more than 1,500 digital technology companies have offices in the city.
* Wow…
The CEC, the non-profit organization committed to supporting, promoting and growing the startup community in Chicago, today announced that Cleversafe was awarded the prestigious 2013 Merrick Momentum Award […]

Cleversafe, the Momentum Award winner, has created a breakthrough technology that solves petabyte and beyond big data storage problems. Their solution drives up to 90 percent of the storage cost out of the business while enabling secure and reliable global access and collaboration. The world's largest data repositories rely on Cleversafe.
* But not all business is high tech. Let's turn to southern Illinois…
On September 9th IMA VP & COO Mark Denzler and State Senator Andy Manar (D) Bunker Hill visited GSI's headquarters in Assumption Il. GSI is the world's largest manufacturer of galvanized storage bins. They manufacture grain storage and animal feeding systems that are primarily used in the livestock and agriculture industries. GSI employees over 1,400 people in Illinois and sells their products around the world.
* And this private project will create lots of jobs and help the state's robust wind power industry distribute its product…
State energy regulators have approved a major new Ameren power transmission line that could affect as many as 8,400 landowners, depending on the final route taken across central Illinois.

Members of the Illinois Commerce Commission voted 3-1 Tuesday to approve all but a 30-mile section of the $1 billion Illinois Rivers Project. The 345,000-volt line — transmission lines typically range from 138,000- to 345,000-volt capacity, according to industry data — would run from Quincy to the Indiana border near Terre Haute. Nine substations would be built or expanded, including at Pawnee.
…Adding… One more. From a press release…
GROW-IL (Growing Resources and Opportunity for the Workforce in Illinois) is pleased the Illinois Department of Natural Resources (DNR) has begun the process of registering - and ultimately granting permits - to companies wishing to conduct hydraulic fracturing in Illinois. Under the Hydraulic Fracturing Regulatory Act, the law requires a permit applicant to register with DNR at least 30 days prior to submitting a permit application. Once the registration is accepted, companies will then be able to apply for individual fracturing permits which should occur early next year. Earlier this year, the legislature passed and Governor Quinn signed into law common-sense hydraulic fracturing legislation (SB 1715) regulating the practice in Illinois.

"We are very pleased the Department of Natural Resources is opening up the registration process," said Mark Denzler, co-chair of GROW-IL and Vice President and COO of the Illinois Manufacturers' Association. "Our coalition is excited progress is being to realize the tremendous economic benefit of hydraulic fracturing here in Illinois. This law will create thousands of jobs, millions of dollars in revenue while keeping our environment safe."

"We need to create jobs for working men and women and we're one step closer in doing that today," said Michael T. Carrigan, co-chair of GROW-IL and president of the Illinois AFL-CIO. "We're encouraged with the progress being made by DNR that will result in good paying jobs for working families in Illinois."
21 Comments






























































Sorry, comments for this post are now closed.