* Richard Chapman is running to replace Rep. Tom Cross in the Illinois House. Chapman's palm card shows a smiling face on one side…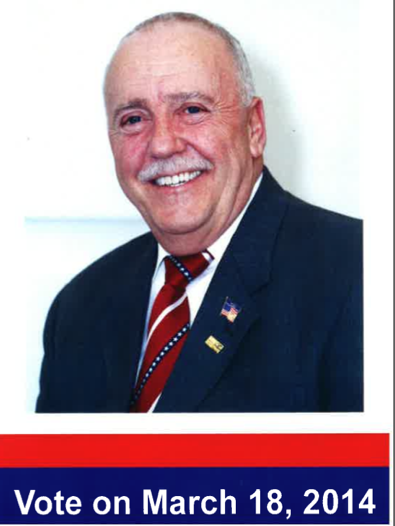 * On the other side, however, Chapman rants about the state borrowing from the Chinese and then unveils his four-point plan. Pay special attention to number four…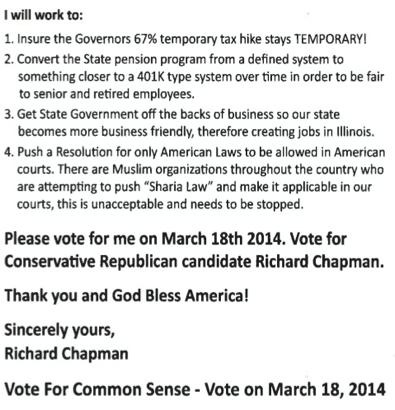 I wasn't aware that the imposition of Sharia Law was a big problem in Illinois.
Golly, I sure am glad we have "common sense" candidates like Mr. Chapman around to teach us.
*** UPDATE *** Mr. Chapman wrote a book called "2084-When God Blessed America Again." From Amazon…
2084-When God Blessed America Again is a gripping story of a man and a woman who grew up under the iron fist of Islamic law in the United States of Islam, formerly known as the United States of America.

By sheer force of will and population redistribution, the Islamic faith has now become the controlling force that dominates approximately 80 percent of the world's populations.

James and Gwen, the two main characters, are raised in separate parts of the country. Each suffer through horrible family events brought on by the oppressive society, and each has sworn revenge! By totally separate circumstances, they find themselves in Alaska, one of the few areas of the globe that a person can live in "relative" freedom. They eventually find each other in the wilderness along with a group of people who also cherish the idea of freedom.

2084 is filled with intrigue, war, and romance. Not a book for the weak of heart!
I'm gonna rush right out and buy it.
105 Comments


























































































































































































































































































































Sorry, comments for this post are now closed.