[The following is a paid advertisement.]
We talk a lot about what's wrong with Illinois, but did you know we're leading the nation in the transition to clean energy? Since the General Assembly passed our Renewable Portfolio Standard (RPS) with bipartisan majorities in 2007 setting clean energy targets for Illinois, we've all been winners. We're on a path to get 25% of our power from renewable energy by 2025, and already we're seeing the benefits.
Moving to clean energy has already paid off for Illinois. The RPS has already:
• Saved consumers $177 million per year
• Created 19,047 clean energy jobs
• Eliminated 5 million tons of air pollution
It's a great start, but to stay on track we need to update the RPS to suit today's competitive power market. Our electric markets have changed a lot since 2007, and we need to update the RPS to reflect that, to make sure we're incentivizing investment in Illinois clean energy projects. We need to stop sweeping the Renewable Energy Resources Fund and let the Illinois Power Agency invest it in our communities.
Clean energy companies have more than $4.5 billion in Illinois wind and solar projects ready for development. Let's keep the benefits coming, and greenlight the next generation of clean energy investments in Illinois. We need the General Assembly to update the RPS this fall, and keep us on track to a better future.
To learn more, visit www.ILikeCleanEnergy.org.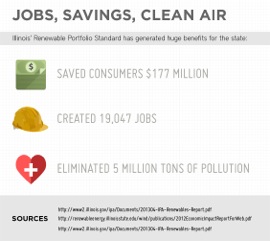 - Posted by Advertising Department


No Comments
Be the first to comment.
Sorry, comments for this post are now closed.