* As expected, there was some over the top rhetoric during the Illinois Family Institute's anti gay marriage rally yesterday…
"Our religious freedoms are under attack here. Our faith is under attack here. Where we go to church on Saturday or Sunday is under attack here," shouted the Rev. Lance Davis, pastor of New Zion Covenant Church in Dolton, bring many in the crowd to their feet. "And we need to stand up and defend our rights, defend not only our rights, but our own family. And I tell you, God will move on our behalf." […]

Davis said he thinks he has "60-percent" of the 20-member House black voting bloc in his corner against the bill and said anyone who votes for same-sex marriage can expect a political challenge either in a primary or general election.

"Frankly, we have been meeting behind the scenes and making sure those who are for Senate Bill 10 are those who are on our radar as relates to replacing because they do not speak for the constituency and the majority of our people," Davis said.
* More…
"Once homosexual marriage becomes the law of the land here in Illinois, the state and public school system takes over the moral teaching of our children…this by forcing acceptance of this dangerous, disease-filled, deviant and dead-end lifestyle as a good choice for our kids," said Christian activist Jim Finnegan, president of Illinois Choose Life.
* Gay marriage proponents estimated Tuesday's rally size at about 5,000, while the Secretary of State Police estimated the number at 3,000. Illinois Review estimated Wednesday's anti gay marriage crowd size at 4-5,000, above the SoS Police's estimate of 2500. IR is casting some doubt on the SoS numbers…
Questions are being raised over how many each side of the marriage debate had in attendance at the Capitol between Tuesday and Wednesday's rallies.
Other than some photographs, no real evidence was provided.
* Bruce Rauner skipped the event…
"There was no compelling reason for him to be in Springfield," Rauner spokesman Mike Schrimpf told the Chicago Sun-Times.
* From Sen. Kirk Dillard's prepared remarks…
I want thank David Smith and the Illinois Institute for bringing us together today and a special thank you to the African American clergy who are protecting our religious liberties under heavy pressure to the contrary. You are the backbone of our state and I am so proud to fight this battle with you.
Ever since "The Campaign" came out, "backbone" quotes should probably be avoided by all candidates.
* And we'll close with a pic of a somewhat outdated sign…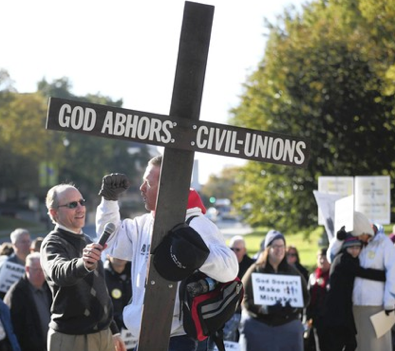 35 Comments








































































































Sorry, comments for this post are now closed.