* Not long ago, I purchased a new dog bed for Oscar the Puppy. He loved it. He loved it so much, in fact, that I did something I almost never do: I rated it on the company's website. I gave it five out of five stars, said I'd recommend it to others, and basically just gushed all over the product.
I even posted a video of Oscar enjoying his new bed…
* Not long after, however, I received a form e-mail saying that my rating and video had been rejected…
Because our goal is to share all customer reviews, we encourage you to check the guidelines below and resubmit your review.

Possible reasons a product review might not be accepted:

1. Includes personal information in the review (email addresses, phone number, etc.)
2. Comments on another company's product or product line to direct business away from Orvis
3. Indicates the person is writing the review for the wrong product
4. Uses profane language
5. Includes derogatory, discriminatory, or generally inappropriate comments
6. Written in a foreign language
7. Indicates the person did not purchase the product from Orvis or receive it as a gift
8. Written by an underage reviewer
9. Attaches a video or images that have no connection to the product being reviewed
10. Comments negatively on the country of origin
11. Indicates there may be a legal liability where Orvis is concerned
Not one of those applied. I was more than a little steamed and even thought about posting something here about it. I mean, what the heck? Was there an Oscar hater out there or something? An outrage, I say! Outrage!
But I wanted to know why my submission was rejected, so I sent an e-mail to customer service and they promised to get to the bottom of it.
Not long afterward, I received this from the company…
Dear Mr. Miller,

Thank you for your review.

I'm glad to see that Oscar loves his new dog bed so much. I'm unsure why your review was declined, but I have approved your review so that other customers can see how much Oscar loves his dog bed. The review should be posted within 48-72 hours. Please give Oscar an extra treat and scratch behind the ears for me.

If you have any questions or concerns, please let me know.

Sincerely,
Wayne R.
Orvis Customer Service
* It turns out, however, that Orvis may have been right all along. As Oscar's mommy noticed last night, I put the bed together wrong. It was inside out!
Oops.
Now I see why the video wasn't initially approved. A sharp-eyed employee apparently noticed that I'd goofed up and didn't want anyone else to make the same mistake I had.
Sorry about that, Orvis.
* Anyway, I fixed the bed, gave Oscar an extra treat and a good scratch behind his ears…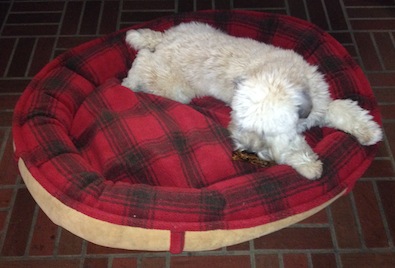 And now Oscar's mommy thinks the bed looked better when it was inside out. I kinda agree.
19 Comments
























































Sorry, comments for this post are now closed.