* SJ-R…
A new study predicts the state will continue to face deficits for years to come even if the temporary income tax increase is made permanent.

If a major portion of the tax hike is allowed to expire at the end of 2014 as the law now stipulates, the problems will be even worse, says the Fiscal Futures Project of the Institute for Government and Public Affairs.

"It seems clear that Illinois' current revenue and spending policies are unsustainable," the report concludes. "Illinois has a chronic structural fiscal problem and must either take action to reduce spending, increase revenue, or some combination to avoid fiscal imbalances for years to come." […]

If the rates are allowed to drop, the report predicts the state's deficit will increase by $13 billion by the year 2025, based on estimates of state revenue growth and spending. However, even if the tax hike is made permanent, the report concludes that the state's deficit will increase by more than $6 billion over the same period.
Those would be annual deficit numbers, not accumulated debt. So, we're looking at a $13 billion a year deficit by 2025 without the tax hike, but a $6 billion a year deficit if the tax hike stands.
* The full report is here. A handy graph…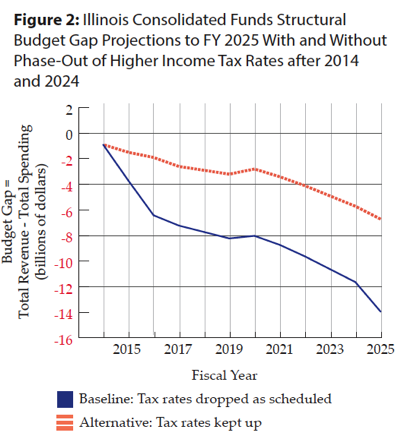 In other words, if you read the report you'll see that if the income tax is made permanent, there is still a lot of cuts which will need to be made, but if those cuts are made early it is somewhat manageable, although still quite painful. Significant baseline spending will have to be cut (even above and beyond what they do with pensions, if anything) and the growth of all spending will have to be extremely limited.
If the tax hike is allowed to expire, however, the cuts will have to be gigantic - the annual deficit in FY 2016 alone will be close to $7 billion.
…Adding… Fiscal and economic news roundup…
* State prisons' overtime costs jump 34 percent

* Quinn is asking lawmakers for additional money

* Police, fire pensions face underfunding

* Moody's downgrades CTA's credit rating

* Strong increase in U of I Flash Index signals economic growth, but unemployment remains unchanged

* Where the housing recovery is only a faint hope: Prices in some south suburbs have dropped to where they were in 1992
75 Comments
































































































































































































































Sorry, comments for this post are now closed.