* This was posted on "Da Speaker's" Twitter account and was then quickly deleted…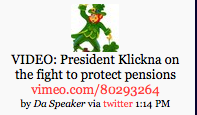 The identity of "Da Speaker" has been a mystery for months. S/He's a pretty funny person, whoever it is. A recent chuckler…
Free advice: Mr Rauner should purchase only reputable assassins. IL Policy Institute/IL News Net don't qualify.

— Da Speaker (@SpeakerMadigan) November 7, 2013
* Anyway, "President Klickna" referenced in the deleted Tweet is the Illinois Education Association's President Cinda Klickna. Could Da Speaker be with the IEA? I asked IEA spokesperson Charlie McBarron via e-mail if either he or his union are involved…
Hi Rich:

Wow. We just put that video up on our site about 45 minutes ago.

No, sorry. We aren't him.

I hope this increases our views though.

Charlie
* And then this appeared…
Is there anything as annoying as a hacker? Let me assure you, you will be discovered.

— Da Speaker (@SpeakerMadigan) November 25, 2013
Hacked? Yeah, right.
Wasn't that Chief Keef's excuse?
* I then e-mailed Illinois Issues' Jamey Dunn, who profiled Da Speaker in a recent piece, and asked whether she'd seen the Tweets. She hadn't, but she did say this…
I was just talking to somebody the other day about how the parody account thing could be pretty tricky just for that reason. It would probably be easy to fire off a tweet from the wrong account.
Yep.
I sent Da Speaker a direct message via Twitter. I'll let you know if I get a response.
13 Comments






































Sorry, comments for this post are now closed.