* The Guardian got its hands on an internal document from the State Policy Network that includes grant proposals from several conservative state-level "think tanks." The proposals represent, according to the Guardian, "a co-ordinated assault against public sector rights and services."
According to the Guardian, the State Policy Network "has an annual warchest of $83m drawn from major donors like David Koch and food giant Kraft." Local background here.
* Now, on to the Guardian's story…
The proposal from the Illinois Policy Institute for a campaign to deal with Chicago's government worker pensions crisis by switching to 401(k)-style retirement plans similarly focuses on a politician – in this case Mayor Rahm Emanuel. The proposal says that "Mayor Emanuel has privately expressed the need for 401(k)-style changes to truly achieve reform."

The institute plans to "leverage the leadership potential of Mayor Emanuel … as the spark for wider pension changes in Illinois." It adds that "friendly legislators would be welcome to draft legislation modelled on our policy work and work in tandem with Mayor Emanuel to move it forward in the legislative process."

John Tillman, CEO of the Illinois Policy Institute, told the Guardian that Emanuel had been "an outspoken proponent of pension reform that includes moving to a 401(k)-style, defined contribution system." He saw no problem with the lobbying that the think tank undertakes.

"We are not allowed to do any campaigning or electioneering, and we don't. We are allowed to spend a significant percentage of our expenditures on lobbying and we are very proactive in lobbying for liberty-based policy, including the urgently needed pension reform. We report our activities accordingly."
* A summary of the Illinois Policy Institute's grant proposal…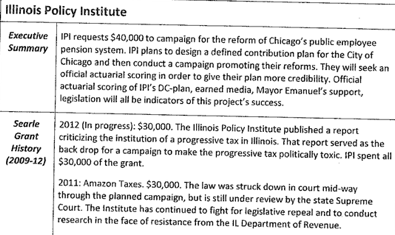 * And here's an excerpt of the full grant proposal posted by the Guardian…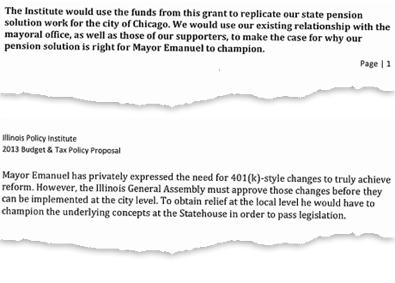 * So far, Mayor Emanuel has not yet given the General Assembly a draft of his proposals. If he does, indeed, "privately" support replacing current pensions with 401(K) plans, he hasn't yet put those ideas on paper.
Whatever the case, the Illinois Policy Institute obviously has no plans to drop its constant demands for a defined contribution "pension" system to replace defined benefits. The state lobbying was just the beginning.
*** UPDATE *** From a Mayor Emanuel spokesperson…
The administration has not been in touch with the Policy Institute on this issue. We support choice and optional defined contribution plan for new employees just like the state law signed by the governor.
So, somebody's lying. And since the mayor's office is pretty specific on both points, I don't think it's them.
23 Comments




































































Sorry, comments for this post are now closed.