Meh
Tuesday, Dec 10, 2013
* Yesterday morning, Gov. Pat Quinn's campaign sent this e-mail to supporters…
Dear Friend,

Last week, we achieved an important victory in Springfield that will ensure a brighter economic future in Illinois.

Since taking office, I have pushed for comprehensive pension reform to restore fiscal stability to our state.

While there were no easy solutions to a fiscal crisis that was 70 years in the making, something had to be done in order to ensure retirement security for hard-working employees.

On Friday, Moody's said that this reform package "may be the largest reform package implemented by any U.S. state."

I'm proud that we worked together in a bipartisan way to do the right thing.

The pension crisis was the biggest fiscal challenge Illinois has ever faced and getting this done is a historic win for the people of Illinois.

Let's keep moving forward.

Sincerely,
Governor Pat Quinn
* As with all of his campaign's blast e-mails, there were two buttons underneath the letter, one to volunteer and another to contribute…

* And yet…
It appears Gov. Pat Quinn is seeking to transform last week's move to overhaul the state's pension systems into some quick campaign cash.

With the ink barely dry on a new law that changes retirement benefits for state workers, the Democrat from Chicago sent out a fundraising solicitation to supporters Monday asking them to donate to his re-election campaign.
* And…
Gov. Pat Quinn went without a paycheck for months to make the point that lawmakers needed to pass a pension reform bill. Now he's seeking to make sure the successful effort will pay off for his re-election bid.
Meh.
Much ado about almost nothing.
* Here's what a "real" Quinn fundraising e-mail looks like…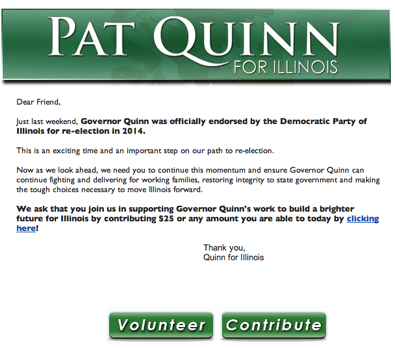 There's a big difference.
* Meanwhile, state Sen. Mike Frerichs sent this e-mail to supporters last week…
As Capital Fax reported, my likely Republican opponent, Tom Cross, a long time proponent of gouging our public sector workers, voted against pension reform not because he's switched his position, but instead to curry favor with far right extremists like Bruce Rauner, Ron Gidwitz, Ken Griffin, and Ty Fahner who blame all of the state's ills on our middle class and public sector workers.

n my mind, that's the worst kind of politics. I'm asking for your help in fighting back.

This quarter is quickly wrapping up and I need to report a strong fundraising total to ensure that the moneyed elite–who Ken Griffin recently said "actually have an insufficient influence" in our political process–won't buy the Treasures' office by outspending me.
First, it's Capitol, with an "o."
Second, Fahner was for the bill, not against it.
Third, Frerichs also voted against it.
Fourth, it's "Treasurer's office," not "Treasures' office."
* Frerichs also sent out a fundraising e-mail just minutes before he voted against the pension bill…
Original Message ——–
Subject: It's Official: I'm On The Ballot
Date: Tue, 3 Dec 2013 17:17:08 -0500 (EST)
From: Mike Frerichs
Reply-To: info@mikeforillinois.com

Friends,

Candidates for political office had until 5pm yesterday to file petitions to appear on the ballot, and at 5:01pm it became official: I am the only Democrat to officially file for the Treasurer's office while my likely GOP opponent has a contested primary to contend with.

This is a huge development for our campaign. It means that the money we raise now can go towards defeating my Republican opponent in November and winning the Treasurer's office back for working families in Illinois.

Help Democrats take back this office by donating $5, $10, or $15 today.

31 Comments




























































































Sorry, comments for this post are now closed.