* From a press release…
Monday morning four concerned community members dressed as elves visited Governor Quinn's Chicago residence and set up a hydraulic fracturing rig with a large red bow attached on the front lawn. The "elves" said they were delivering a present from Santa who has been nervously watching the dangerous practice of hydraulic fracturing or fracking inch closer and closer to becoming reality in Illinois during the past year.

The elves said they were delivering the frack rig because people that live far away from where fracking is planned are the ones making the decision to bring the dangerous practice here. "We are delivering this rig today because if Governor Quinn and the other people that have opened up our state to fracking had to live next to fracking and had to obtain their water from a well I think they would not bring fracking to our state," said Mike Durshmid of Rising Tide Chicago.
Except that southern Illinois legislators, who will be living near fracking, voted for the bill. I'd love to see those elves head down 'yonder and put up a rig in Gary Forby's front yard. Heh.
* I've been looking around today for a fresh, year-ending caption contest. This one could be fun. Here's a photo of the "elf action"…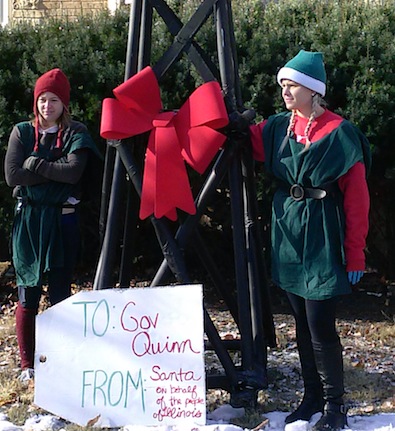 52 Comments



























































































































































Sorry, comments for this post are now closed.