* Zorn…
(W)ags at the Capitol Fax blog have taken to referring to [Bruce Rauner] as "Baron von Carhartt" after the brand of the rugged work jacket he wears in an attempt to look like a regular guy
* Kirk Dillard's campaign appears to be behind a related Twitter account. From a now deleted tweet posted last night…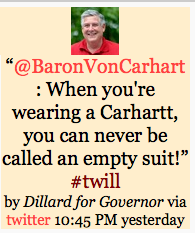 * From the Baron's Twitter page…
How many Illinoisans does it take to screw in a lightbulb? It doesn't matter, I can afford it!

— Baron Von Carhartt (@BaronVonCarhart) January 9, 2014
I love public employee… … pensions. Thanks Stu Levine!

— Baron Von Carhartt (@BaronVonCarhart) January 9, 2014
With my new minimum wage idea, you only have to work 3 hours to buy my Timex watch.

— Baron Von Carhartt (@BaronVonCarhart) January 9, 2014
* I'm not big on political nicknames. The Tribune has been notorious over the decades for tagging politicos with various monikers. For instance, the diminutive Mike "Hinky Dink" Kenna supposedly got his nickname from Tribune publisher Joseph Medill back in the day. John Kass has enthusiastically appropriated the historical practice, perhaps too enthusiastically for my taste.
But this one sure seems to, uh, fit.
34 Comments





































































































Sorry, comments for this post are now closed.